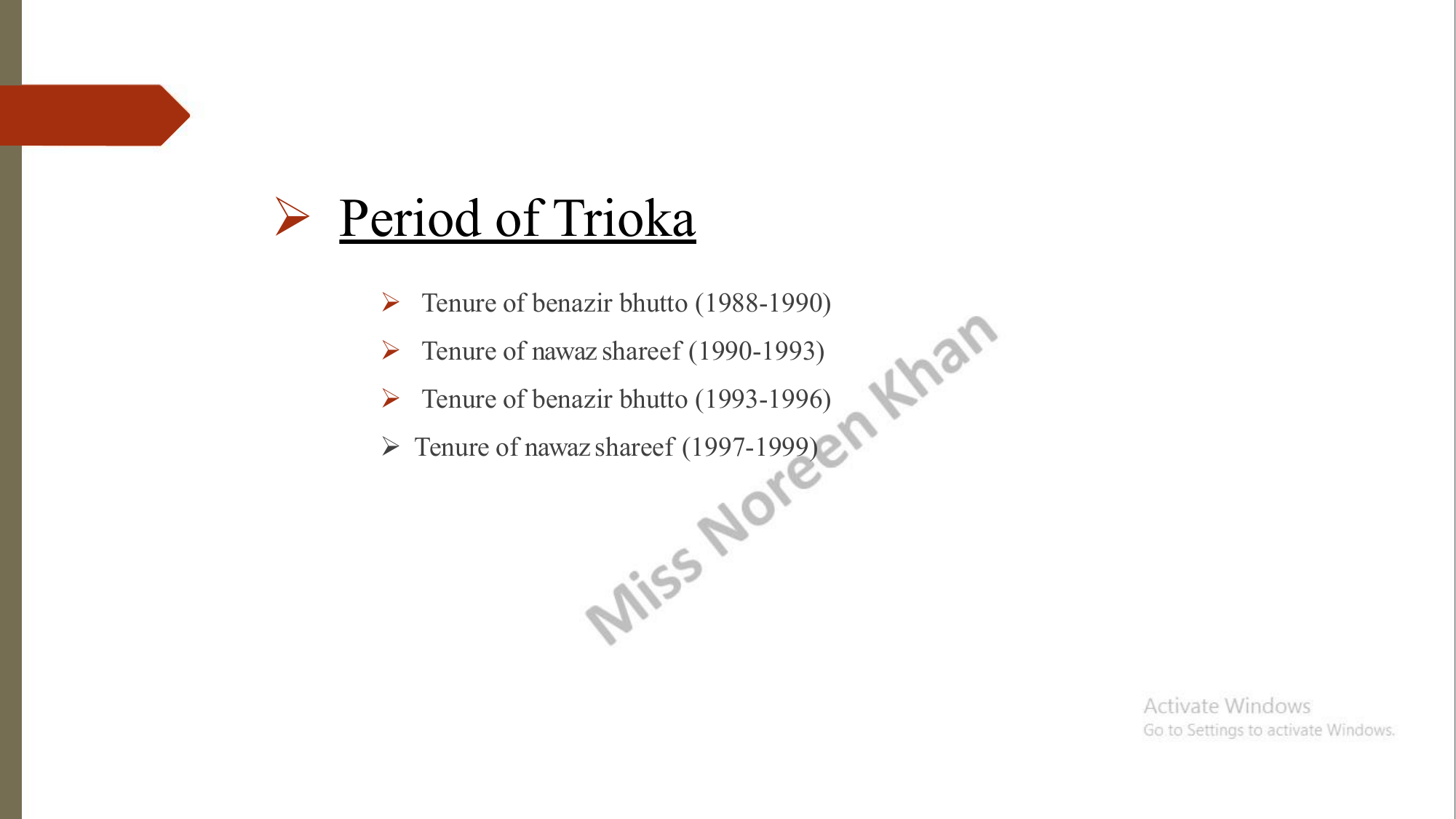  Period of Trioka
 Tenure of benazir bhutto (1988-1990)
 Tenure of nawaz shareef (1990-1993)
 Tenure of benazir bhutto (1993-1996)
 Tenure of nawaz shareef (1997-1999)
 In the 16 november 1988 election, Pakistan people party won 94 seats
In the nationalassembly.
 She became the 11thprime minister of Pakistan on 2 december 1988.

With the cooperation of 8 M. Q. M. Members and 13 members of tfederally administered
tribal area, the P. P. P. Showed a clear majority.
4th SAARC conference

 The P.P.P. Government hosted the fourth S.A.A.R.C. Summit conference in 29- 31 december 1988 , held in
Islamabad.
 According to the deal between ghulam ishaq khan and benazir bhutto, pakistan peoples party
voted for ghulam ishaq khan. Ghulam ishaq khan was also the consensus candidate of islami
jamuhri ittehad(iji). Four candidates took part in the elections, with Ghulam Ishaq khan
winning and securing the highest 608 votes against Nawab zada Nasrullah khan on December
12 1988.
FOREIGN POLICY
The govt of benazir bhutto adopted a 'no-confrontation policy' with india.
When rajiv ghandhi visted pakistan to participate in the fourth saarc conference, benazir
bhoutto joined hand for establishing good relation with him.
Bilateral tension increased in early 1990, when kashmiri militants began a compaign
of voilence against indian govt authority in jammu and kashmir.
PAKISTAN REJOIN COMMONWEALTH
After separation from the common wealth Pakistan
Rejoined it in 1989.
SOCIAL WELFARE
 The govt had launched the people works programme for devolpment and social welfare of
the country. For providing employement to the public, a department, placement bureau, was
set up.
 Thousand of people got employment through it.
Serious conceptual difference arose between the p.P.P. Government and the establishment. On two points;
the appointment of the military chiefs and superior court judges. Less then two years later , on august
6,1990, her government was accused of corruption and dismissed by the president , ghulam ishaq khan,
who exercised his
Power through the controversial eight amendment
Constitution
and dissolved
assemblies
and benazir
Dismissed from power on the charges of corruption.
of
bhutto
the
Was
 President ghulam ishaq khan dissolved the national and provincial assemblies on august 6,
1990, and declared a state of emergency in the country. Elections were scheduled to be held
on october 24, 1990. Ghulam ishaq khan did not appoint a neutral or non-partisan caretaker
cabinet or prime minister. He chose the leader of the opposition in the former national
assembly, ghulam mustafa jatoi, as the new caretaker prime minister of
Pakistan.
Benazir bhutto government dismissed
Parties alliance
Glimpse of nawaz sharif's rule
Nawaz projects
Motorway project
Foreign policy of nawaz sharif
Fall of nawaz sharif
Care-taker prime minister
•
Emergency; lifted off in nov 7,1990.
•
Privatization commission
•
Domestic issues
•
National finance commission
•
Foreign investment
•
Agriculture policy(may 1990)
•
Self employment scheme
•
Army operation in sindh
•
Conservative policy
•
Science policy
 Motorway project
 The Gawadar Miniport Project
 Ghazi Brotha Project
 Murree and kahuta Project
 Yellow Cab Scheme

The motorway project inaugurated in january 11,1992.Its 337km . Its cost was
23 billion 686 million rupees.
 Construction project was given to daewoo company of punjab.
• Nawaz govt maintain good relations with usa.
• Then usa pay the economic aid(546 million dollar)
• Give 17 f-17 planes




Nawaz sharif regime was far better than
Benazir bhutto.
The national assembly remained busy inlegislation.
But the nawaz sharif not have satisfied relations with president ghulam ishaq
khan.
 Assembly dismissed at april 18,1993
 President ghulam ishaq khan dissolved the national and provincial assemblies on april 19,
1993, and appointed mir balakh sher khan mazari as the caretaker prime minister.
General elections were scheduled to be held on july 14, 1993.
 Balakh sher mazari's tenure as caretaker prime minister endedon may 26, 1993, when
the supreme court revoked the presidential order and reinstated nawaz sharif as the
prime minister.
Resignation of prime minister and president
Benazir became prime minister
Presidental elections
Train march and wheel jam strike
Pakistan visit by first u.S lady
Pakistan stsance on f-16 fighter jets
Relationship of prime minister and mqm
Plans for former and women
Deassisination of murtaza bhutto
Development programmes
Foreign visits and the kashmir issue
Khyber pakhtunkhwa government
President farooq lagahri dismissed benazir bhutto
Care-taker prime minister
Benazir bhutto returned to power for the second time in 1993 after the resignation of both
president ghulam ishaq khan and prime minister nawaz sharif on july 18, 1993. The
resignation led to the announcement of 8th fresh elections for the national and provincial
assemblies. The elections were held on october 6 and 9, 1993, respectively.
 The elections were boycotted by the m. Q. M. No party emerged with an absolute
majority in the elections. As a result the p. P. P. Formed the new government with the help
of alliances.Benazir bhutto took oath as prime minister on october 19, 1993.
Initially, a number of candidates filed their nomination papers. However, as election day
approached, there were only twocandidates left in the field. These were the acting president wasim
sajjad, a nominee of the p. M. L. (N), and sardar farooq leghari, a nominee of the
P. P. P. As a result of voting, leghari got 274 votes in his favor against 168 votes for wasim sajjad. On
november 13, 1993, sardar farooq leghari was appointed as the president of pakistan for a term of
five years.
Differences emerged between benazir and leghari, which eventually resulted in the president
using the eighth amendment for the dissolution of the national assembly, nov 5,1996 and the
dismissal of benazir
During benazir bhutto's second term, construction of karachi flyover bridge
Lahore bypass was started.
 The government launched the eighth 5-year plan which resulted in rapid development
 And prosperity of the country
 Mrs. Bhutto made successful visits to iran and turkey. She gained moral support of
 These countries on the kashmir issue. Many agreements of cooperation in
Different
 Fields were signed.
The government of the chief minister, pir sabir shah of the muslim league
Assambly were dissolved in 1994 in khyber pakhtunkhwa and aftab ahmad sherpao of the
people's party was elected as chief minister.
 Differences soon appeared and the government felt that there was interference in the political
matters of the government by the president. President farooq leghari dismissed benazir bhutto's
government on charges of corruption and mismanagement on november 5, 1996, under the
article 58(2) b of the eighth amendment.
President sardar farooq leghari, exercising his powers through the eighth amendment,
dismissed benazir bhutto's government in november 1996, on charges of corruption and
extra-judicial killings. After benazir, malik meraj khalid, rector of the international
islamic university, was appointed as caretaker prime minister. The next elections were
scheduled to be held on february 3, 1997.
Malik meraj khalid held the office of prime minister from november 5, 1996, to
february 17, 1997.
Elections in 1997
Resignation of president laghari
New president muhammad rafiq tarar
Nuclear test
Resignation of general karamat
New army chief
'Retire debt, adorn the country'scheme
Census of 1998
Lahore-islamabad motorway
Kargil offensive
Termination of p.M
As scheduled, 9th elections were held on february 3, 1997.
Pakistan muslim league won with an overwhelming majority with absolutely light and slight
opposition. The muslim league was able to obtain a two-third majority in the national
assembly and mian nawaz sharif was re-elected as prime minister.
Pakistan muslim league (n) won 137 seats and ppp won 18 seats.
Nawaz sharif was confirmed as prime minister by the national assembly receiving 177
votes against 16 for the ppp
Candidate aftab shaban mirani. He took office on the 18 february
With a new cabinet .
 Nawaz sharif faced a serious confrontation with the judiciary and the executive, which eventually led
to the resignation of president leghari on december 2, 1997.
Muhammad rafiq tarar, a former judge of the supreme court and a senator, was elected as
the ninth presidentof pakistan. He took oath to his office on january 1, 1998.
The office of the president had become vacant after the resignation of president leghari on
december 2, 1997. The pakistan muslim league had a two-third majority in the parliament
and some provincial assemblies and therefore was in a position to have its candidate
elected as the head of state. The nawaz government nominated muhammad rafiq tarar, a
68-year old former judge of the supreme court and a senator, as their presidential
candidate.
Muhammad rafiq tarar was comfortably elected president by
Securing 374 out of 457 votes of the electoral college.
On may 28, 1998, pakistan became a nuclear power when it successfully carried out
five nuclear tests at chaghi, in the province of baluchistan. This was in direct response
to five nuclear explosions by india, just two weeks earlier.
Widely criticized by the international community, pakistan maintains that its nuclear
program is for self-defense, as deterrence against nuclear india.
India had already posed a nuclear threat against pakistan ever since it tested a nuclear
device in may 1974. At that timepakistan had no nuclear weapons. India maintained that its
nuclear program was based on their requirement to have a minimum nuclear deterrence,
and that it was not against any specific country.
The fifteenth amendment was presumed to be an effort by nawaz sharif to acquire additional
powers for himself. Soon a serious conflict and confrontation emerged on the scene between
him and the military generals. This confrontation led to the resignation of general jehangir
karamat on october 7, 1998.
General karamat was replaced by general pervez musharraf.
Economic condition of the country was not improving and the government had to take loans
from the imf for its budget. Nawaz sharif started a scheme called 'retire debt, adorn the country'
and appealed to the nation to pay off the foreign loans. The nation welcomed this scheme and
about 17 billion rupees were collected till june 1999 in this head.
The census of the people was conducted in 1998. The population of the country reached over 13
crores according to this census.
In 1999, a war broke out between india and pakistan on kargil. Later, on intervention of
the american president, bill clinton, both countries declared ceasefire.
On october 12, 1999, the pakistan army once again ousted the civilian government. At that
time prime minister mian muhammad nawaz sharif headed the government. The coup
immediately followed the premier's attempt to replace the army chief while he was on a
tour to sri lanka. After two days of chilling uncertainty, chief of army staff general pervez
musharraf assumed the title of chief executive.