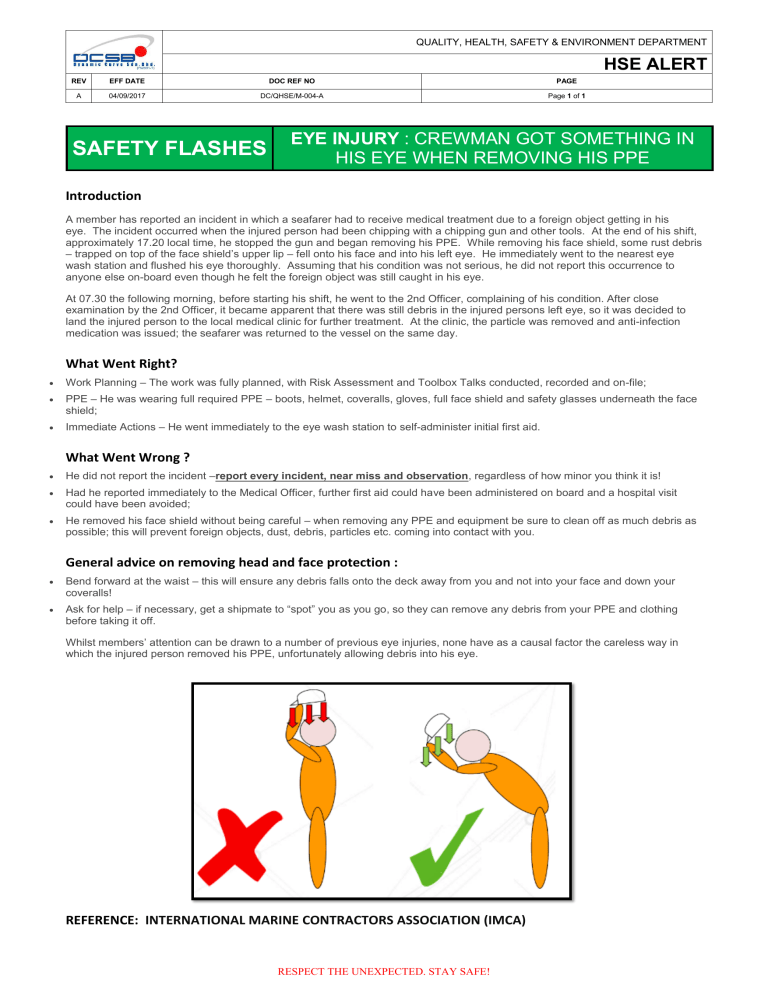 QUALITY, HEALTH, SAFETY & ENVIRONMENT DEPARTMENT
HSE ALERT
REV
EFF DATE
DOC REF NO
PAGE
A
04/09/2017
DC/QHSE/M-004-A
Page 1 of 1
SAFETY FLASHES
EYE INJURY : CREWMAN GOT SOMETHING IN
HIS EYE WHEN REMOVING HIS PPE
Introduction
A member has reported an incident in which a seafarer had to receive medical treatment due to a foreign object getting in his
eye. The incident occurred when the injured person had been chipping with a chipping gun and other tools. At the end of his shift,
approximately 17.20 local time, he stopped the gun and began removing his PPE. While removing his face shield, some rust debris
– trapped on top of the face shield's upper lip – fell onto his face and into his left eye. He immediately went to the nearest eye
wash station and flushed his eye thoroughly. Assuming that his condition was not serious, he did not report this occurrence to
anyone else on-board even though he felt the foreign object was still caught in his eye.
At 07.30 the following morning, before starting his shift, he went to the 2nd Officer, complaining of his condition. After close
examination by the 2nd Officer, it became apparent that there was still debris in the injured persons left eye, so it was decided to
land the injured person to the local medical clinic for further treatment. At the clinic, the particle was removed and anti-infection
medication was issued; the seafarer was returned to the vessel on the same day.
What Went Right?

Work Planning – The work was fully planned, with Risk Assessment and Toolbox Talks conducted, recorded and on-file;

PPE – He was wearing full required PPE – boots, helmet, coveralls, gloves, full face shield and safety glasses underneath the face
shield;

Immediate Actions – He went immediately to the eye wash station to self-administer initial first aid.
What Went Wrong ?

He did not report the incident –report every incident, near miss and observation, regardless of how minor you think it is!

Had he reported immediately to the Medical Officer, further first aid could have been administered on board and a hospital visit
could have been avoided;

He removed his face shield without being careful – when removing any PPE and equipment be sure to clean off as much debris as
possible; this will prevent foreign objects, dust, debris, particles etc. coming into contact with you.
General advice on removing head and face protection :

Bend forward at the waist – this will ensure any debris falls onto the deck away from you and not into your face and down your
coveralls!

Ask for help – if necessary, get a shipmate to "spot" you as you go, so they can remove any debris from your PPE and clothing
before taking it off.
Whilst members' attention can be drawn to a number of previous eye injuries, none have as a causal factor the careless way in
which the injured person removed his PPE, unfortunately allowing debris into his eye.
REFERENCE: INTERNATIONAL MARINE CONTRACTORS ASSOCIATION (IMCA)
RESPECT THE UNEXPECTED. STAY SAFE!