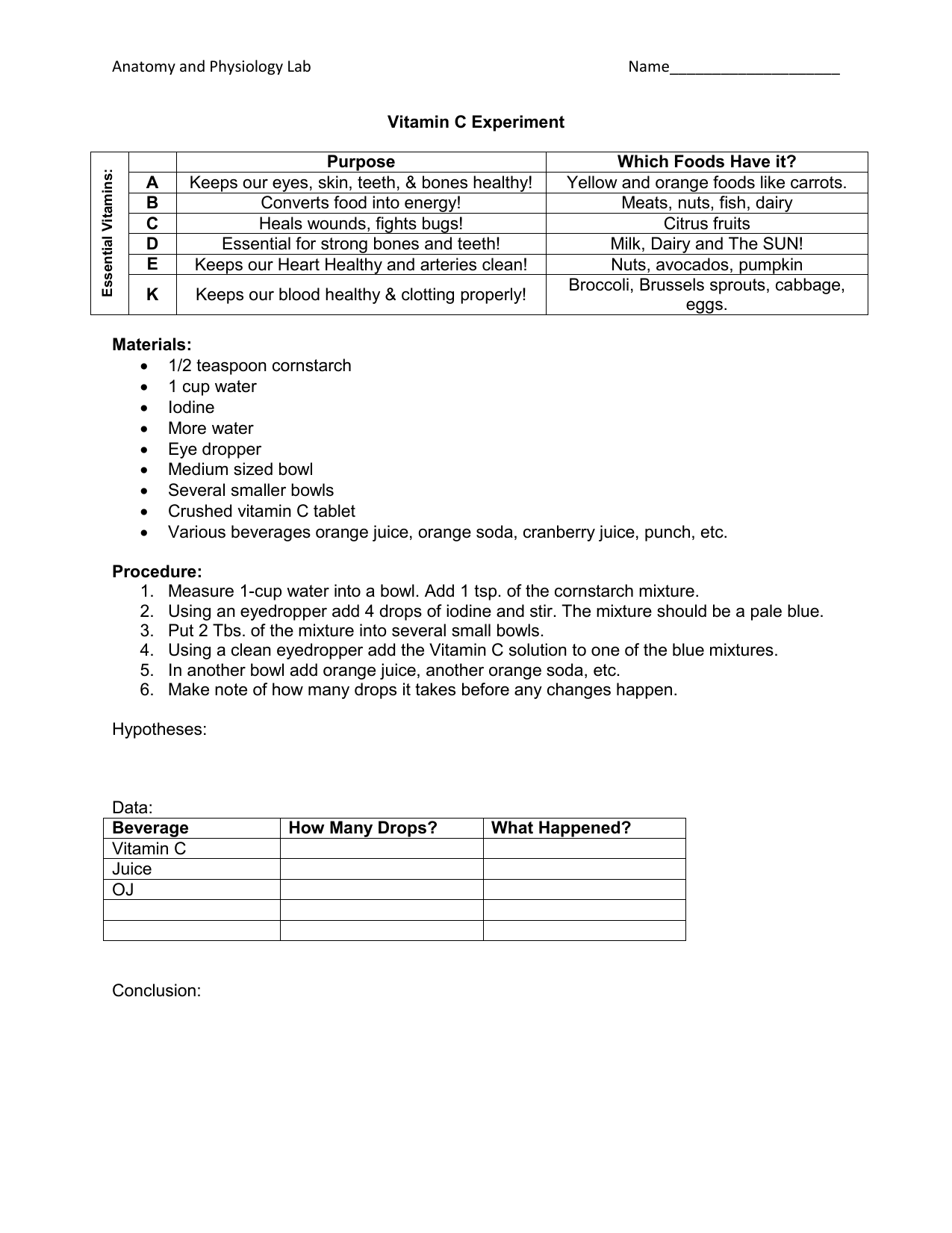 Anatomy and Physiology Lab
Name____________________
Essential Vitamins:
Vitamin C Experiment
A
B
C
D
E
Purpose
Keeps our eyes, skin, teeth, & bones healthy!
Converts food into energy!
Heals wounds, fights bugs!
Essential for strong bones and teeth!
Keeps our Heart Healthy and arteries clean!
K
Keeps our blood healthy & clotting properly!
Which Foods Have it?
Yellow and orange foods like carrots.
Meats, nuts, fish, dairy
Citrus fruits
Milk, Dairy and The SUN!
Nuts, avocados, pumpkin
Broccoli, Brussels sprouts, cabbage,
eggs.
Materials:
 1/2 teaspoon cornstarch
 1 cup water
 Iodine
 More water
 Eye dropper
 Medium sized bowl
 Several smaller bowls
 Crushed vitamin C tablet
 Various beverages orange juice, orange soda, cranberry juice, punch, etc.
Procedure:
1. Measure 1-cup water into a bowl. Add 1 tsp. of the cornstarch mixture.
2. Using an eyedropper add 4 drops of iodine and stir. The mixture should be a pale blue.
3. Put 2 Tbs. of the mixture into several small bowls.
4. Using a clean eyedropper add the Vitamin C solution to one of the blue mixtures.
5. In another bowl add orange juice, another orange soda, etc.
6. Make note of how many drops it takes before any changes happen.
Hypotheses:
Data:
Beverage
Vitamin C
Juice
OJ
Conclusion:
How Many Drops?
What Happened?