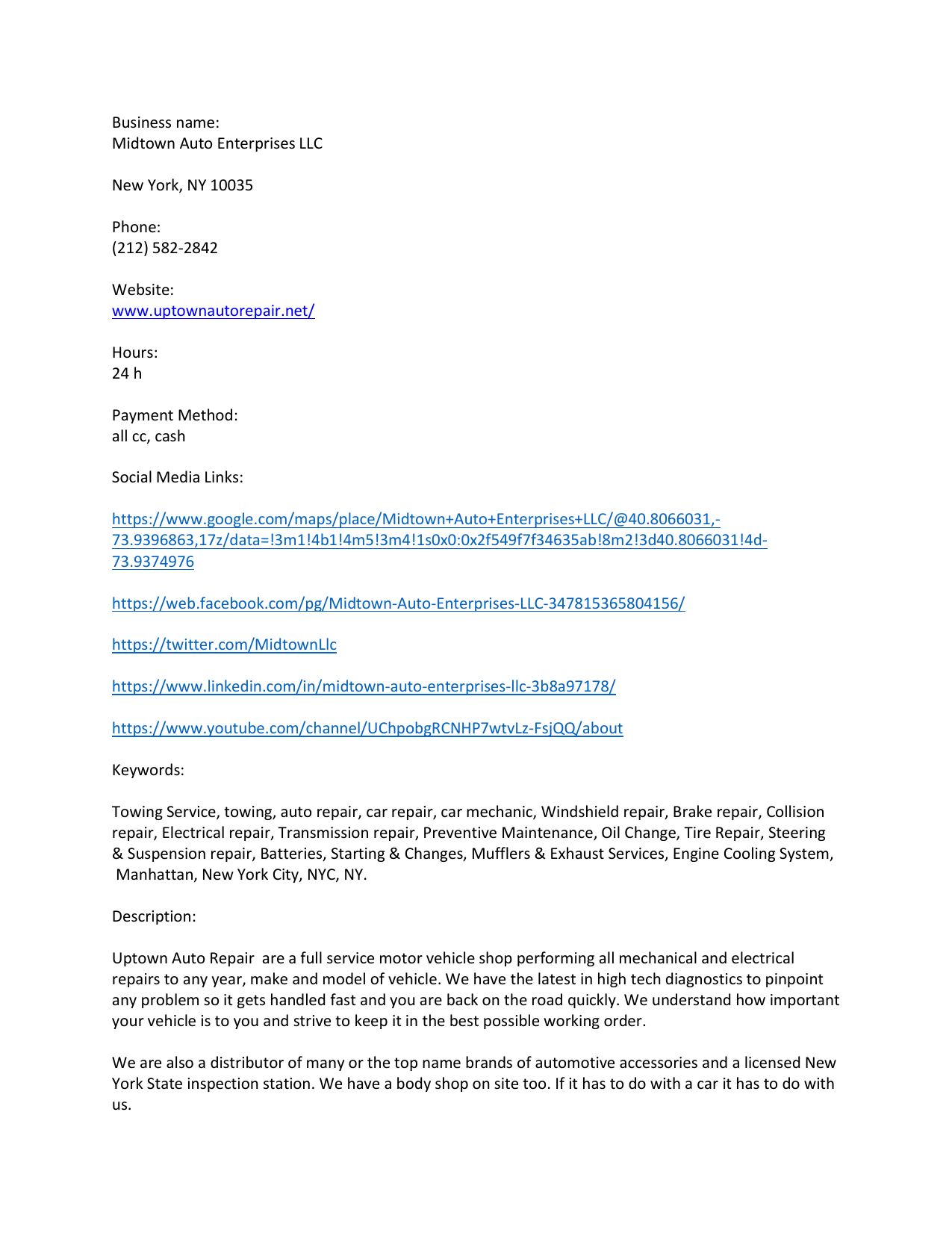 Business name:
Midtown Auto Enterprises LLC
New York, NY 10035
Phone:
(212) 582-2842
Website:
www.uptownautorepair.net/
Hours:
24 h
Payment Method:
all cc, cash
Social Media Links:
https://www.google.com/maps/place/Midtown+Auto+Enterprises+LLC/@40.8066031,73.9396863,17z/data=!3m1!4b1!4m5!3m4!1s0x0:0x2f549f7f34635ab!8m2!3d40.8066031!4d73.9374976
https://web.facebook.com/pg/Midtown-Auto-Enterprises-LLC-347815365804156/
https://twitter.com/MidtownLlc
https://www.linkedin.com/in/midtown-auto-enterprises-llc-3b8a97178/
https://www.youtube.com/channel/UChpobgRCNHP7wtvLz-FsjQQ/about
Keywords:
Towing Service, towing, auto repair, car repair, car mechanic, Windshield repair, Brake repair, Collision
repair, Electrical repair, Transmission repair, Preventive Maintenance, Oil Change, Tire Repair, Steering
& Suspension repair, Batteries, Starting & Changes, Mufflers & Exhaust Services, Engine Cooling System,
Manhattan, New York City, NYC, NY.
Description:
Uptown Auto Repair are a full service motor vehicle shop performing all mechanical and electrical
repairs to any year, make and model of vehicle. We have the latest in high tech diagnostics to pinpoint
any problem so it gets handled fast and you are back on the road quickly. We understand how important
your vehicle is to you and strive to keep it in the best possible working order.
We are also a distributor of many or the top name brands of automotive accessories and a licensed New
York State inspection station. We have a body shop on site too. If it has to do with a car it has to do with
us.
We have the technicians and technology to handle any automotive situation that comes our way and we
will do it better than anyone. Our staff holds your satisfaction as their ultimate goal. We have
maintained the philosophy that repeat customers bring more customers since we opened and we still
hold tight to that belief today.
Uptown Auto Repair is your neighborhood full service maintenance and repair service in upper
Manhattan. We have been servicing the vehicles of our Manhattan neighbors since we were established.
Our trained technicians use state of the art diagnostic equipment to pinpoint engine problems with
precise accuracy. They have received hours of factory training in each of the areas where they are
experts. Uptown Auto Repair, aside from being a car repair and maintenance shop also offers complete
auto body work and window glass replacement. We specialize in brakes, wheel alignment, tires,
batteries and accessories. We are a NY State inspection station. We are also a distributor for dozens of
quality name brand parts and products.