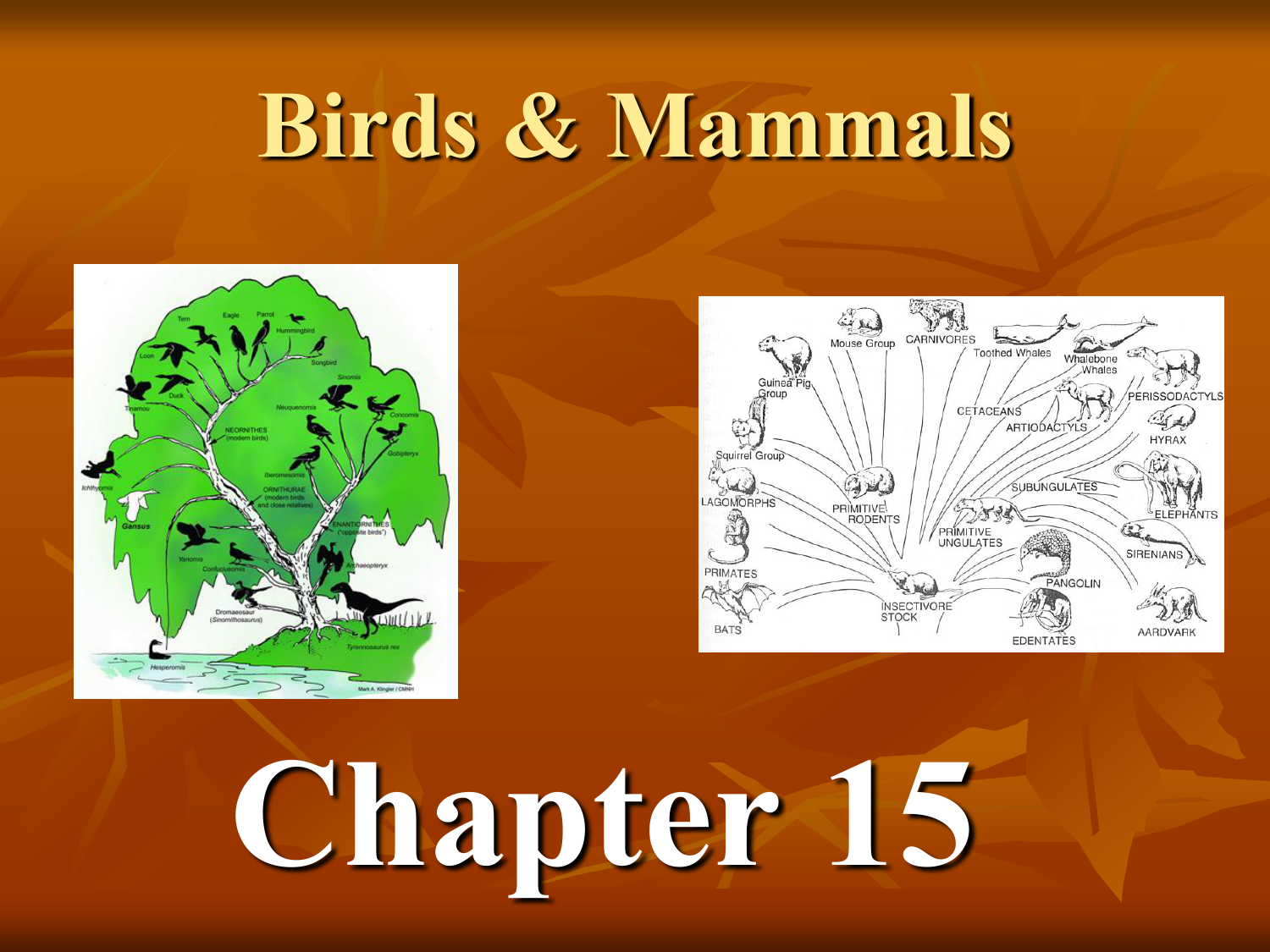 Birds & Mammals
Chapter 15
What is a Bird?







Vertebrate
Endothermic
Feathered
4 chambered heart
Egg laying
Fore-limbs adapted for
flight
Bones nearly hollow
(allow for lighter weight)
Bird Internal Anatomy
Identify the following:
Identify the following:
Trachea
Esophagus
Gall Bladder
Heart
Crop
Liver
Lung
Kidney
Ureter
Cloaca
Intestine
Gizzard
Trachea
Lungs
Anterior Air Sacs
Posterior Air Sacs
Syrinx
Feather Types

Flight Feathers
Primary
 Secondary

Wing
Coverts
(A type of
contour
feather)
Feather Types

Contour Feathers
Allow for
Streamlined Shape


Down Feathers


Allow for warmth
& insulation
Anatomy of a Bird Feather



Main Shaft or Quill
Barbs branch out from
shaft
Off each barb are
One side w/ hooked
barbules
 The outer side w straight
barbules w/out hooks
 Allow for smooth
tight cover.

Bird Diversity
Bird beaks: different types of birds' mouths, made up of jaws covered by
horny mandibles. They do not contain teeth.

Duck: sieve-like, used for filtering.
Gull: omnivore, has many uses.
Eagle: bird of prey beak for tearing flesh.
Cross bill: bill used to spread cones to get to the seed.
Night hawk: nocturnal bird that catches insects by flying with its large beak open.
Avocet: stirs water & mud lifting invertebrates to catch for food.
Wood pecker: hard sharp beak boring holes in trees, & grabbing grubs.
Parrot: hard bill, cracking seeds.
Flamingo: designed for upside down filtering for aquatic crustaceans.
Kiwi: reaching deep into the mud to grab worms.
Spoon bill: filter water to obtain seeds and invertebrates.
Pelican: beak and pouch used like a big net to scoop up prey (fish).
Bird Diversity
Bird feet:
unique structures used to move and support the body.

Coot: wading walk in mud edge of swamps.
Mallard: swimmer.
Hawk: grasping & holding prey.
Wood pecker: climbing bark of trees.
Grouse: generalist, perching, walking, etc..
Ostrich: large support, running.
Parrot: grasp & hold perch, seed & food items.
Jacana: marsh bird – walk in mud ( snow shoe type)
Crow: generalist, multiple tasks.
Bird Diversity

Adaptations for flight


Hollow bones allow for
light weight
Skeleton modified



Fused back vertebrae &
pelvis
Huge sternum for breast
muscle attachment
4 chambered heart –
efficient transfer of O2 &
CO2
What is a Mammal?





Vertebrate
Endothermic
Fur or Hair
4 chambered heart
Nurse young w/ Milk


Teeth modifications


Mammary glands
Incisors, canines,
premolars & molars
Young born live

(except for Monotremes)
Mammalian Diversity

3 main groups of mammals:

Classified by the way their young develop:



Monotremes – egg layers – Platypus & Echidna
Marsupials – Pouched mammals - opossums
Placental mammals – embryo & fetus develop
inside the mother until
Egg Laying Mammals


Order – Monotremata: Duck-Billed Platypus & Echidna
"Monotreme" – means "one opening"


Refers to Avian & Reptilian characteristic of the
Cloaca – digestive, reproductive & excretory
systems all "dump" into the cloaca.
Once eggs hatch, young are nursed w/ milk.
These guys have poisonous
spur on their sides
Pouched Mammals

Order Marsupialia –




Kangaroos, Koala, opossums,
sugar gliders
Bear live young – born @
very early stage of
development
Grow & mature for 9 months
in mother's pouch (kangaroo)
New born kangaroo baby (far
right) is less than 1" long!!
Placental Mammals

All other orders of mammals
includes:


Rodents, shrews, elephants, dogs,
cats & whales
Placenta – reproductive organ
connects embryos w/ mother's
uterus.


Allows exchange of O2, CO2,
nutrients and wastes between
mother & offspring
Allows for longer protected
embryonic development – up to
two years for elephants!
Placental Mammals

Longer gestation periods allow for better success at
birth


Precocial – mature well developed young at birth – ready to run
shortly after birth – wildebeest
Altricial – young unable to care or feed themselves at birth,
undeveloped, eyes closed etc. – puppy dogs
Precocial young
Moments after birth
Altricial young
Teeth modified – multi functional




Incisors – used to slice
Canine – used to tear
Premolars & molars used to grind
Carnivores have a pair of
carnassial teeth – used for cutting
and breaking
The End !!