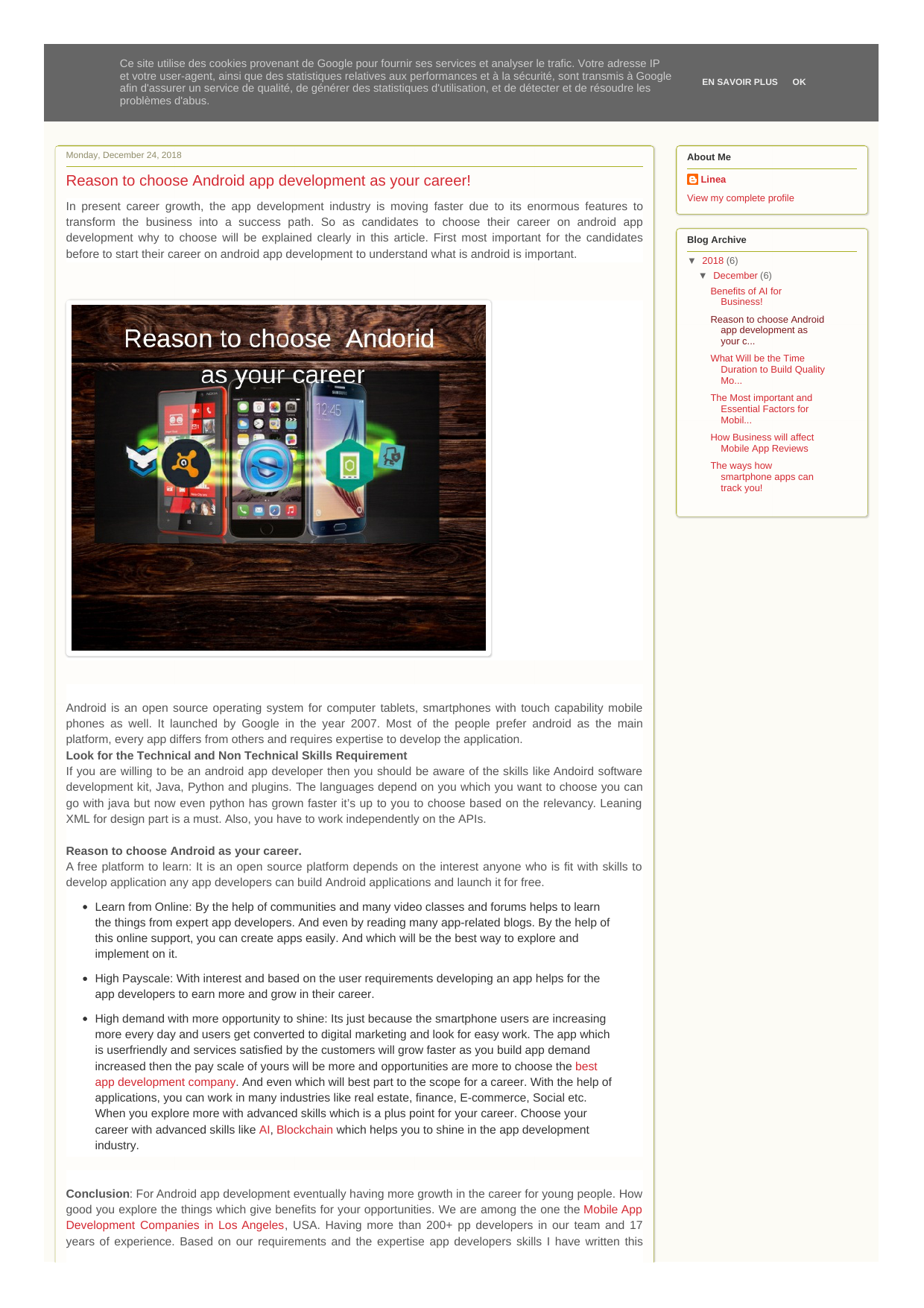 Plus
Ce site utilise des cookies provenant de Google pour fournir ses services et analyser le trafic. Votre adresse IP
et votre user-agent, ainsi que des statistiques relatives aux performances et à la sécurité, sont transmis à Google
afin d'assurer un service de qualité, de générer des statistiques d'utilisation, et de détecter et de résoudre les
problèmes d'abus.
Mobile App Development USA
Monday, December 24, 2018
Reason to choose Android app development as your career!
In present career growth, the app development industry is moving faster due to its enormous features to
transform the business into a success path. So as candidates to choose their career on android app
development why to choose will be explained clearly in this article. First most important for the candidates
before to start their career on android app development to understand what is android is important.
Créer un blog
EN SAVOIR PLUS
OK
About Me
Linea
View my complete profile
Blog Archive
▼ 2018 (6)
▼ December (6)
Benefits of AI for
Business!
Reason to choose Android
app development as
your c...
What Will be the Time
Duration to Build Quality
Mo...
The Most important and
Essential Factors for
Mobil...
How Business will affect
Mobile App Reviews
The ways how
smartphone apps can
track you!
Android is an open source operating system for computer tablets, smartphones with touch capability mobile
phones as well. It launched by Google in the year 2007. Most of the people prefer android as the main
platform, every app differs from others and requires expertise to develop the application.
Look for the Technical and Non Technical Skills Requirement
If you are willing to be an android app developer then you should be aware of the skills like Andoird software
development kit, Java, Python and plugins. The languages depend on you which you want to choose you can
go with java but now even python has grown faster it's up to you to choose based on the relevancy. Leaning
XML for design part is a must. Also, you have to work independently on the APIs.
Reason to choose Android as your career.
A free platform to learn: It is an open source platform depends on the interest anyone who is fit with skills to
develop application any app developers can build Android applications and launch it for free.
Learn from Online: By the help of communities and many video classes and forums helps to learn
the things from expert app developers. And even by reading many app-related blogs. By the help of
this online support, you can create apps easily. And which will be the best way to explore and
implement on it.
High Payscale: With interest and based on the user requirements developing an app helps for the
app developers to earn more and grow in their career.
High demand with more opportunity to shine: Its just because the smartphone users are increasing
more every day and users get converted to digital marketing and look for easy work. The app which
is userfriendly and services satisfied by the customers will grow faster as you build app demand
increased then the pay scale of yours will be more and opportunities are more to choose the best
app development company. And even which will best part to the scope for a career. With the help of
applications, you can work in many industries like real estate, finance, E-commerce, Social etc.
When you explore more with advanced skills which is a plus point for your career. Choose your
career with advanced skills like AI, Blockchain which helps you to shine in the app development
industry.
Conclusion: For Android app development eventually having more growth in the career for young people. How
good you explore the things which give benefits for your opportunities. We are among the one the Mobile App
Development Companies in Los Angeles, USA. Having more than 200+ pp developers in our team and 17
years of experience. Based on our requirements and the expertise app developers skills I have written this
Connexion
article which will be helpful to choose your career by the right choice. Based on our expertise app
developers skills every industry expects expertise, time management and creativity to build applications in a
faster way. You can prepare your self in such a way that which will helpful for the industry as well for your
personal life.
Occasionally, some of your visitors may see an
Posted by Linea at 12:14 AM
No comments:
Post a Comment
Enter your comment...
Comment as:
Publish
Newer Post
Google Account
Preview
Home
Older Post
Subscribe to: Post Comments (Atom)
Awesome Inc. theme. Powered by Blogger.