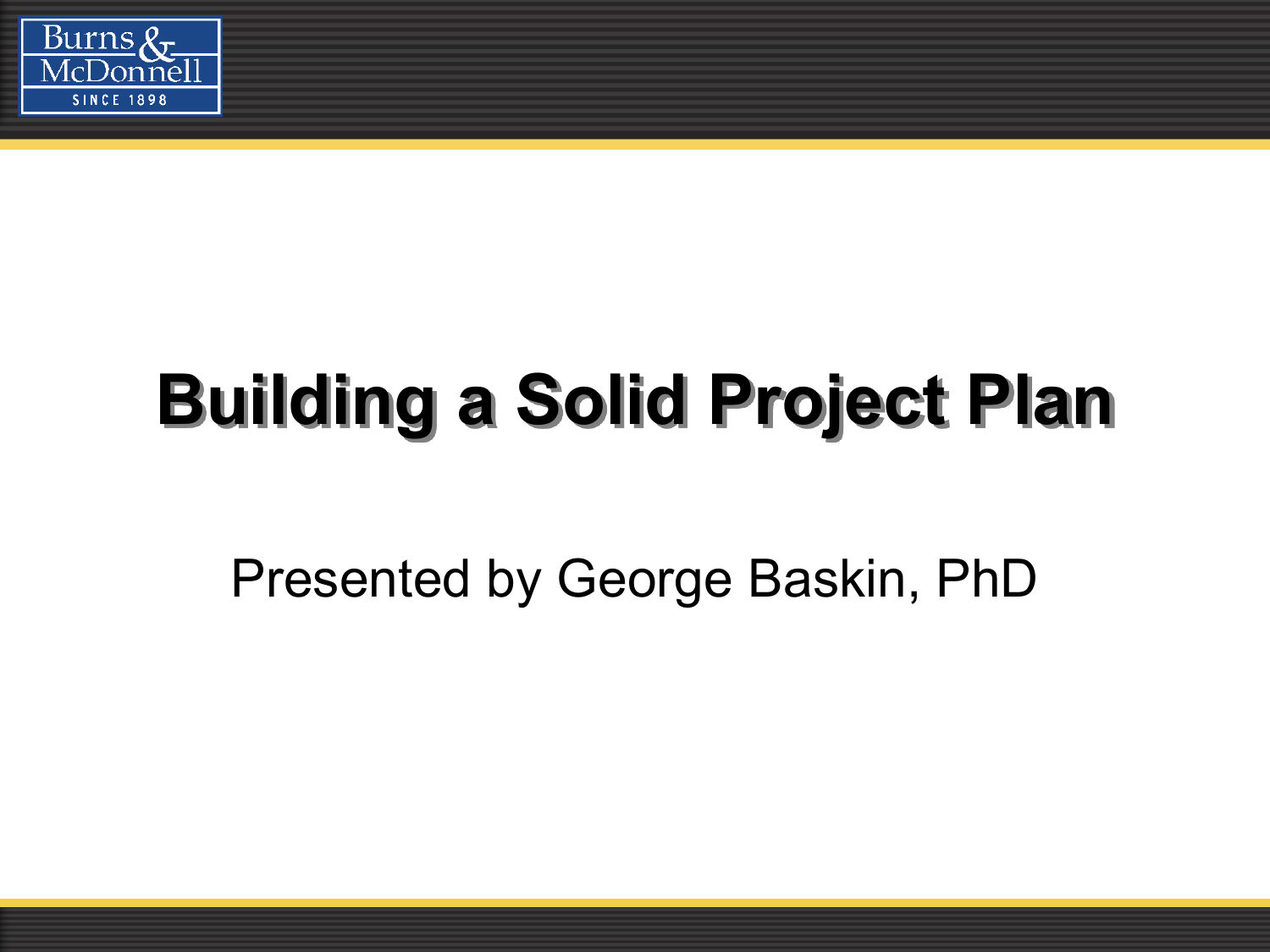 Building a Solid Project Plan
Presented by George Baskin, PhD
About Me
George Baskin
•
•
•
•
Over 30 years of Experience
Burns & McDonnell since 1999
Principal, Project Development
PhD, Engineering Science
– Mechanical Engineering
– Industrial Engineering
• St. Louis, MO
• Personal Life
– Wife & 4 kids
– Church musician
Topics
• Setting the Stage
– The life of a project
• Project Planning & Definition
– How are we going to do this?
– How fast can we do this?
– How much does it cost?
• You Need a Well Oiled Machine
– Developing & keeping team alignment
Project Lifecycle Phases
Stages & Gates
• Business Planning Phase *
– Identify a business need and plan how to satisfy.
• Front End Planning Phase *
– CAPEX allocation ready plan for project execution.
• Project Execution Phase
– Execute project design, procurement and installation.
• Operation Phase
– Start-up through decommissioning, dismantling, or other
disposal.
Business Planning Phase
Identify and Define the Business Case
•
•
•
•
•
•
•
•
What will be the product?
How are we going to produce the product?
How much product will we produce?
What is the product market value?
What is our anticipated revenue stream?
What are our CAPEX and OPEX goals?
Can we make a profit?
Does this appear to be a viable business venture?
Front End Planning Phase
Validate or Disprove the Business Case
• What will be our anticipated OPEX?
– Staffing plan
– Materials sourcing plan
- Rolling stock plan
- Maintenance plan
• What will be our required CAPEX?
– Facilities
– Process control
- Plant equipment
- Project bulks
• Is the project plan CAPEX allocation ready?
• Is the Business Case still valid?
0
Feasibility
1
Concept
2
Detailed Scope
Initiate Phase
Initiate Phase
Initiate Phase
Generate
Options
Analyze
Alternatives
Preliminary
Design/Eng.
Preliminary Reviews
Filter Options
Conceptual
Scopes and
Estimates
Evaluate and
Select Best
Alternatives
Finalize Scope
Definition
PDRI 1
Feasibility Report
Concept Phase
Report
PDRI 2
PDRI 2i
Cost & Schedule
Control Estimates
PDRI 3
Project Definition
Package
3
Design &
Construct
Pre-Project Planning Stages
• Stage 1 Purpose
– Evaluate Feasibility
– Initial validation of the Business Model
• Stage 1 Package
– Conceptual Scope Definition
– +50/-30% Capital Cost Estimate
– Gate review to align the project team on deficient project
definition areas that need to be addressed during the next stage.
Pre-Project Planning Stages
• Stage 2 Purpose
– Evaluate and select technology alternatives
• Intermediate gate may be used to help select "the" alternative to
develop to final stage 2 level.
• Stage 2 Package
– Preliminary Scope Definition
– +/-25% Capital Cost Estimate
– Gate review to align the project team on deficient project
definition areas to be addressed during the next stage.
Pre-Project Planning Stages
• Stage 3 Purpose
– Fully define project scope
– Allocate personnel, resources and capital required to execute the
project
• Stage 3 Package
– Detailed Scope Definition
– +/-10% Capital Cost Estimate
– Gate review to identify deficient project definition areas that must
be addressed before the conclusion of stage 3 and CAPEX
allocation.
Why Bother?
•
•
•
•
•
Improved predictability
Safe construction and operation
On schedule
On budget, maybe even under
Successful startup and operation
• May reduce the project total lifecycle cost
by as much as 25% to 30%.
A Well-Oiled Machine
So, how do we get our
team aligned and
keep it aligned?
Alignment is achieved when the project team is
working toward common objectives.
Alignment
Alignment is based on well-developed and
well-understood, common objectives.
Alignment is…
• Important for any project in any company
• Reduces miscommunication
• Builds and maintains team motivation
• Promotes cost efficient application of resources and capital
Especially critical for newer organizations with a
developing corporate identity and minimal legacy.
Barriers to Alignment
• Conflicting Values and Goals
– Different team members bring the values, attitudes and goals
characteristic of their origin.
• Project Complexity
– Complexity can obscure objectives and raise the risk of selecting
an inappropriate objective.
• Conflicting Objectives
– Develop balance of objectives that reflects the owner's interests
and is acceptable to team.
• Conflicting Guidance
– Project team members may be influenced by stakeholder /
managers from their functional group who provide guidance in
support of goals that conflict with the project objectives.
Changing Project Drivers
• Projects seldom evolve throughout their development
without surprises that require revisiting the balance of
objectives relating to cost, schedule, quality and safety
Setting Objectives
• Formation
– Owner resp.
– Business goals and
limitations
• Communication
– Written objectives to the
team
• Integration
– Negotiation
• Agreement
Set Objectives Early
• Project objectives should be
formed early.
• Influence on cost and schedule
fades rapidly as the project
matures and details become
more rigidly defined and
resources committed.
What Are the Drivers?
•
•
•
•
Business/Financial (image, fundraising, burn rate)
Marketing (turndown, quality, $/unit)
R&D/QA (purity/quality, process control & flexibility)
Technology (established, serial #1)
– Identify IP "crown jewels" that need protection
– Develop a project IP protection plan
• Capital Projects (design rate & CAPEX)
• Operations & Maintenance (safety, up-time & OPEX)
Rank the drivers honestly!
Objective Agreement Test
•
•
•
•
•
•
•
•
Is it specific and identifiable?
Is it oriented toward single-ended results?
Is it set against a deadline?
Is it attainable?
Is it responsive to organizational needs?
Is it controllable?
Is it assignable to responsible parties?
Will it be used to evaluate the success of the
project?
Thank you!
Questions?