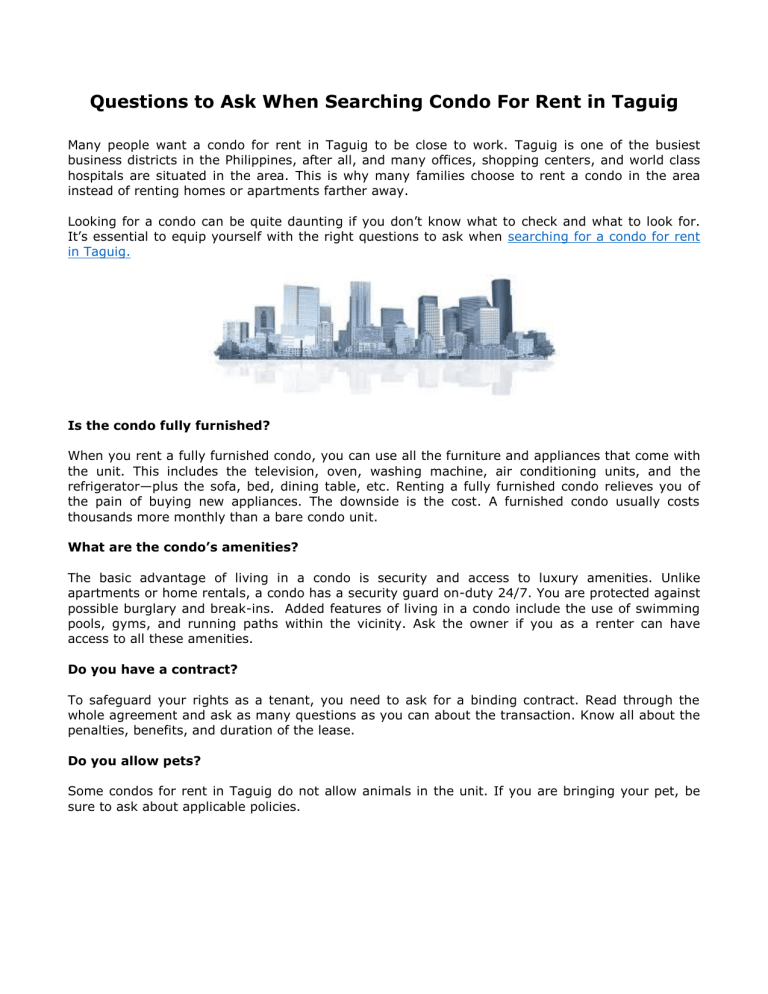 Questions to Ask When Searching Condo For Rent in Taguig
Many people want a condo for rent in Taguig to be close to work. Taguig is one of the busiest
business districts in the Philippines, after all, and many offices, shopping centers, and world class
hospitals are situated in the area. This is why many families choose to rent a condo in the area
instead of renting homes or apartments farther away.
Looking for a condo can be quite daunting if you don't know what to check and what to look for.
It's essential to equip yourself with the right questions to ask when searching for a condo for rent
in Taguig.
Is the condo fully furnished?
When you rent a fully furnished condo, you can use all the furniture and appliances that come with
the unit. This includes the television, oven, washing machine, air conditioning units, and the
refrigerator—plus the sofa, bed, dining table, etc. Renting a fully furnished condo relieves you of
the pain of buying new appliances. The downside is the cost. A furnished condo usually costs
thousands more monthly than a bare condo unit.
What are the condo's amenities?
The basic advantage of living in a condo is security and access to luxury amenities. Unlike
apartments or home rentals, a condo has a security guard on-duty 24/7. You are protected against
possible burglary and break-ins. Added features of living in a condo include the use of swimming
pools, gyms, and running paths within the vicinity. Ask the owner if you as a renter can have
access to all these amenities.
Do you have a contract?
To safeguard your rights as a tenant, you need to ask for a binding contract. Read through the
whole agreement and ask as many questions as you can about the transaction. Know all about the
penalties, benefits, and duration of the lease.
Do you allow pets?
Some condos for rent in Taguig do not allow animals in the unit. If you are bringing your pet, be
sure to ask about applicable policies.