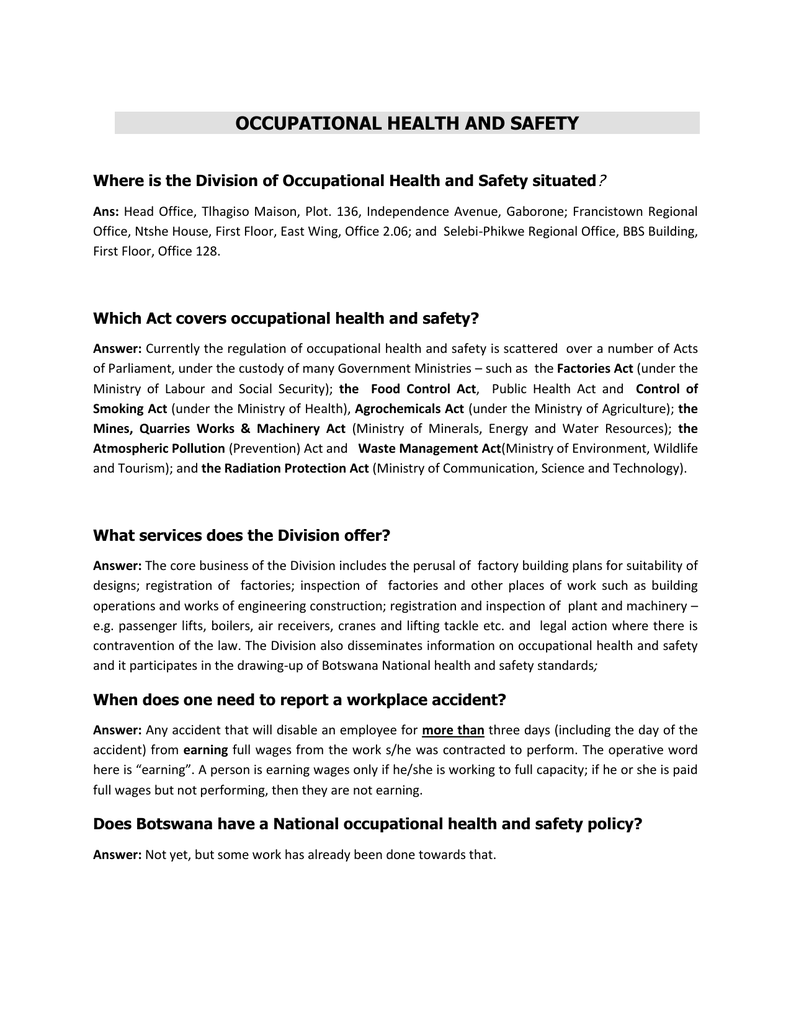 OCCUPATIONAL HEALTH AND SAFETY
Where is the Division of Occupational Health and Safety situated?
Ans: Head Office, Tlhagiso Maison, Plot. 136, Independence Avenue, Gaborone; Francistown Regional
Office, Ntshe House, First Floor, East Wing, Office 2.06; and Selebi-Phikwe Regional Office, BBS Building,
First Floor, Office 128.
Which Act covers occupational health and safety?
Answer: Currently the regulation of occupational health and safety is scattered over a number of Acts
of Parliament, under the custody of many Government Ministries – such as the Factories Act (under the
Ministry of Labour and Social Security); the Food Control Act, Public Health Act and Control of
Smoking Act (under the Ministry of Health), Agrochemicals Act (under the Ministry of Agriculture); the
Mines, Quarries Works & Machinery Act (Ministry of Minerals, Energy and Water Resources); the
Atmospheric Pollution (Prevention) Act and Waste Management Act(Ministry of Environment, Wildlife
and Tourism); and the Radiation Protection Act (Ministry of Communication, Science and Technology).
What services does the Division offer?
Answer: The core business of the Division includes the perusal of factory building plans for suitability of
designs; registration of factories; inspection of factories and other places of work such as building
operations and works of engineering construction; registration and inspection of plant and machinery –
e.g. passenger lifts, boilers, air receivers, cranes and lifting tackle etc. and legal action where there is
contravention of the law. The Division also disseminates information on occupational health and safety
and it participates in the drawing-up of Botswana National health and safety standards;
When does one need to report a workplace accident?
Answer: Any accident that will disable an employee for more than three days (including the day of the
accident) from earning full wages from the work s/he was contracted to perform. The operative word
here is "earning". A person is earning wages only if he/she is working to full capacity; if he or she is paid
full wages but not performing, then they are not earning.
Does Botswana have a National occupational health and safety policy?
Answer: Not yet, but some work has already been done towards that.
Are employers allowed to deduct money for personal protective clothing and
other safety provisions from our pay?
Answer: Employers are not allowed to deduct any amount contracted to be paid by them to employees
for payment for protective clothing and or appliances
When are we required to register our factories with your office?
Answer: Section 9 of the Factories Act requires that every occupier must apply to the Chief Inspector of
Factories (now called Chief Health and Safety Officer) before he /she can operate a factory. Operating
without a Certificate of Registration is a serious offence.
Does Botswana have workplace (occupational) exposure limits?
Answer: We currently do not have any occupational exposure limits but it is hoped that, by the end of
NDP 10, some standards will be in place.
Does the Factories Act cover health and safety in non-factory offices and
commercial premises?
Answer: Not yet but it might in the not too distant future.
Are you empowered by law to summarily close the operations of a
factory/workplace that you deem to have dangerous working conditions that
pose eminent danger to employed persons?
Answer: No, an inspector who seeks to cause such closure must obtain a court order.
What does your Division do (the mandate)?
Answer: To regulate safety, health and welfare in workplaces.
What is the purpose of registering a factory? Is it for licensing?
Answer: A workplace must be seen to be substantially suitable for the work that is intended to be
carried out therein, and must also be compatible with nearby workplaces. It would not be right to
permit foundry operations next to a workplace that uses large quantities of flammable substances.
Are you labour inspectors?
Answer: In a sense we are. Occupational health and safety is a labour issue. However, our mandate is to
regulate health, safety and welfare of employees, and the safety of machines and plant.
Where have you been all this time?
Answer: The Division of Occupational Health and Safety has been in existence since 1978. However, up
until early 2006, the Division had offices only in Gaborone, with only a few inspectors. The Division has
since grown to about 25 core personnel, with offices regional offices in Francistown and Selebi-Phikwe.
A further two offices are planned for Lobatse and Maun.