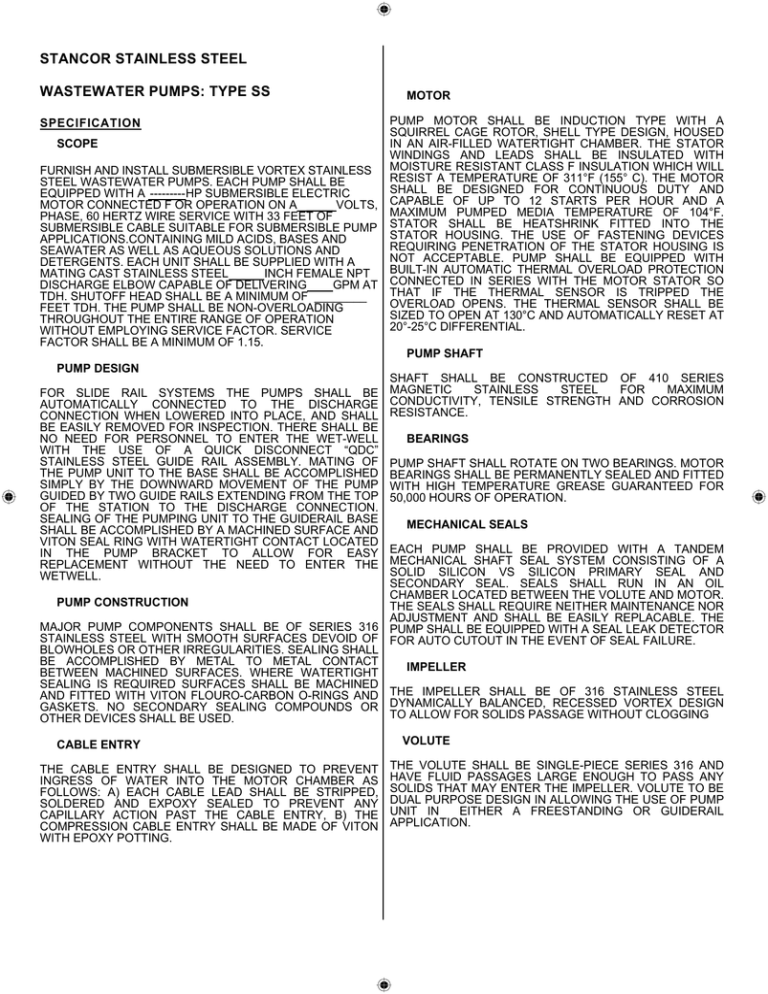 STANCOR STAINLESS STEEL
WASTEWATER PUMPS: TYPE SS
SPECIFICATION
SCOPE
FURNISH AND INSTALL SUBMERSIBLE VORTEX STAINLESS
STEEL WASTEWATER PUMPS. EACH PUMP SHALL BE
EQUIPPED WITH A ---------HP SUBMERSIBLE ELECTRIC
MOTOR CONNECTED F OR OPERATION ON A ____ VOLTS,
PHASE, 60 HERTZ WIRE SERVICE WITH 33 FEET OF
SUBMERSIBLE CABLE SUITABLE FOR SUBMERSIBLE PUMP
APPLICATIONS.CONTAINING MILD ACIDS, BASES AND
SEAWATER AS WELL AS AQUEOUS SOLUTIONS AND
DETERGENTS. EACH UNIT SHALL BE SUPPLIED WITH A
INCH FEMALE NPT
MATING CAST STAINLESS STEEL
GPM AT
DISCHARGE ELBOW CAPABLE OF DELIVERING
TDH. SHUTOFF HEAD SHALL BE A MINIMUM OF ________
FEET TDH. THE PUMP SHALL BE NON-OVERLOADING
THROUGHOUT THE ENTIRE RANGE OF OPERATION
WITHOUT EMPLOYING SERVICE FACTOR. SERVICE
FACTOR SHALL BE A MINIMUM OF 1.15.
MOTOR
PUMP MOTOR SHALL BE INDUCTION TYPE WITH A
SQUIRREL CAGE ROTOR, SHELL TYPE DESIGN, HOUSED
IN AN AIR-FILLED WATERTIGHT CHAMBER. THE STATOR
WINDINGS AND LEADS SHALL BE INSULATED WITH
MOISTURE RESISTANT CLASS F INSULATION WHICH WILL
RESIST A TEMPERATURE OF 311°F (155° C). THE MOTOR
SHALL BE DESIGNED FOR CONTINUOUS DUTY AND
CAPABLE OF UP TO 12 STARTS PER HOUR AND A
MAXIMUM PUMPED MEDIA TEMPERATURE OF 104°F.
STATOR SHALL BE HEATSHRINK FITTED INTO THE
STATOR HOUSING. THE USE OF FASTENING DEVICES
REQUIRING PENETRATION OF THE STATOR HOUSING IS
NOT ACCEPTABLE. PUMP SHALL BE EQUIPPED WITH
BUILT-IN AUTOMATIC THERMAL OVERLOAD PROTECTION
CONNECTED IN SERIES WITH THE MOTOR STATOR SO
THAT IF THE THERMAL SENSOR IS TRIPPED THE
OVERLOAD OPENS. THE THERMAL SENSOR SHALL BE
SIZED TO OPEN AT 130°C AND AUTOMATICALLY RESET AT
20°-25°C DIFFERENTIAL.
PUMP SHAFT
PUMP DESIGN
FOR SLIDE RAIL SYSTEMS THE PUMPS SHALL BE
AUTOMATICALLY CONNECTED TO THE DISCHARGE
CONNECTION WHEN LOWERED INTO PLACE, AND SHALL
BE EASILY REMOVED FOR INSPECTION. THERE SHALL BE
NO NEED FOR PERSONNEL TO ENTER THE WET-WELL
WITH THE USE OF A QUICK DISCONNECT "QDC"
STAINLESS STEEL GUIDE RAIL ASSEMBLY. MATING OF
THE PUMP UNIT TO THE BASE SHALL BE ACCOMPLISHED
SIMPLY BY THE DOWNWARD MOVEMENT OF THE PUMP
GUIDED BY TWO GUIDE RAILS EXTENDING FROM THE TOP
OF THE STATION TO THE DISCHARGE CONNECTION.
SEALING OF THE PUMPING UNIT TO THE GUIDERAIL BASE
SHALL BE ACCOMPLISHED BY A MACHINED SURFACE AND
VITON SEAL RING WITH WATERTIGHT CONTACT LOCATED
IN THE PUMP BRACKET TO ALLOW FOR EASY
REPLACEMENT WITHOUT THE NEED TO ENTER THE
WETWELL.
SHAFT SHALL BE CONSTRUCTED OF 410 SERIES
MAGNETIC
STAINLESS
STEEL
FOR
MAXIMUM
CONDUCTIVITY, TENSILE STRENGTH AND CORROSION
RESISTANCE.
BEARINGS
PUMP SHAFT SHALL ROTATE ON TWO BEARINGS. MOTOR
BEARINGS SHALL BE PERMANENTLY SEALED AND FITTED
WITH HIGH TEMPERATURE GREASE GUARANTEED FOR
50,000 HOURS OF OPERATION.
MECHANICAL SEALS
EACH PUMP SHALL BE PROVIDED WITH A TANDEM
MECHANICAL SHAFT SEAL SYSTEM CONSISTING OF A
SOLID SILICON VS SILICON PRIMARY SEAL AND
SECONDARY SEAL. SEALS SHALL RUN IN AN OIL
CHAMBER LOCATED BETWEEN THE VOLUTE AND MOTOR.
PUMP CONSTRUCTION
THE SEALS SHALL REQUIRE NEITHER MAINTENANCE NOR
ADJUSTMENT AND SHALL BE EASILY REPLACABLE. THE
MAJOR PUMP COMPONENTS SHALL BE OF SERIES 316 PUMP SHALL BE EQUIPPED WITH A SEAL LEAK DETECTOR
STAINLESS STEEL WITH SMOOTH SURFACES DEVOID OF FOR AUTO CUTOUT IN THE EVENT OF SEAL FAILURE.
BLOWHOLES OR OTHER IRREGULARITIES. SEALING SHALL
BE ACCOMPLISHED BY METAL TO METAL CONTACT
IMPELLER
BETWEEN MACHINED SURFACES. WHERE WATERTIGHT
SEALING IS REQUIRED SURFACES SHALL BE MACHINED
AND FITTED WITH VITON FLOURO-CARBON O-RINGS AND THE IMPELLER SHALL BE OF 316 STAINLESS STEEL
GASKETS. NO SECONDARY SEALING COMPOUNDS OR DYNAMICALLY BALANCED, RECESSED VORTEX DESIGN
TO ALLOW FOR SOLIDS PASSAGE WITHOUT CLOGGING
OTHER DEVICES SHALL BE USED.
CABLE ENTRY
THE CABLE ENTRY SHALL BE DESIGNED TO PREVENT
INGRESS OF WATER INTO THE MOTOR CHAMBER AS
FOLLOWS: A) EACH CABLE LEAD SHALL BE STRIPPED,
SOLDERED AND EXPOXY SEALED TO PREVENT ANY
CAPILLARY ACTION PAST THE CABLE ENTRY, B) THE
COMPRESSION CABLE ENTRY SHALL BE MADE OF VITON
WITH EPOXY POTTING.
VOLUTE
THE VOLUTE SHALL BE SINGLE-PIECE SERIES 316 AND
HAVE FLUID PASSAGES LARGE ENOUGH TO PASS ANY
SOLIDS THAT MAY ENTER THE IMPELLER. VOLUTE TO BE
DUAL PURPOSE DESIGN IN ALLOWING THE USE OF PUMP
UNIT IN
EITHER A FREESTANDING OR GUIDERAIL
APPLICATION.