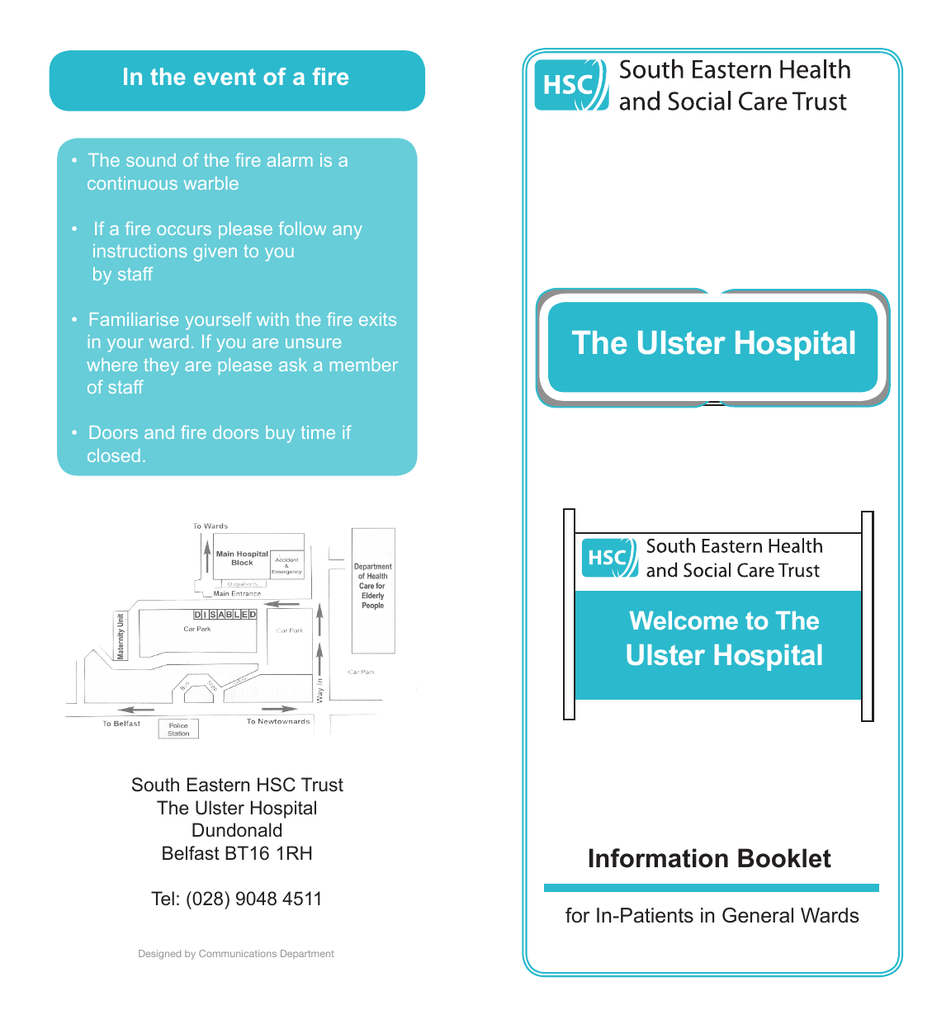 In the event of a fire
• The sound of the fire alarm is a continuous warble
• If a fire occurs please follow any instructions given to you by staff
• Familiarise yourself with the fire exits in your ward. If you are unsure where they are please ask a member of staff
• Doors and fire doors buy time if closed.
The Ulster Hospital
Welcome to The
Ulster Hospital
South Eastern HSC Trust
The Ulster Hospital
Dundonald
Belfast BT16 1RH
Tel: (028) 9048 4511
Designed by Communications Department
Information Booklet
for In-Patients in General Wards
Foreword
Welcome to the Ulster Hospital. Our aim
is to make your stay here as pleasant and
comfortable as possible.
South Eastern Health and Social Care
Trust Mission Statement
To provide high quality services
which are responsive and
accessible to our patients and
clients and which contribute to
improved health & social well
being and reduce inequalities.
In this booklet we will try to answer some
of your questions, but if you require more
information please ask ward staff.
Visitors' Charter information is available in all
wards/departments.
There are sections within this leaflet
relating to:
•
Coming into hospital
•
Hospital staff
•
On the ward
•
Infection control
•
Facilities available for patients and
visitors
•
Going home
•
Tell us what you think of our services
•
In the event of a fire.
Compliments
We will use your compliments to highlight
good practice and will pass them on to the
relevant department or person.
Complaints
If you are not happy about any aspect of the
care, treatment or service we have offered
you, you should contact the person who
is dealing with you first, or their manager,
so that your complaint can be dealt with
immediately. If you do this and you are
still not satisfied, you can make a formal
complaint to the Complaints/Patient Liaison
Manager. Once we receive your complaint,
we will send you information on how our
complaints procedure works.
Advice or Support
If you require advice or support on any
aspect or problem relating to your care, you
may contact the Complaints/Patient Liaison
Manager.
Your views are much appreciated and will be
treated confidentially. You may contact the
Complaints/Patient Liaison Manager by:
•
•
•
•
Filling in the leaflet entitled 'Tell us
what you think of our services'.
Writing to Complaints/Patient
Liaison Department,
Ards Hospital
Newtownards
BT23 4AD
Telephoning on - (028) 9056 1427
or Fax (028) 9056 4815
Email:
[email protected]
Tell us what you think
of our services
The South Eastern Trust recognises that
health and social care will never be risk or
error free, although serious errors are rare.
Patients and carers have an important role
to play in partnership with health care staff
in ensuring errors and risks are identified
and reduced. If you have any concerns
during your inpatient stay they should be
brought to the attention of the ward manager
immediately. The South Eastern Trust has
a full incident reporting and investigation
system to ensure lessons are learned from
errors that occur.
Within the South Eastern HSC Trust, we are
continually trying to improve the quality of
our services and we want you to experience
the best care we can provide. You can help
us to improve by telling us what you think of
the services you have received.
You may want to:
•
Give a compliment about the service you have used
•
Make a comment or suggestion for improvement
•
Make a complaint.
We value your opinions and will act on them
whenever possible.
Comments and Suggestions
You may fill out a Comment/Suggestion card.
We will consider all your comments and
suggestions, share them with all the relevant
staff and make changes if possible.
Coming into Hospital
Travel to Hospital
The Ulster Hospital is on the Upper
Newtownards Road, Dundonald,
approximately six miles from Belfast city
centre and five miles from Newtownards.
There is a regular bus service from the city
centre and from Newtownards with bus stops
outside the hospital entrance. Metro Bus
numbers from Belfast are 4A, 19, 20 and
20A; Ulsterbus numbers from Newtownards
are 5, 5d, 7, 9 and 10. Ulsterbus number
from Bangor is 301B.
Should you require an ambulance to take
you to the hospital, please contact your local
general practitioner.
Car Parking
The pay on foot car parks at the front of
the hospital and the terrace car park at the
right side of the hospital are for patients and
visitors, with spaces available for disabled
drivers. Patients who are unable to walk long
distances may be dropped off at the front
doors.
There is a ramped area for disabled access
at the main entrance of the hospital. Please
do not park in designated staff car parks,
disabled spaces or restricted parking areas,
as you may be wheel clamped.
There may be exceptional circumstances
where a relative/carer needs to visit for
a prolonged period. Your visitors may be
eligible for car park exemption. Please speak
to the nurse in charge.
Arrival
When you arrive at the hospital please enter
via the main entrance. In the first instance,
you should report to the Receptionist who
will direct you to the admissions office
where your personal details will be taken.
Admissions office staff will then direct you
to the ward where you will be admitted. This
formality will be completed as quickly as
possible.
Things to bring
You will have received some documentation
regarding your admission. Please complete
the necessary forms and bring them with
you. Bring any family contact numbers. If you
receive any type of pension or family income
support, please take a note of the numbers
and bring them with you. Other items to
bring include nightwear, dressing gown,
slippers, towels, toiletries, moist hand wipes,
battery operated razors, books and a small
amount of money for the bedside phone or
newspapers if desired.
Medicines
The clinical staff may want to prescribe new
medicines or other treatment for you when
you are in hospital. They need to know all
medicines that you are currently taking
including homeopathic or herbal remedies.
It is therefore VERY IMPORTANT that you
bring all your medicines into hospital with
you and the most recent list of repeat
medicines prescribed by your GP. If you
hold a SPECIAL CARD which gives specific
details of any current treatment for example
a steroid or warfarin card, or an allergies
alert card bring these with you and show
them to the clinical staff. It could be
dangerous for you to continue to take your
own medicines or to take any medicines
8. No hospital clothing, linen, etc is accidentally taken home
9. Take home all personal property from locker including any of your own medication which you have brought into hospital
10. Following discharge, should you require further medical intervention, contact your own GP or the GP Out of Hours service.
Protecting and using Patient
and Client Information
The South Eastern HSC Trust aims to
provide you with the highest quality of health
care. In order to achieve this aim, our staff
will ask you for information about yourself
in order that you can receive the most
appropriate care and treatment.
We have a legal obligation to keep records
about you, your health and the care which
we have provided for you. We keep these
records in order to minimise duplication
and repetitive questioning and to ensure
continuity of your treatment/care.
However there are occasions when we
may need to pass on relevant information
to other authorised staff. We would assure
you that we only ever pass on information
if staff genuinely need it in order to provide
you with appropriate and high quality care.
Information may be used for audit purposes
as part of reviewing and improving care
delivery. Whenever possible we will remove
details identifying you.
brought to you by visitors. You should always
tell the nurse in charge of any medicines
brought to you in this way. You will be
provided with a supply of medicines on
discharge from the hospital (if required) and
advised of the changes made.
Going Home
In order to facilitate your discharge plan, you
will be given an expected discharge date
within 24 hours of your admission.
What you should not bring
When the time comes for you to leave
hospital, you will be asked to vacate your
bed area by 10.00am. Please make sure
that:
1. Arrangements have been made for going home including own transport. If there is
any difficulty speak to the nurse in charge. Ambulances are only available in exceptional circumstances
2. Any valuables/money being kept in safe-
keeping are returned to you. Money will be returned in cheque form
Please do not bring large sums of money,
electrical equipment or valuables/jewellery
into the ward. Please send home money or
valuables or tell the nurse in charge who
will place these in safe keeping for you. All
sums of money will be returned to you in
cheque form. The hospital will not accept
responsibility for loss or damage to any
article which has not been handed over for
safe keeping. Watches and small amounts
of money can be kept in the ward safe whilst
you are at theatre. Expensive jewellery
should not be brought into hospital.
Hospital Staff
3. Library books are returned
4. A medical certificate, stating that you have been discharged, has been issued if required
5. An appointment has been made for you to return to the Out-Patients Department, if necessary. Make sure that the date and time are suitable for you
6. You have received any medicines which have been prescribed for you on discharge
7. You have received any information leaflets/equipment specific to your aftercare
It is not always easy to tell who everyone is.
All ward staff wear name badges, but if you
are in any doubt please ask the person to
introduce him/herself.
Nurses
The person in charge of the ward is known
as the ward manager. The ward manager
has overall responsibility to ensure that you
receive a high standard of care. He/she is
supported by a team comprising of a ward
sister, staff nurses, student nurses and
nursing auxiliaries. These staff will assist,
advise and support you and your relatives
with any aspect of your care.
Depending on your diagnosis some patients
may be visited by a clinical nurse specialist
who has expert knowledge of your condition.
Doctors
In hospital a consultant is responsible for
your treatment. He or she is assisted by
registrars and by junior doctors called house
officers. Should you not know the name of
your consultant ask the ward staff.
There will be regular visits from the team
of doctors looking after you. Please feel
free to ask any questions during these
visits. Occasionally it may be necessary for
the consultant to ask advice from another
specialist regarding your treatment. You
have a right to a second opinion regarding
your medical care and/or diagnosis. Please
speak to the consultant in charge of your
care with regard to this.
Teaching
The Ulster Hospital is a teaching hospital
and medical, nursing and other professional
students are assigned to most wards.
The medical students are attached to the
medical team and are usually present during
ward rounds. You have the right to choose
whether or not to take part in student training
or research. If you do not wish to take part
in a teaching session please inform the
consultant or nurse in charge. We hope
however, that you will assist in this very
important aspect of training.
Social Services
The social work and discharge team within
the hospital consists of social workers, care
managers, nurses and community care
assessors. Should you have any personal
anxieties, or difficulties related to home,
work, admission to or discharge from
hospital, please ask the ward manager or
nurse in charge to contact this team for
you. However, as part of your assessment
process you may be automatically referred.
The Oasis Restaurant
Patients and visitors are welcome to use the
Oasis Restaurant, which is open each day
between 7.00am - 7.00pm. Please ask staff
if you require directions to the restaurant.
Patients should tell the nurse in charge if
they leave the ward.
Patients with catheters or drains are not
allowed to use the restaurant for infection
control purposes.
Snacks and drinks can also be purchased
from vending machines on the various floors
of the hospital and outside some of the
wards.
Taxi Service
Taxis may be ordered in the Main Hall where
a free phone service is available to a local
firm.
Postal arrangements
Post is delivered to the wards each weekday.
All mail should be addressed clearly with
your name and ward number eg.
Mrs A Brown
Ward 4
Ulster Hospital
Dundonald
BT16 1RH
Outgoing mail will be collected from the ward
daily. Please ensure the correct stamp is on
all external mail.
Hairdressing
Other staff
Patients may wish to request a hairdressing
appointment. Nurses will contact the Help
Desk to arrange this for you. There is a
small fee for this. Vouchers are available
on sale within the hospital shop and Oasis
Restaurant. Please see posters displayed
at ward level.
Your treatment may involve other members
of staff such as physiotherapists, dietitians,
occupational therapists, pharmacists, speech
and language therapists, podiatrists and
many more. Should you not understand who
they are and what they do, please ask.
Library
When you are admitted, a chaplain will be
told of your admission. The chaplain may
be of your denomination or can facilitate
contacting your own spiritual representative.
The chaplains make regular visits to the
wards. There is a small Church on the first
floor of the hospital which is open at all
times.
A library service is available. The book trolley
visits each ward twice weekly and ward staff
will give details of the service. This service
is provided by the Ulster Hospital Ladies
Committee on a voluntary basis.
Trolley Shop Service
A trolley shop selling a variety of goods (e.g.
sweets and toiletries) will come to the wards.
This service is also provided by the Ulster
Hospital Ladies Committee on a voluntary
basis.
Newspapers
You can buy newspapers twice daily from a
trolley which will come around the wards.
Shop
The hospital shop is located at the
main entrance. On sale are a variety of
items including cards, newspapers and
confectionery. If you wish and are fit to go to
the shop, please discuss with the nurse in
charge before leaving the ward.
Hospital Chaplains
A protestant service is held on Sunday at
9.30am.
A roman catholic service is held on Sunday
at 10.45am.
A Chaplaincy Services leaflet is available for
patients and relatives. Copies are available
at ward level and at Main Reception.
On the Ward
For your own safety, you will be asked to
wear a patient identification wristband at all
times during your hospital stay.
Patient Identification Armband
Y Your identification armband helps us to
identify you and should be checked before
medicines or any procedures.
O Occasionally Your identification armband
will need to be removed. If this happens,
Your armband must be replaced.
U Unique personal details to you, including
Your first name, last name and date of
birth will be on Your identification armband.
Please check Your details are correct.
R Report any problems with Your
identification armband to a member of staff.
During your stay in hospital, you may be
asked to move from one area of the ward or
from a side ward to another part of the ward,
in order to accommodate another patient.
Staff will try to ensure that this causes you
the least possible disruption.
There are separate areas within the hospital
for male and female patients. We will make
every effort to ensure that where possible
you are nursed in a single sex bay.
However, as a result of emergency
admissions, sometimes it may be necessary
to care for male and female patients in the
same area of the ward. If this happens,
patients will be transferred to a single sex
bay as soon as possible.
You will be informed of your expected date
of discharge within 24 hours of admission, to
enable you to make arrangements for this.
Reducing the risk of Infection in Hospital.
What you can do to help
The recent publicity about hospital acquired
infection has caused a great deal of concern
across the country.
When in hospital you can play your part by
doing the following:
* Keeping your hands and body clean. Bring personal toiletries including soap
and a clean flannel with you into hospital
* Taking a container of moist hand wipes
with you will ensure you always have
some available when you need to clean
your hands
Travelling Expenses
Close relatives who travel to hospital to
visit you may also be entitled to claim their
travelling expenses if they receive benefits.
The social worker or ward staff will tell you
how to claim.
Facilities available for
patients/visitors
Patientline Bedside Entertainment System
The Ulster Hospital has installed a Patient
Line Bedside Patient Entertainment System.
This can give patients access to a range of
terrestrial and satellite television channels,
digital radio (including hospital radio),
personal bedside telephone services and
other services such as movies, internet
access and email.
Patientline gives patients the opportunity
to choose exactly what they want to watch
without disturbing others, as each bedside
unit has a headset. Telephone services will
also become more convenient to use as
patients have the facility to make calls from
their bedside. Family and friends can call the
patient directly at the bedside, using their
personal Patientline number.
There is a charge for Patientline. This will be
explained by Patientline staff.
Alongside the paid for services, Patientline
offers a number of services for free, including
breakfast TV, television to children under 16,
6 radio stations, answer phone, messaging
service and information channels.
Health and Safety
The hospital has a duty to create as far as
possible a safe environment for everyone,
but individuals have a personal responsibility
not to behave in a way which could cause
danger to themselves or others.
If you do have an accident please report it to
the nurse in charge.
Moving and Handling
During your stay it may be necessary for the
staff to use various pieces of equipment to
assist with moving and positioning you if you
are not able e.g. hoists, slide sheets. This is
to ensure your comfort and safety. Staff will
fully explain the equipment and what they
are going to do. Please feel free to ask any
questions.
Electrical Equipment
Because of health and safety regulations,
the Ulster Hospital must test all electrical
equipment used on its premises. Please
do not bring any electrical equipment into
hospital. Battery operated shavers are
allowed. Hair dryers are available on each
ward.
You should refrain from using mobile phones
in clinical areas.
Sick Lines/Medical Certificates
If you require an in-patient certificate to
cover your in-patient stay, for your employer,
please ask the ward staff who will issue one.
Social Security Benefits/Pensions
If you receive social security benefits/
pensions you may find that some will be
reduced during your stay in hospital. A social
worker or ward staff will tell you how to claim.
* Gentlemen should take their own razor with them so they can shave
* Ensure you always wash your hands after
using the toilet
* If you use a commode please ensure that the nurse brings you a bowl of water to wash your hands, or use moist hand wipes afterwards
* Always wash your hands or clean them
with a moist hand wipe or hand sanitiser
immediately before you eat a meal
* Hospital staff can help protect you by washing their hands, or by cleaning them with special hand sanitisers. If a member of staff needs to examine you or perform a procedure, do not be afraid to ask if they have first washed their hands or used a
hand sanitiser
* Try to keep the top of your locker and bed-table reasonably free from clutter. Too many things left on top make it more difficult for the cleaning staff to clean your locker and bed table properly
* If you visit the bathroom or toilet and you
are concerned that it does not look clean,
report this immediately to the nurse in
charge of the ward. Request it is cleaned
before you use it and use an alternative
(if available) in the meantime
* Your bed-area should be cleaned regularly.
If you or your visitors see something that has been missed during cleaning, report it to the nurse in charge and request it is cleaned
* Always wear something on your feet when walking around in hospital. A comfortable pair of slippers is fine, but make sure they have some grip on the bottom, as hospital floors can be a little slippery sometimes
* Flowers and plants are NOT permitted in hospital. Meals
Meal times may vary but generally are as
follows:
Breakfast
Lunch
Evening Meal
8.00am
12.00noon
5.00pm
Visiting is not permitted during meal times
unless relatives are actively involved in
patient care or are requested by members of
the nursing staff.
You have a choice of menu for all meals and
you make your selection from menu cards. If
necessary the nursing staff will help you fill in
the menu card.
Vegetarian options are available at each
meal. If you require particular ethnic/vegan
foods please tell the nurse who will organise
suitable meals. Persons with special dietary
needs related to their medical condition will
be referred to the dietitian.
Staff should be notified of any perishable
food or drink brought in for patients.
Food which has passed its expiry date or
sandwiches which are not eaten within 24
hours will be discarded in the interests of
food safety.
Please check with ward staff before
accepting gifts of food or chocolate as this
may affect your treatment. Avoid bringing in
food containing nuts.
Food is available out of hours only in
exceptional circumstances. Please see
information card at ward level.
Patients/clients and visitors are asked to
smoke outside Trust buildings away from
entrances and exits.
Staff, visitors and patients must adhere to
this at all times.
Nicotine replacement therapy
may be offered to patients for the duration
of their hospital stay, based on their medical
condition.
Health Promoting Hospitals (HPH)
The Trust is part of the international HPH
Network.
The Ulster Hospital aims to be a healthy
place for patients, staff and visitors. Please
ask staff if you have any questions about
things that affect your overall health and
wellbeing.
Please tell staff if you have any ideas about
how we as a hospital can help you keep you
healthy.
Alcohol
Patients and visitors must not bring alcohol
into the hospital grounds or consume it
within the hospital grounds or premises.
Emergency Evacuation
In the event of a fire, bomb alert or other
such emergency, please stay calm. Staff
will advise you if the ward requires to be
evacuated and will tell you what to do please refer to back of leaflet.
You will be asked to sign a consent form
before surgery or before having some other
procedures performed, so make sure you
understand the form before you sign it.
Visiting times
2.00pm - 4.30pm
6.30pm - 8.30pm every day
Parents/guardians must sign the consent
form for children under the age of sixteen.
Information about your illness is confidential.
It will not be given to anyone, except
those involved in your treatment and your
own General Practitioner, without your
permission. With your consent, close
relatives may make an appointment with the
doctor in charge of your treatment through
the nurse in charge. Information will only be
given to relatives with the patient's approval.
Relatives should select one person to be
spokesperson/link person for the family
so that nursing staff do not have to give
information to many relatives.
Enquiries by phone should be kept to a
minimum. Please nominate a family member
to phone for information. Limited information
is given by phone. Wards have a direct dial
number. Please speak to the nurse in charge
regarding this.
Wills
It is hospital policy that nursing staff do not
witness wills. Should you require help, ask
the nurse in charge for advice.
Smoking
Northern Ireland is now smokefree and
therefore it is illegal to smoke in any
enclosed space which include entrances
and exits to buildings.
Refer to Exception Sections
Please try to visit during these times as care,
treatment and rest is required outside of
these times. Do not feel obliged to visit for
long periods. Short visits are less tiring for
the patient and enable rest to be taken.
Exceptions
Please speak to staff in charge in
the following areas to clarify visiting
arrangements:
*
*
*
*
*
*
*
*
Maternity
Neo-natal Unit
Children's Wards
Intensive Care Unit
Coronary Care Unit
Mental Health Inpatient Unit
Medical Wards
Care of the Elderly.
Visitor numbers
Visitors are limited to a maximum of 2 per
bed at any one time (cultural preferences
and requirements will be taken into
consideration when agreeing visiting for
families and carers).
It is suggested that visits which include
children should be limited to a maximum of
30 minutes where possible. Children are the
responsibility of the adult visitor and should
remain with them during the visit.
Restricting/Excluding Visitors
It would be preferable not to bring very
young babies in to visit.
There are only a few situations when
visitors will be restricted or excluded:
Visitor Behaviour
Wards/
Depts
In some circumstances staff
may judge it in the patient's
best interest to restrict
visiting to enable treatment,
care or rest.
Behaviour
of visitor/
visitors
* Do not visit if you or any visiting children have any infection eg. coughs, colds, flu, diarrhoea or vomiting. Do not visit until free from symptoms as you may still be infectious. If in doubt call the ward for advice
The Trust has a zero
tolerance approach to
violence/aggression towards
our staff. If visitors do display
inappropriate behaviour,
this will be discussed with
them and if necessary they
will be asked to leave. Trust
security and/or the police will
be called if required.
At patient's
request
If the patient has stated that
he/she does not wish to
see a visitor then staff will
respect their request.
* Avoid visiting at mealtimes (ie. lunch 11.45am - 1.30pm, teatime 5.00pm - 6.30pm) unless you are actively involved in the patient's care, or at the request of a member of nursing staff
Medical Information
* Follow any advice with regard to hygiene, eg. washing your hands/using a hand sanitiser when entering or leaving all ward areas
* Please refer to nurse in charge before entering if the patient you are visiting is in a single room due to an infection
* Respect other patients when visiting keeping noise to a minimum
* Use chairs provided, do not sit on the beds
* Be aware that storage facilities are very limited so do not bring too many items in
* Leave if a member of staff asks you. You will be told the reason why and whether you are able to return.
Anyone with a specific allergy (drug, food or
other) should notify nursing staff immediately.
When in hospital please remember that
you have a right to discuss your care and
treatment with both medical and nursing
staff. If you believe you have not been
given an adequate explanation or do not
understand what is happening, please ask.