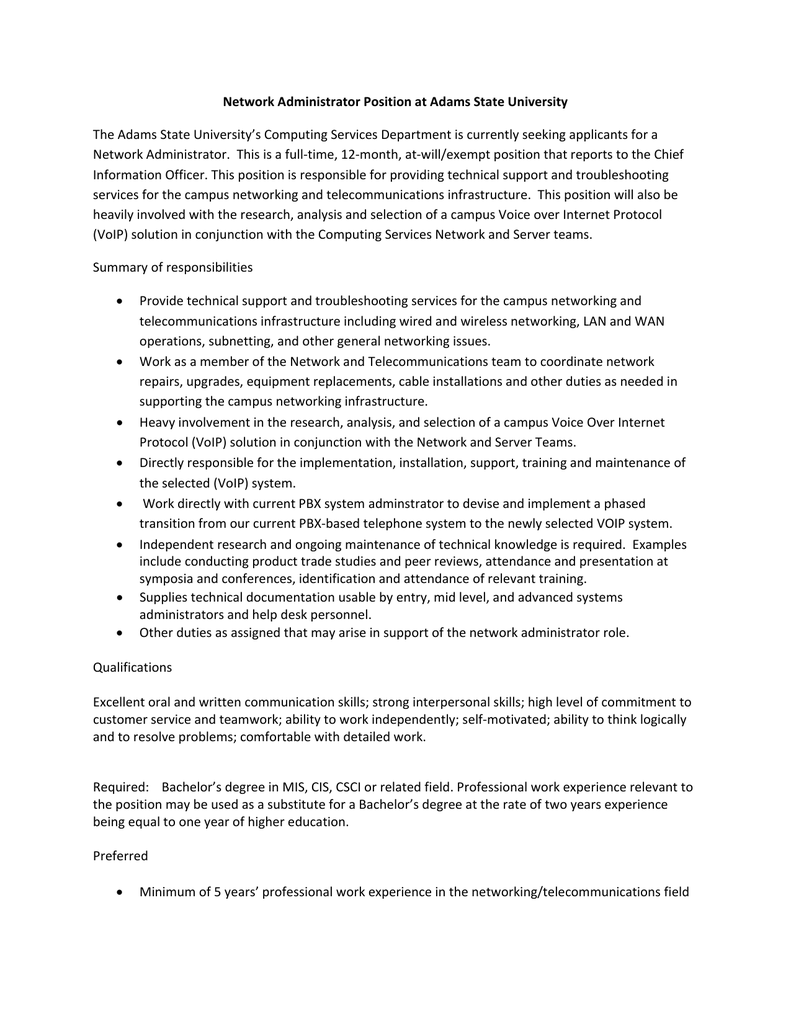 Network Administrator Position at Adams State University The Adams State University's Computing Services Department is currently seeking applicants for a Network Administrator. This is a full‐time, 12‐month, at‐will/exempt position that reports to the Chief Information Officer. This position is responsible for providing technical support and troubleshooting services for the campus networking and telecommunications infrastructure. This position will also be heavily involved with the research, analysis and selection of a campus Voice over Internet Protocol (VoIP) solution in conjunction with the Computing Services Network and Server teams. Summary of responsibilities 






Provide technical support and troubleshooting services for the campus networking and telecommunications infrastructure including wired and wireless networking, LAN and WAN operations, subnetting, and other general networking issues. Work as a member of the Network and Telecommunications team to coordinate network repairs, upgrades, equipment replacements, cable installations and other duties as needed in supporting the campus networking infrastructure. Heavy involvement in the research, analysis, and selection of a campus Voice Over Internet Protocol (VoIP) solution in conjunction with the Network and Server Teams. Directly responsible for the implementation, installation, support, training and maintenance of the selected (VoIP) system. Work directly with current PBX system adminstrator to devise and implement a phased transition from our current PBX‐based telephone system to the newly selected VOIP system. Independent research and ongoing maintenance of technical knowledge is required. Examples include conducting product trade studies and peer reviews, attendance and presentation at symposia and conferences, identification and attendance of relevant training. Supplies technical documentation usable by entry, mid level, and advanced systems administrators and help desk personnel. Other duties as assigned that may arise in support of the network administrator role. 
Qualifications Excellent oral and written communication skills; strong interpersonal skills; high level of commitment to customer service and teamwork; ability to work independently; self‐motivated; ability to think logically and to resolve problems; comfortable with detailed work. Required: Bachelor's degree in MIS, CIS, CSCI or related field. Professional work experience relevant to the position may be used as a substitute for a Bachelor's degree at the rate of two years experience being equal to one year of higher education. Preferred  Minimum of 5 years' professional work experience in the networking/telecommunications field 





Demonstrated knowledge of a variety of network protocols, software and hardware involved in LAN and WAN operations. Knowledge of VoIP systems and other related telecommunication equipment such as call accounting systems, E‐911, voicemail and PBX systems. Strong troubleshooting, analytical, and diagnostic skills in a networking and telecommunications environment. Demonstrated technical abilities and strong teamwork skills in a networking and telecommunications team environment Extensive experience implementing cross‐functional and intra‐departmental projects and systems Knowledge of current trends, ideas and resources in the networking, telecommunications, and VoIP areas Benefits: Adams State has a competitive benefits package including medical and dental benefits, vacation and sick leave Salary: $49,320 annually Further information: Adams State University is a state‐supported institution that offers both undergraduate and graduate programs. Located in Alamosa in the San Luis Valley of south‐central Colorado, approximately 4 hours from Denver and 2.5 hours from Santa Fe, Adams State is designated as a Hispanic Service Institution and as a regional educational provider. Additional information about the University can be found at http://www.adams.edu. Information about Alamosa can be found at http://www.alamosa.org Applications: Applicants should submit a letter of application, resume, educational transcripts, and three references. Electronic applications are acceptable. Official transcripts will be required prior to campus interviews. Review of completed applications will begin September 1, 2012 and will continue until the position is filled. Send all materials to: Kevin Daniel Computing Services, Suite 2150 Adams State University Alamosa, Colorado, 81101 719‐587‐7741, [email protected] Adams State University is particularly interested in applications from women and minorities. In compliance with the Immigration Control Act of 1986, candidates for positions must provide proof of eligibility to work before an offer of employment can be made final. Employee Background Check Policy at Adams State University Adams State University is dedicated to providing a safe and secure environment for our faculty, staff, students, and visitors. To assist in achieving this goal, we conduct background checks on persons offered positions at the university prior to employment as described in the background check policy. Full descriptions of all positions are available from the contact person listed and at http://www.adams.edu/administration/hr/employment.php. Adams State University is an Equal Opportunity/Affirmative Action employer. Applications are sought from all qualified persons regardless of race, color, sex, disability and as covered by law, veteran status. In addition, university policies prohibit discrimination on the basis of religion, national origin, ancestry, age, sexual orientation, marital status, and personal status.