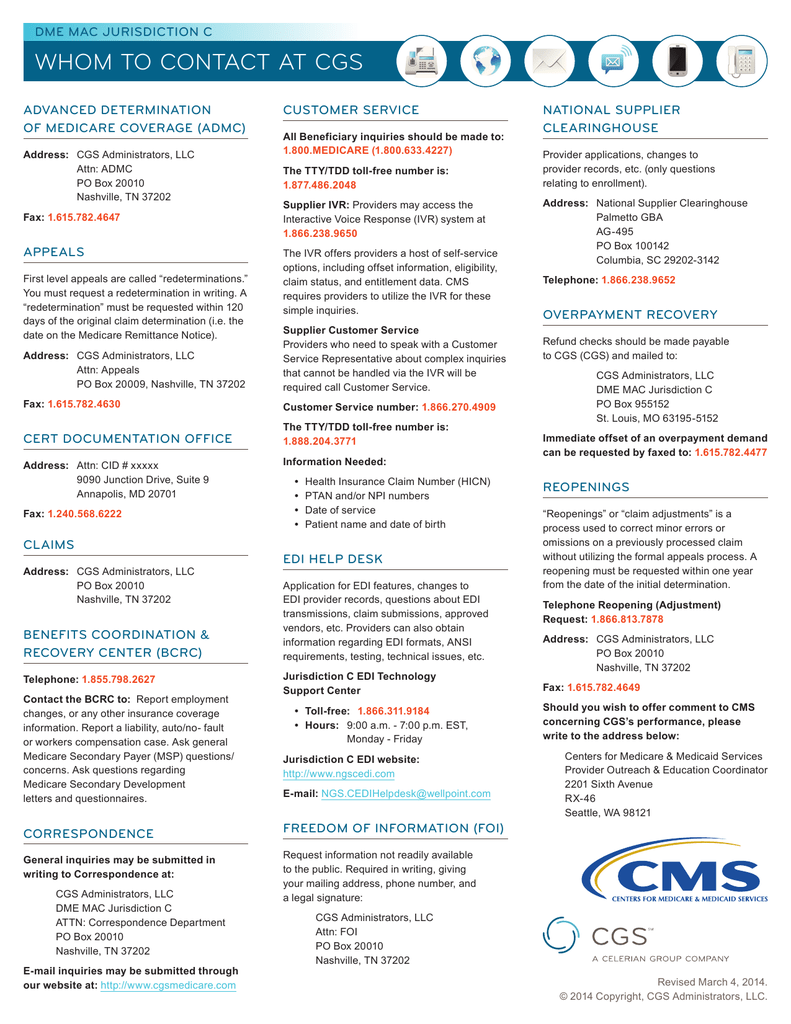 DME MAC JURISDICTION C
WHOM TO CONTACT AT CGS
ADVANCED DETERMINATION
OF MEDICARE COVERAGE (ADMC)
Address: CGS Administrators, LLC
Attn: ADMC
PO Box 20010
Nashville, TN 37202
Fax: 1.615.782.4647
APPEALS
First level appeals are called "redeterminations."
You must request a redetermination in writing. A
"redetermination" must be requested within 120
days of the original claim determination (i.e. the
date on the Medicare Remittance Notice).
CUSTOMER SERVICE
All Beneficiary inquiries should be made to:
1.800.MEDICARE (1.800.633.4227)
The TTY/TDD toll-free number is:
1.877.486.2048
Supplier IVR: Providers may access the
Interactive Voice Response (IVR) system at
1.866.238.9650
The IVR offers providers a host of self-service
options, including offset information, eligibility,
claim status, and entitlement data. CMS
requires providers to utilize the IVR for these
simple inquiries.
Address: CGS Administrators, LLC
Attn: Appeals
PO Box 20009, Nashville, TN 37202
Supplier Customer Service
Providers who need to speak with a Customer
Service Representative about complex inquiries
that cannot be handled via the IVR will be
required call Customer Service.
Fax: 1.615.782.4630
Customer Service number: 1.866.270.4909
CERT DOCUMENTATION OFFICE
The TTY/TDD toll-free number is:
1.888.204.3771
Address: Attn: CID # xxxxx
9090 Junction Drive, Suite 9
Annapolis, MD 20701
Fax: 1.240.568.6222
CLAIMS
Address: CGS Administrators, LLC
PO Box 20010
Nashville, TN 37202
BENEFITS COORDINATION &
RECOVERY CENTER (BCRC)
Telephone: 1.855.798.2627
Contact the BCRC to: Report employment
changes, or any other insurance coverage
information. Report a liability, auto/no- fault
or workers compensation case. Ask general
Medicare Secondary Payer (MSP) questions/
concerns. Ask questions regarding
Medicare Secondary Development
letters and questionnaires.
Information Needed:
•
•
•
•
Health Insurance Claim Number (HICN)
PTAN and/or NPI numbers
Date of service
Patient name and date of birth
EDI HELP DESK
Application for EDI features, changes to
EDI provider records, questions about EDI
transmissions, claim submissions, approved
vendors, etc. Providers can also obtain
information regarding EDI formats, ANSI
requirements, testing, technical issues, etc.
Jurisdiction C EDI Technology
Support Center
• Toll-free: 1.866.311.9184
• Hours: 9:00 a.m. - 7:00 p.m. EST,
Monday - Friday
Jurisdiction C EDI website:
http://www.ngscedi.com
E-mail: [email protected]
CORRESPONDENCE
FREEDOM OF INFORMATION (FOI)
General inquiries may be submitted in
writing to Correspondence at:
Request information not readily available
to the public. Required in writing, giving
your mailing address, phone number, and
a legal signature:
CGS Administrators, LLC
DME MAC Jurisdiction C
ATTN: Correspondence Department
PO Box 20010
Nashville, TN 37202
E-mail inquiries may be submitted through
our website at: http://www.cgsmedicare.com
NATIONAL SUPPLIER
CLEARINGHOUSE
Provider applications, changes to
provider records, etc. (only questions
relating to enrollment).
Address: National Supplier Clearinghouse
Palmetto GBA
AG-495
PO Box 100142
Columbia, SC 29202-3142
Telephone: 1.866.238.9652
OVERPAYMENT RECOVERY
Refund checks should be made payable
to CGS (CGS) and mailed to:
CGS Administrators, LLC
DME MAC Jurisdiction C
PO Box 955152
St. Louis, MO 63195-5152
Immediate offset of an overpayment demand
can be requested by faxed to: 1.615.782.4477
REOPENINGS
"Reopenings" or "claim adjustments" is a
process used to correct minor errors or
omissions on a previously processed claim
without utilizing the formal appeals process. A
reopening must be requested within one year
from the date of the initial determination.
Telephone Reopening (Adjustment)
Request: 1.866.813.7878
Address: CGS Administrators, LLC
PO Box 20010
Nashville, TN 37202
Fax: 1.615.782.4649
Should you wish to offer comment to CMS
concerning CGS's performance, please
write to the address below:
Centers for Medicare & Medicaid Services
Provider Outreach & Education Coordinator
2201 Sixth Avenue
RX-46
Seattle, WA 98121
CGS Administrators, LLC
Attn: FOI
PO Box 20010
Nashville, TN 37202
Revised March 4, 2014.
© 2014 Copyright, CGS Administrators, LLC.
DME MAC JURISDICTION C
WEBSITE OUTLINE
HTTP://WWW.CGSMEDICARE.COM/JC
myCGS
•
•
•
•
•
•
•
•
•
myCGS Login
Benefits of myCGS
myCGS FAQs
Reference Guide
REgistration Guide
Tutorials
User Manual
User Manual - Espanol
Version 2
CLAIM SUBMISSION
•
•
•
•
•
•
•
•
•
•
Submitting a Claim
Appeals
Overpayment Recovery
Medicare Secondary Payer (MSP)
EDI
What to Do When a Claim Denies
Common Claim Errors
Reopening a Claim to Correct an Error
PWK vs. esMD
Claims Site Video Tutorial
MEDICAL REVIEW
•
•
•
•
What Is Medical Review?
Claim Audit Resources
Quarterly Reports
Medical Review Pre-/Post-Payment
Contractor Information
• About Robert Hoover, MD, MPH, FACP Chief Medical Officer
FEE SCHEDULES
• What Are Fee Schedules?
• DMEPOS Fee Schedule
• Drug Fees, Pharmacy Dispensing Fees,
& Pharmacy Supply Fees
LOCAL COVERAGE
DETERMINATIONS
EDUCATION
•
•
•
•
•
•
•
Ask the Contractor Teleconferences (ACT)
Calendar of Events
POE Advisory Group
Video Education
Webinars
Workshops and Seminars
Talleres y Seminarios en Espanol - Spanish
Language Workshops and Seminars
• Spanish Language Webinars
• HEAT Provider Compliance Training
• CGS on Facebook
CERT
•
•
•
•
•
What is CERT?
Appealing a CERT Error
CERT Claim Identifier Tool
CERT Task Force
About HIPAA
FAQS
• CMS FAQs
• Current FAQs
• Previously Published FAQs
FORMS
•
•
•
•
•
•
•
•
•
•
•
•
•
•
•
•
•
•
ADMC Request
CMS Signature Requirements
Corrective Action Plan
CSI/ELGB User ID Access Request Form
Electronic Funds Transfer (EFT)
Authorization Agreement
Intermittent Urinary Catheterization
Medicare Seconary Payer (MSP)
Questionaire
Offset Request Form
Physician Documentation Request Letter
Publication Order Form
PWK/Fax Mail Cover Sheet
Reconsideration Request Form
Redetermination Request Form
Reopening Request Form
Sending Faxes to Jurisdiction C
Overpayment Recovery Request Form
Suggested Intake Form
Voluntary Overpayment Refund
NEWS AND PUBLICATIONS
•
•
•
•
Supplier Manual
News
News Archive
DME MAC Insider
ONLINE TOOLS
•
•
•
•
•
•
•
•
•
•
Nebulizer Medication Calculator
Power Mobility Devices Denial Help Aid
KX Table
Modifier Finder Tool
CMS 1500 Claim Form Instructions Tool
ANSI Denial Guide
Appeals Time Limit Calculator
Join the ListServ
Update or Delete Your ListServ Profile
Site Map
CUSTOMER SERVICE
•
•
•
•
•
•
Contacting Customer Service
Contact Other CGS Departments/Resources
Interactive Voice Response (IVR) System
Online Help Center
Website Feedback
Medicare Beneficiary Resources
OTHER CONTRACTORS
• AdvanceMed – Zone 5 Program Integrity
Contractor for AR, AL, GA, LA, MS, NC, SC,
TN, WV, & VA
• CEDI (Common Electronic Data Interchange)
• CERT Contractor
• Competitive Bidding Implementation
Contractor (CBIC)
• Connolly Consulting Associates, Inc. Recovery Audit Contractor (RAC)
• DME MAC Jurisdiction A
• DME MAC Jurisdiction B
• DME MAC Jurisdiction D
• Health Integrity, LLC -- Zone 4 Program
Integrity Contractor for CO, NM, OK, & TX
• Medicare Pricing, Data Analysis and Coding
(PDAC)
• National Supplier Clearinghouse (NSC)
• Safeguard Services, LLC -- Zone 7 Program
Integrity Contractor for FL, PR, & VI
QUICK LINKS
•
•
•
•
•
•
•
•
•
•
•
•
Active/Current LCDs
Active/Current Articles
APpeals
Fee Schedules
IVR
Join the ListServ
Medical Review
myCGS
News
Supplier Manual
Prior Authorization Demonstration Project
Update/Delete Your ListServ Profile
Revised March 4, 2014.
© 2014 Copyright, CGS Administrators, LLC.