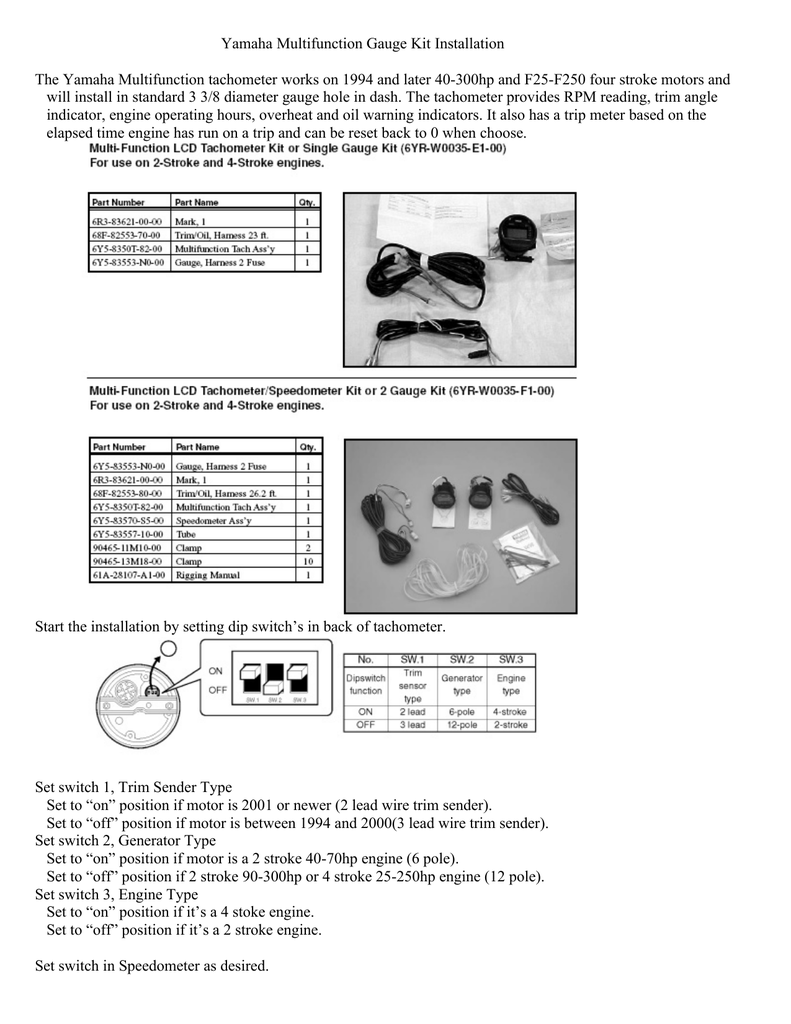 Yamaha Multifunction Gauge Kit Installation
The Yamaha Multifunction tachometer works on 1994 and later 40-300hp and F25-F250 four stroke motors and
will install in standard 3 3/8 diameter gauge hole in dash. The tachometer provides RPM reading, trim angle
indicator, engine operating hours, overheat and oil warning indicators. It also has a trip meter based on the
elapsed time engine has run on a trip and can be reset back to 0 when choose.
Start the installation by setting dip switch's in back of tachometer.
Set switch 1, Trim Sender Type
Set to "on" position if motor is 2001 or newer (2 lead wire trim sender).
Set to "off" position if motor is between 1994 and 2000(3 lead wire trim sender).
Set switch 2, Generator Type
Set to "on" position if motor is a 2 stroke 40-70hp engine (6 pole).
Set to "off" position if 2 stroke 90-300hp or 4 stroke 25-250hp engine (12 pole).
Set switch 3, Engine Type
Set to "on" position if it's a 4 stoke engine.
Set to "off" position if it's a 2 stroke engine.
Set switch in Speedometer as desired.
All American made boats use the ABYC(US) fuel sender.
Wire Harness connections.
Connect engine end of Trim/Oil Harness to 2 square 4 prongs connectors on 1994-2004 engines.
On 2005 and newer engines only the male 4 prong square connector on Trim/Harness is used, plug waterproof plug
into unused Trim/Oil harness connector.
1994-2004 connection's
2005 and newer connection's
Connect both gauge end Trim/Oil harness connectors to Tach. On all year model motor's.
If the motor is a 2003 and earlier F30, F40, F50 or F60 then disconnect the Pink wire at Tachometer.
Install power and tach signal harness.
Connect single connector end of harness to matching color connector's on key switch.
Or to control box if 703 side mount control box is used.
If only installing tachometer the red wire is not used.
Connect multi connector end of harness to gauge's
Connect white wire on Speedometer to fuel tank sender wire (pink wire going to fuel sender).
In the middle of Power/tach signal harness is a yellow and blue wire.
If connect the yellow and blue wire together the back light in gauges will come on when ignition key is turned on.
If the blue wire is connected to Navigation light switch on boat then the back lights will come on when light switch
is turned on.