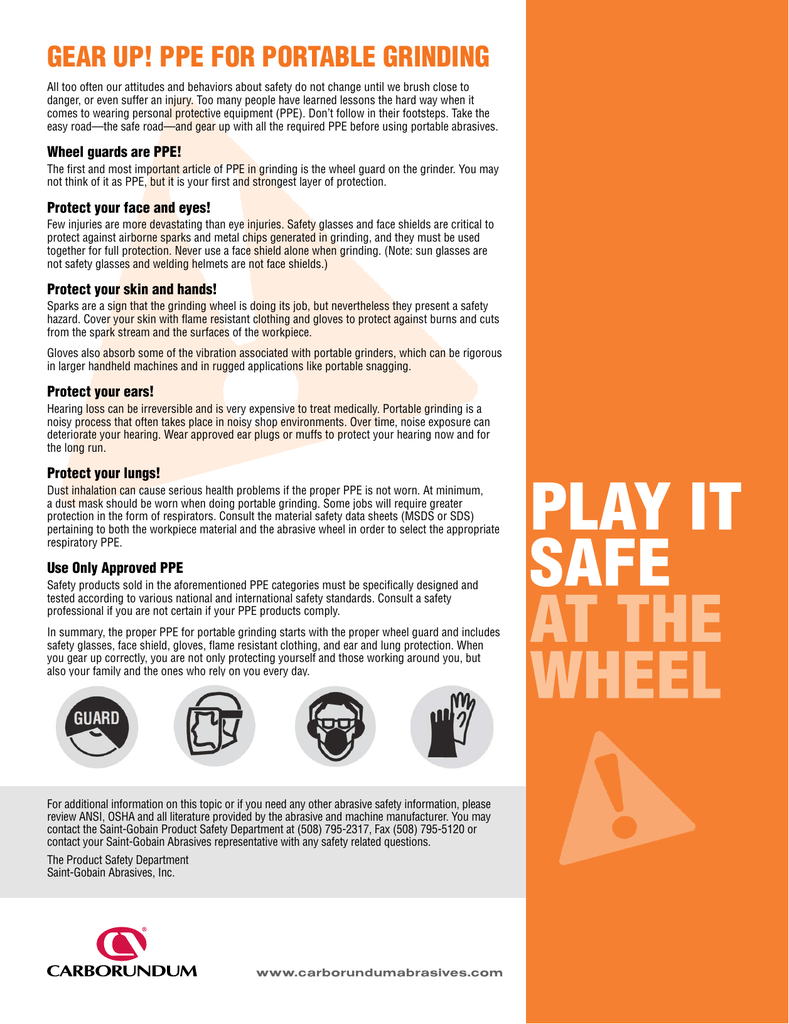 GEAR UP! PPE FOR PORTABLE GRINDING
All too often our attitudes and behaviors about safety do not change until we brush close to
danger, or even suffer an injury. Too many people have learned lessons the hard way when it
comes to wearing personal protective equipment (PPE). Don't follow in their footsteps. Take the
easy road—the safe road—and gear up with all the required PPE before using portable abrasives.
Wheel guards are PPE!
The first and most important article of PPE in grinding is the wheel guard on the grinder. You may
not think of it as PPE, but it is your first and strongest layer of protection.
Protect your face and eyes!
Few injuries are more devastating than eye injuries. Safety glasses and face shields are critical to
protect against airborne sparks and metal chips generated in grinding, and they must be used
together for full protection. Never use a face shield alone when grinding. (Note: sun glasses are
not safety glasses and welding helmets are not face shields.)
Protect your skin and hands!
Sparks are a sign that the grinding wheel is doing its job, but nevertheless they present a safety
hazard. Cover your skin with flame resistant clothing and gloves to protect against burns and cuts
from the spark stream and the surfaces of the workpiece.
Gloves also absorb some of the vibration associated with portable grinders, which can be rigorous
in larger handheld machines and in rugged applications like portable snagging.
Protect your ears!
Hearing loss can be irreversible and is very expensive to treat medically. Portable grinding is a
noisy process that often takes place in noisy shop environments. Over time, noise exposure can
deteriorate your hearing. Wear approved ear plugs or muffs to protect your hearing now and for
the long run.
Protect your lungs!
Dust inhalation can cause serious health problems if the proper PPE is not worn. At minimum,
a dust mask should be worn when doing portable grinding. Some jobs will require greater
protection in the form of respirators. Consult the material safety data sheets (MSDS or SDS)
pertaining to both the workpiece material and the abrasive wheel in order to select the appropriate
respiratory PPE.
Use Only Approved PPE
Safety products sold in the aforementioned PPE categories must be specifically designed and
tested according to various national and international safety standards. Consult a safety
professional if you are not certain if your PPE products comply.
In summary, the proper PPE for portable grinding starts with the proper wheel guard and includes
safety glasses, face shield, gloves, flame resistant clothing, and ear and lung protection. When
you gear up correctly, you are not only protecting yourself and those working around you, but
also your family and the ones who rely on you every day.
For additional information on this topic or if you need any other abrasive safety information, please
review ANSI, OSHA and all literature provided by the abrasive and machine manufacturer. You may
contact the Saint-Gobain Product Safety Department at (508) 795-2317, Fax (508) 795-5120 or
contact your Saint-Gobain Abrasives representative with any safety related questions.
The Product Safety Department
Saint-Gobain Abrasives, Inc.