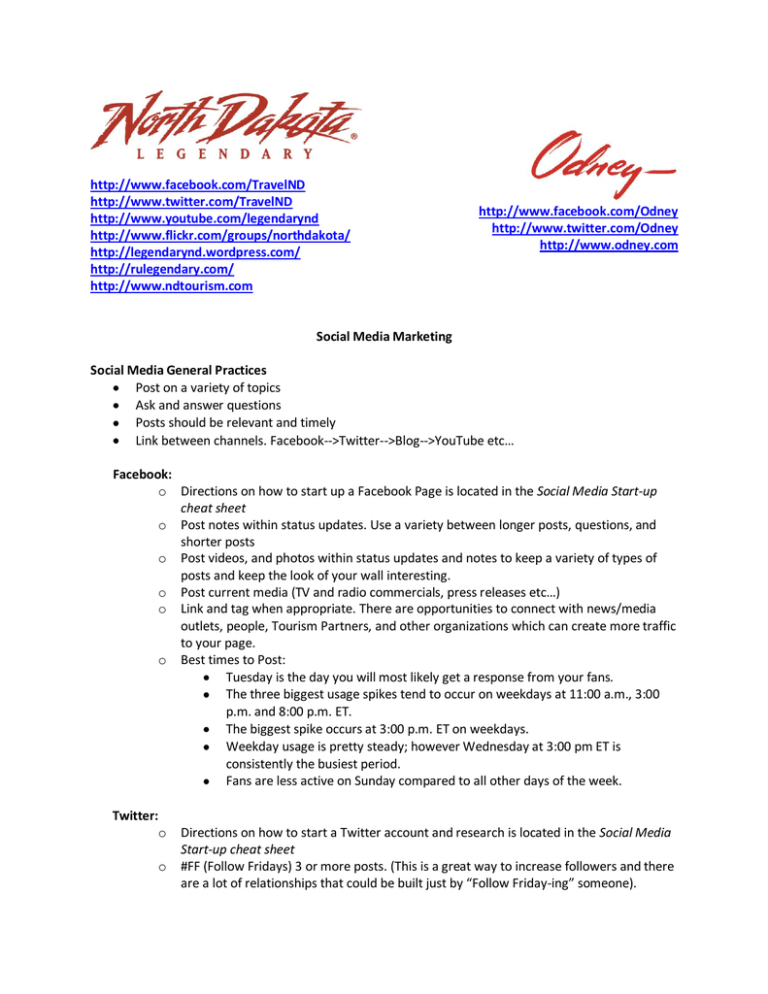 http://www.facebook.com/TravelND
http://www.twitter.com/TravelND
http://www.youtube.com/legendarynd
http://www.flickr.com/groups/northdakota/
http://legendarynd.wordpress.com/
http://rulegendary.com/
http://www.ndtourism.com
http://www.facebook.com/Odney
http://www.twitter.com/Odney
http://www.odney.com
Social Media Marketing
Social Media General Practices
Post on a variety of topics
Ask and answer questions
Posts should be relevant and timely
Link between channels. Facebook-->Twitter-->Blog-->YouTube etc…
Facebook:
o Directions on how to start up a Facebook Page is located in the Social Media Start-up
cheat sheet
o Post notes within status updates. Use a variety between longer posts, questions, and
shorter posts
o Post videos, and photos within status updates and notes to keep a variety of types of
posts and keep the look of your wall interesting.
o Post current media (TV and radio commercials, press releases etc…)
o Link and tag when appropriate. There are opportunities to connect with news/media
outlets, people, Tourism Partners, and other organizations which can create more traffic
to your page.
o Best times to Post:
Tuesday is the day you will most likely get a response from your fans.
The three biggest usage spikes tend to occur on weekdays at 11:00 a.m., 3:00
p.m. and 8:00 p.m. ET.
The biggest spike occurs at 3:00 p.m. ET on weekdays.
Weekday usage is pretty steady; however Wednesday at 3:00 pm ET is
consistently the busiest period.
Fans are less active on Sunday compared to all other days of the week.
Twitter:
o
o
Directions on how to start a Twitter account and research is located in the Social Media
Start-up cheat sheet
#FF (Follow Fridays) 3 or more posts. (This is a great way to increase followers and there
are a lot of relationships that could be built just by "Follow Friday-ing" someone).
o
o
o
o
o
Suggestion: Pick out people to #FF that can be linked into groups (Ex: Bismarck #FF that
lists businesses and people in Bismarck).
Being a part of the Twitter community is following back users who follow you. This will
encourage growth.
DM (Direct messages) can be used to leverage advocates and partners.
Thank people that RT you, and help push out your message.
Find the channels where your target market is. You want to create conversation as well
as go where the conversation is already happening.
Follow people with similar interests and goals. They are more likely to pass on your
message and will help you reach your target audience.
Blog:
o
o
o
o
o
Directions and recommendations on starting a blog are located in the Social Media
Start-up cheat sheet
Pictures! Show them what you are talking about.
Post blog entries 1-2 times a week to keep things fresh
Localize national stories and don't forget your own
Mention your other social media channels to keep the conversation going.
YouTube:
o
o
o
o
o
o
o
o
o
Directions and recommendations on starting a YouTube channel are located in the
Social Media Start-up cheat sheet
Keep it short. While YouTube allows videos up to 15 minutes in length, most viewers
don't have that long of an attention span. Try and keep your videos to about two
minutes unless the content is compelling enough to run longer.
Spread the word. Share the videos on Facebook, Twitter, and other social networks.
Use descriptive key words to help with Search Optimization.
For each video, write a unique keyword-rich description that includes a URL. Put the URL
at the beginning so that the user will see the link even if the "more info" option is
collapsed.
Encourage participation. YouTube is a search engine, but it is also a social media
channel. Open your video to commenting and embedding whenever possible.
Make sure to use YouTube Insights, which can provide great information about
demographics and view experiences. This data can help you improve your future videos.
Don't Upload or post content that infringes any patent, trademark, trade secret,
copyright or other proprietary rights ("Rights") of any party.
Subscribe to video channels- You can subscribe to
http://www.youtube.com/legendarynd
E-mail Newsletters :
o Use themes, topics and ideas from your social media posts to fuel your newsletters.
o Give subscribers information they can use instead of just a sales pitch.
o Use quotes or brief interviews with your staff to make it more personal and establish
your expertise.
o Keep it light and give it a personality befitting your business and your brand.
o Keep it brief. Link back to your website for more detailed information.
o
o
o
o
o
o
Keep it topical. Address what's going on in your industry now, with an emphasis on what
it means for your subscribers.
Keep it fun. Add interesting facts, statistics, and trivia related to your industry.
Give it visual interest – use images, graphics and bulleted lists to break up the text.
Be consistent in timing. Some newsletters may be daily, weekly, monthly. Be sure to let
subscribers know the frequency when they sign up so they know what to expect.
Keep an archive of past newsletters on your site.
Use double opt-in and offer an easy path to unsubscribe.
Flickr:
o
o
o
o
o
o
o
o
o
Foursquare:
o
o
o
o
o
Directions on creating a Flickr account is located in the Social Media Start-up cheat sheet
Tag photos. Tags are like keywords or labels that you add to a photo to make it easier to
find in searches.
Provide a title and description for every image posted to Flickr. Image titles and
descriptions are used as search criteria.
Create sets and collections. Consider creating Flickr collections and sets with your
posted images. A set contains photos. A collection contains sets. Collections are only
available for pro accounts. Collections and sets can be searched allowing users to find a
specific collection or set of images that interests them. This keeps users from finding
and viewing only one image and then moving on to someone else's site.
Encourage users to add tags, notes, and comments to pictures.
Decide whether or not to allow downloads of your photos.
Flickr has the capacity to work in conjunction with Facebook through an application.
Connect your Flickr stream to your Facebook page.
Take photos at events and let guests know to check out your Flickr account to see
photos from the event.
Set up a personalized URL to help identify you. http://www.flickr.com/profile_url.gne
Directions to claim your venue is on the Social Media Start-up cheat sheet
Add Tips
Add Things to Do
Encourage people to check in
o Award your mayor and other major customers who check in with a small
incentive.
Upload pictures of your venue
Social Media Implementation Tools
Below are sites ND Tourism uses to make social media management, manageable.
Hootsuite
http://www.hootsuite.com
Social media management tool that allows you to listen and engage with your target market across a
variety of social media channels
Google
http://www.google.com
Excellent for finding news, information and resources that pertain to your industry. Remember to set up
Google Alerts to have the information sent directly to your inbox.
RSS Feeds
Automatically send recently updated information from your web site to your social media channels.
Web Site
A web site with relevant and updated information can be your biggest asset in social media.
Twitter Search
http://search.twitter.com/
Great resource for real-time information and discussions on any topic. Excellent for reputation and
social media monitoring.
Social Media Measurement Tools
Facebook Analytics
http://www.facebook.com/
Measure post views/impressions and interactions on your Facebook page.
Retweet Rank
http://www.retweetrank.com/
Measures reputation and respect on Twitter by tracking who has sent your message on to others.
TweetReach
http://www.tweetreach.com/
Measures reach, awareness and exposure of your message on Twitter.
Tweriod
http://www.tweriod.com/
Shows you when your audience is online and most active.
Klout
http://www.klout.com
Measures your online influence across multiple social media channels.
Google Analytics
http://www.google.com/
Measures web site traffic and where the traffic originated from.
Social Media Tips and Tricks
1) Don't get frustrated or discouraged. Building credibility takes time.
2) Be consistent in your messaging, timing and tone.
3) Don't take on more than you can manage. Start small and remain focused.
4) Let your posts breathe. Allow time to be noticed by your target audience.
5) Plan ahead. This gives you a framework and timeline to work within and keeps you focused.
6) Remain flexible to your environment. Be aware of the discussion that are taking place and keep
your information topical and timely.
7) Keep your goals in mind and know what you want to accomplish.
8) The single most important rule of social media: Listen to your target audience.
9) Drive traffic back to your website. Your website is the hub of your wheel and where people will
look for more detailed information.
10) Connect with industry partners.
11) Use TravelND as a place to gather content ideas, connect with them to help spread your word,
and increase your following.