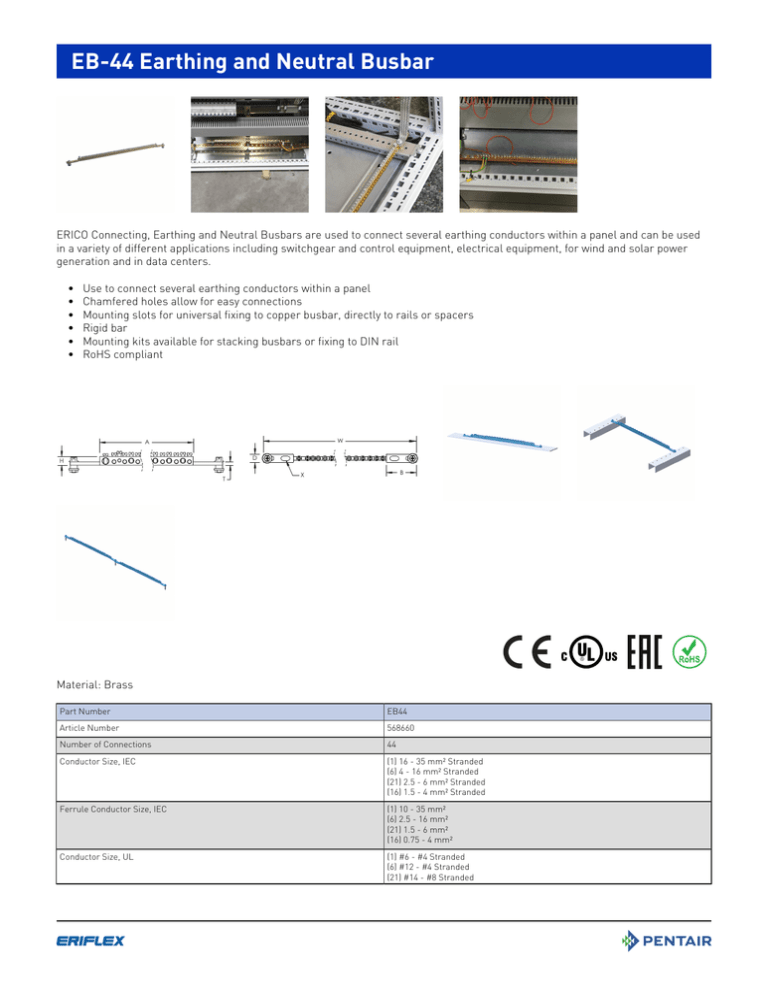 EB-44 Earthing and Neutral Busbar
ERICO Connecting, Earthing and Neutral Busbars are used to connect several earthing conductors within a panel and can be used
in a variety of different applications including switchgear and control equipment, electrical equipment, for wind and solar power
generation and in data centers.
•
•
•
•
•
•
Use to connect several earthing conductors within a panel
Chamfered holes allow for easy connections
Mounting slots for universal fixing to copper busbar, directly to rails or spacers
Rigid bar
Mounting kits available for stacking busbars or fixing to DIN rail
RoHS compliant
W
A
D
H
T
B
X
Material: Brass
Part Number
EB44
Article Number
568660
Number of Connections
44
Conductor Size, IEC
(1) 16 - 35 mm² Stranded
(6) 4 - 16 mm² Stranded
(21) 2.5 - 6 mm² Stranded
(16) 1.5 - 4 mm² Stranded
Ferrule Conductor Size, IEC
(1) 10 - 35 mm²
(6) 2.5 - 16 mm²
(21) 1.5 - 6 mm²
(16) 0.75 - 4 mm²
Conductor Size, UL
(1) #6 - #4 Stranded
(6) #12 - #4 Stranded
(21) #14 - #8 Stranded
Part Number
EB44
(16) #16 - #10 Stranded
Depth (D)
0.51"
Height (H)
0.51"
Width (W)
18.19"
Thickness (T)
0.2"
A
14.8"
B
1.69"
X
0.24" x 0.28"
Unit Weight
0.66 lb
Complies With
IEC® 61439.1
IEC is a registered trademark of the International Electrotechnical Commission. UL, UR, cUL, cUR, cULus and cURus are registered certification marks of UL LLC.
WARNING
Pentair products shall be installed and used only as indicated in Pentair's product instruction sheets and training materials. Instruction sheets are available at erico.pentair.com and
from your Pentair customer service representative. Improper installation, misuse, misapplication or other failure to completely follow Pentair's instructions and warnings may cause
product malfunction, property damage, serious bodily injury and death and/or void your warranty.
© 2016 Pentair All rights reserved
Pentair, CADDY, CADWELD, CRITEC, ERICO, ERIFLEX, ERITECH and LENTON are owned by Pentair or its global affiliates.
All other trademarks are the property of their respective owners. Pentair reserves the right to change specifications without prior notice.