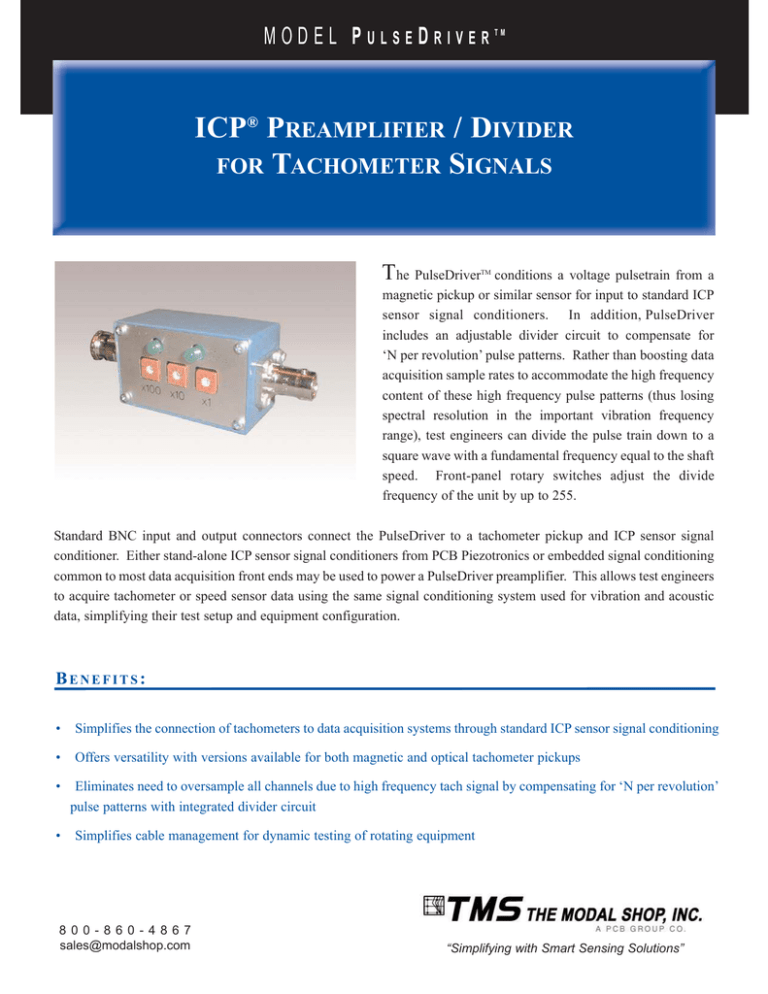 MODEL PULSEDRIVER
TM
ICP® PREAMPLIFIER / DIVIDER
FOR TACHOMETER SIGNALS
The PulseDriver
TM
conditions a voltage pulsetrain from a
magnetic pickup or similar sensor for input to standard ICP
sensor signal conditioners. In addition, PulseDriver
includes an adjustable divider circuit to compensate for
'N per revolution' pulse patterns. Rather than boosting data
acquisition sample rates to accommodate the high frequency
content of these high frequency pulse patterns (thus losing
spectral resolution in the important vibration frequency
range), test engineers can divide the pulse train down to a
square wave with a fundamental frequency equal to the shaft
speed. Front-panel rotary switches adjust the divide
frequency of the unit by up to 255.
Standard BNC input and output connectors connect the PulseDriver to a tachometer pickup and ICP sensor signal
conditioner. Either stand-alone ICP sensor signal conditioners from PCB Piezotronics or embedded signal conditioning
common to most data acquisition front ends may be used to power a PulseDriver preamplifier. This allows test engineers
to acquire tachometer or speed sensor data using the same signal conditioning system used for vibration and acoustic
data, simplifying their test setup and equipment configuration.
BENEFITS:
•
Simplifies the connection of tachometers to data acquisition systems through standard ICP sensor signal conditioning
•
Offers versatility with versions available for both magnetic and optical tachometer pickups
•
•
Eliminates need to oversample all channels due to high frequency tach signal by compensating for 'N per revolution'
pulse patterns with integrated divider circuit
Simplifies cable management for dynamic testing of rotating equipment
800-860-4867
sales@modalshop.com
"Simplifying with Smart Sensing Solutions"
M O D E L P U L S E D R I V E R TM
System Schematic
ICP Sensor Signal
Conditioner
®
PulseDriver conditioners are designed to connect directly to ICP sensor signal
conditioners such as the standalone units offered by PCB Piezotronics, or the constant
current supply circuitry built-in to common DSA's (Digital Signal Analyzers).
PulseDriver Conditioner
Tachometer/Speed Sensor
Coax Cable
Output Characteristics
MULTIPLE PULSE COMPENSATION
The PulseDriver outputs a ±1.5 volt square wave
pulse. If 1 pulse per shaft revolution is required, the
divider settings on the front panel can be set to the
number of input pulses per revolution.
For example, for a measurement made on a 60 tooth
gear, setting the divider to 60 will result in 1 pulse
per rev to the data acquisition system.
Example waveforms are shown at left.
PERFORMANCE
Frequency Response
Input Signal Detection Threshold
Divider Circuit Range
Output Signal
input pulses / second
Vpk
Oscillator Output Amplitude
type
Vpp
mVpk
0.1 to 20k
0.125
1 to 255
Square Wave Approximation
1
500
ENVIRONMENTAL
Operating Temperature Range
Storage Temperature Range
°F (°C)
°F (°C)
32 to 176 (0 to 80)
32 to 176 (0 to 80)
ELECTRICAL
Excitation Voltage
Constant Current Excitation
Input Impedance
VDC
mA
kΩ
Max Input Voltage
Vpk
18 to 30
2 to 20
1100@ 0 Hz
100 @ 100 kHz
20
MECHANICAL
Size (H x W x D)
Weight
Input Connector
Output Connector
inches (mm)
oz (gm)
type
type
1.18 x 3.67 x 1.33 (30,0 x 93,2 x 33,8)
5.8 (165)
BNC jack
BNC plug
The Modal Shop 3149 E Kemper Road, Cincinnati, OH 45241
Toll free 800-860-4867 / Phone 513-351-9919 / Fax 513-458-2172
E-mail sales@modalshop.com
Web site www.modalshop.com
© 2004 PCB Group, Inc. In the interest of constant product improvement, specifications are subject to change without notice.
PCB and ICP are registered trademarks of PCB Group, Inc.
DS-0001P rev NR
Printed in U.S.A.