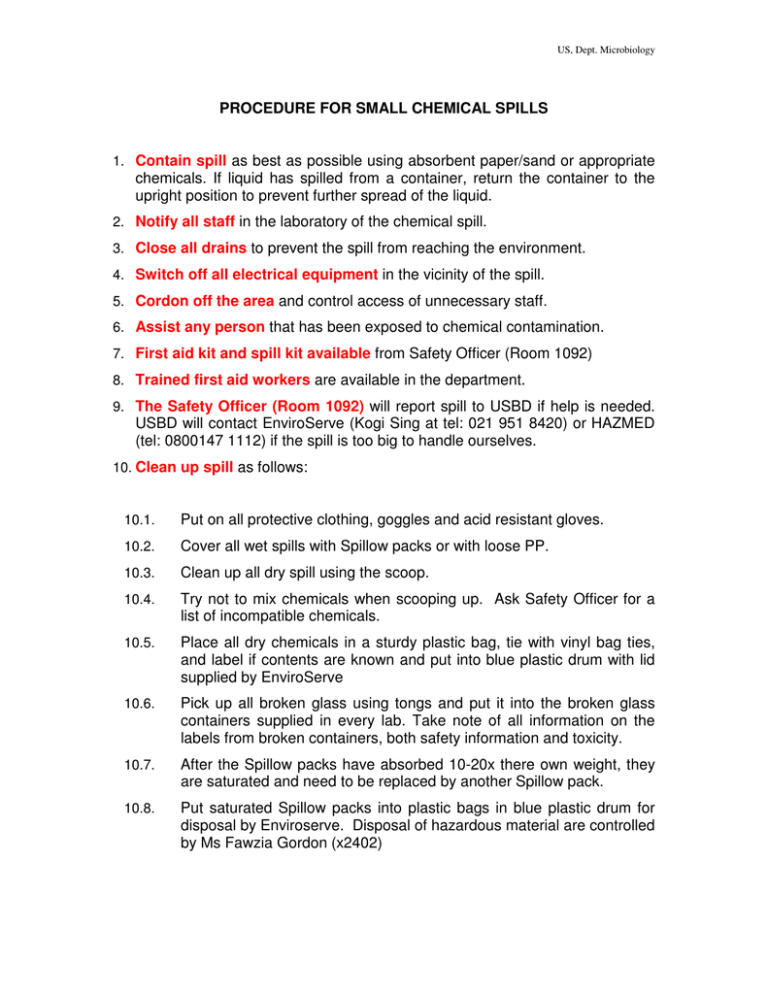 US, Dept. Microbiology
PROCEDURE FOR SMALL CHEMICAL SPILLS
1. Contain spill as best as possible using absorbent paper/sand or appropriate
chemicals. If liquid has spilled from a container, return the container to the
upright position to prevent further spread of the liquid.
2. Notify all staff in the laboratory of the chemical spill.
3. Close all drains to prevent the spill from reaching the environment.
4. Switch off all electrical equipment in the vicinity of the spill.
5. Cordon off the area and control access of unnecessary staff.
6. Assist any person that has been exposed to chemical contamination.
7. First aid kit and spill kit available from Safety Officer (Room 1092)
8. Trained first aid workers are available in the department.
9. The Safety Officer (Room 1092) will report spill to USBD if help is needed.
USBD will contact EnviroServe (Kogi Sing at tel: 021 951 8420) or HAZMED
(tel: 0800147 1112) if the spill is too big to handle ourselves.
10. Clean up spill as follows:
10.1.
Put on all protective clothing, goggles and acid resistant gloves.
10.2.
Cover all wet spills with Spillow packs or with loose PP.
10.3.
Clean up all dry spill using the scoop.
10.4.
Try not to mix chemicals when scooping up. Ask Safety Officer for a
list of incompatible chemicals.
10.5.
Place all dry chemicals in a sturdy plastic bag, tie with vinyl bag ties,
and label if contents are known and put into blue plastic drum with lid
supplied by EnviroServe
10.6.
Pick up all broken glass using tongs and put it into the broken glass
containers supplied in every lab. Take note of all information on the
labels from broken containers, both safety information and toxicity.
10.7.
After the Spillow packs have absorbed 10-20x there own weight, they
are saturated and need to be replaced by another Spillow pack.
10.8.
Put saturated Spillow packs into plastic bags in blue plastic drum for
disposal by Enviroserve. Disposal of hazardous material are controlled
by Ms Fawzia Gordon (x2402)
US, Dept. Microbiology
Treatment of Contaminated Staff
In the case of serious injuries
1.
The treatment of serious injuries takes precedence over any other
consideration.
2.
Call USBD x2330 and request medical assistance.
3.
Advise the called assistance of the nature of the hazard, the amount of
material, the chemical form of the material and any other pertinent
information such as location.
4.
Direct someone to meet the emergency medical personnel.
5.
Ensure that the victim is comfortable and cannot be further contaminated
by other chemicals.
In case of minor wounds not requiring hospitalisation
1.
Get Trained First Aid worker to treat the affected person immediately.
2.
Wash the contaminated wound with copious amounts of warm water.
3.
Clean the affected area with swabs.
4.
Encourage minor bleeding.
5.
In the case of contaminated facial wounds, ensure that contamination
does not spread to the mouth, ears, eyes or nasal passages.
6.
After decontamination, apply first aid dressing.
If the skin is intact
1.
It is very important that skin contamination be removed immediately.
Early, effective removal of the contamination can help to reduce chemical
exposure.
2.
During skin decontamination, it is important to proceed from mild treatments
to harsher ones only if necessary. Abrasion or any other breaks of the skin
US, Dept. Microbiology
must be avoided, as these will allow rapid penetration of the chemicals.
Therefore, hard scrubbing is discouraged.
3.
Flush contaminated area with copious amounts of water.
4.
Exercise caution so as to not spread contamination to other areas of the
body.
5.
Rinse thoroughly.
6.
Repeat wash/rinse procedure several times using a soft brush, if
necessary.
Eyes, Ears, Nose, and Mouth
1.
Use eyewash station or shower to flush eyes, ears, and nose.
2.
Rinse mouth with water, but do not to swallow the water.
Hair
1.
Tilt head back so water doesn't run across face.
2.
Be sure to close eyes and mouth during decontamination.
3.
Wash gently with soap and warm water for 2-3 minutes in sink and rinse
well.
Treatment of Clothing Contamination
1.
In the event that personal clothing or lab coat becomes contaminated it is
important that it be removed quickly to reduce the person's exposure to
the chemicals.
2.
All contaminated clothing must be sealed in plastic bags to be removed by
EnviroServe
3.
A full emergency shower can be used for major chemical spills
US, Dept. Microbiology
Chemical Spill Kit
1.
Drum with lid and side lever locking ring.
2.
Spillow phenolic foam absorbent pack or loose PP absorbent. Can be used
for all spills except nitric acid (HNO3).
3.
Pair of neoprene/latex gloves.
4.
Chemical resistant goggles.
5.
Two thick plastic bags (100 micron thick from WasteTech).
6.
Two self locking vinyl bag ties.
7.
Scoop to pick up Spillow or loose PP absorbent.
8.
Acid resistant lab coat/plastic apron.
9.
Latex shoe covers.
10. Face shield with ratchet headgear.
11. Tongs.
12. Powdered zinc/iodine/sulphur for absorbing mercury spills.
13. Activated carbon/vermiculite for blanketing effect on both toxic and
flammable spills-suppresses vapours and reduces risk of combustion and
explosion.
14. Clean beach sand for acid spills.