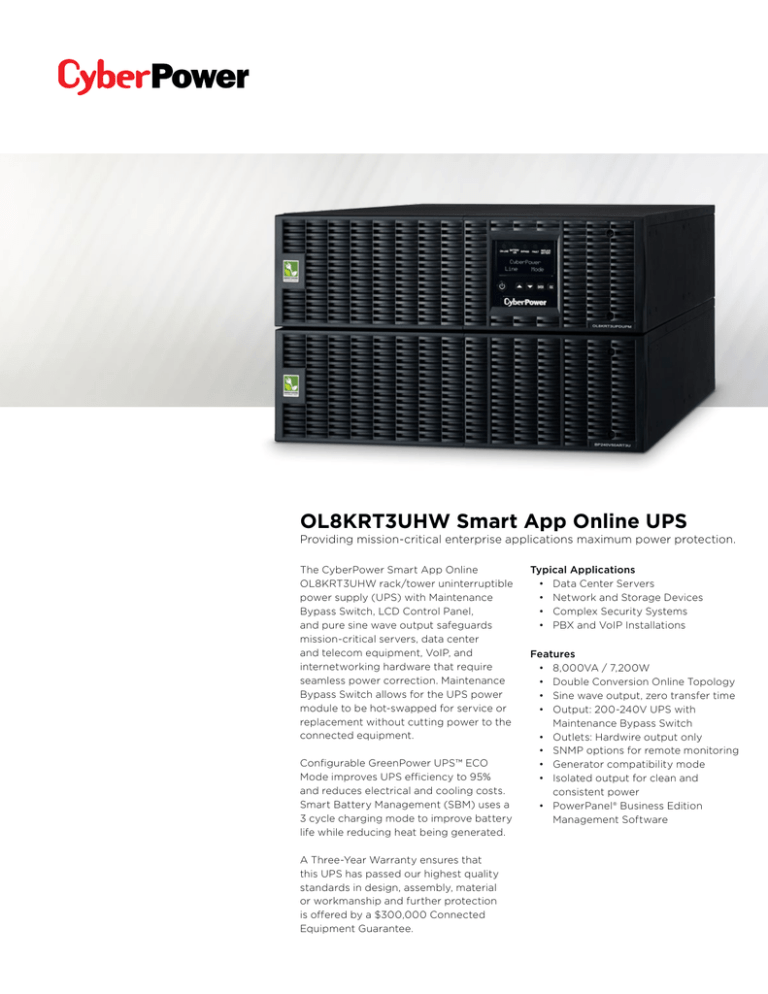 OL8KRT3UHW Smart App Online UPS
Providing mission-critical enterprise applications maximum power protection.
The CyberPower Smart App Online
OL8KRT3UHW rack/tower uninterruptible
power supply (UPS) with Maintenance
Bypass Switch, LCD Control Panel,
and pure sine wave output safeguards
mission-critical servers, data center
and telecom equipment, VoIP, and
internetworking hardware that require
seamless power correction. Maintenance
Bypass Switch allows for the UPS power
module to be hot-swapped for service or
replacement without cutting power to the
connected equipment.
Configurable GreenPower UPS™ ECO
Mode improves UPS efficiency to 95%
and reduces electrical and cooling costs.
Smart Battery Management (SBM) uses a
3 cycle charging mode to improve battery
life while reducing heat being generated.
A Three-Year Warranty ensures that
this UPS has passed our highest quality
standards in design, assembly, material
or workmanship and further protection
is offered by a $300,000 Connected
Equipment Guarantee.
Typical Applications
• Data Center Servers
• Network and Storage Devices
• Complex Security Systems
• PBX and VoIP Installations
Features
• 8,000VA / 7,200W
• Double Conversion Online Topology
• Sine wave output, zero transfer time
• Output: 200-240V UPS with
Maintenance Bypass Switch
• Outlets: Hardwire output only
• SNMP options for remote monitoring
• Generator compatibility mode
• Isolated output for clean and
consistent power
• PowerPanel® Business Edition
Management Software
OL8KRT3UHW Smart App Online UPS
Providing mission-critical enterprise applications maximum power protection.
GENERAL
PHYSICAL
UPS Topology
Double Conversion
Form Factor
Energy Saving
Yes – ECO Mode Efficiency >95%
Power Module, Battery Module, & PDU Module
INPUT
Rack / Tower
Dimensions (WxHxD) (in.)
17.05 x 10.4 x 32.3
200-240Vac
Dimensions (WxHxD) (mm.)
433 x 264 x 820
Input Frequency Range
40Hz – 70Hz (auto-sensing)
Weight (lbs.)
229.9
Plug Style
Hardwire
Weight (kg.)
104.5
Installed Rack Height
6U
Nominal Input Voltage
OUTPUT
VA
8,000 (8 kVA)
ENVIRONMENTAL
Watts
7,200 (7.2 kVA)
Operating Temperature
32 °F to 104°F / 0°C to 40 °C
Sine Wave
Operating Humidity
0% – 90% non condensing
200, 208, 220, 230, 240Vac
(Configurable) ±2%
50/60Hz (Auto-Sensing or Configurable)
±0.25Hz
Operating Elevation
0–10000 feet (0–3000 meters)
On Battery Waveform
On Battery Voltage
On Battery Frequency
Rated Power Factor
0.9
Harmonic Distortion
THD < 3% at Linear Load,
< 5% at Non-linear Load
Crest Factor
3:1
Outlets - Total
1
Outlet Type
Hardwire Terminal Block (1)
Bypass
Internal Bypass (Automatic and Manual),
Maintenance Bypass
Transfer Time
0ms
Audible noise at 1.5m from surface
55 dBA
of unit
Online Thermal Dissipation
2,730 BTU/hr
CERTIFICATIONS
Safety
UL1778, CSA C22.2 NO.107.3-05,
FCC DOC Class A
ROHS
ROHS Compliant
WARRANTY
Product Warranty
3 Years Limited
Connected Equipment Guarantee
Lifetime
CEG Amount
$300,000
BATTERY
Runtime at Half Load (min)
13
Runtime at Full Load (min)
6
Battery Type
Sealed Lead-Acid
User Replaceable
Yes
Hot Swappable
Yes
Typical Recharge Time
5 Hours
Smart Battery Management Mode
Yes
Extendable Battery Module
BP240V30ART3U
SURGE PROTECTION & FILTERING
Surge Suppression
2,670 Joules – IEC 61000-4-5 Level 3
MANAGEMENT & COMMUNICATIONS
LCD Control Panel
Extendable LCD Control Panel
Access 43 information status and
configuration settings via the Information
and Configuration Menus, in addition to
an Event Log Menu.
Yes - Requires a separate DB26 Cable
(not included)
HID Compliant USB Port
Yes
EPO Port
Yes
Dry Contacts
Yes
Software
PowerPanel Business Edition
SNMP / HTTP Remote Monitoring
Yes – Optional RMCARD302 or
RMCARD303
©2015 CyberPower Systems (USA), Inc. All rights reserved. CyberPower reserves the right to change, without prior notice, product offerings or specifications.