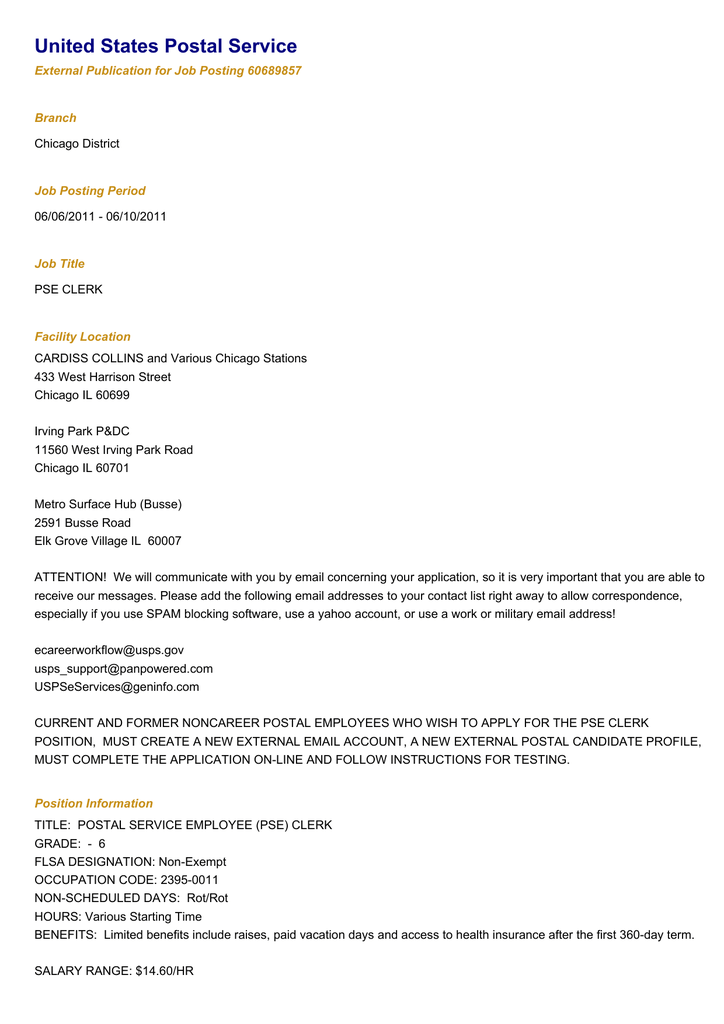 United States Postal Service
External Publication for Job Posting 60689857
Branch
Chicago District
Job Posting Period
06/06/2011 - 06/10/2011
Job Title
PSE CLERK
Facility Location
CARDISS COLLINS and Various Chicago Stations
433 West Harrison Street
Chicago IL 60699
Irving Park P&DC
11560 West Irving Park Road
Chicago IL 60701
Metro Surface Hub (Busse)
2591 Busse Road
Elk Grove Village IL 60007
ATTENTION! We will communicate with you by email concerning your application, so it is very important that you are able to
receive our messages. Please add the following email addresses to your contact list right away to allow correspondence,
especially if you use SPAM blocking software, use a yahoo account, or use a work or military email address!
[email protected]
[email protected]
[email protected]
CURRENT AND FORMER NONCAREER POSTAL EMPLOYEES WHO WISH TO APPLY FOR THE PSE CLERK
POSITION, MUST CREATE A NEW EXTERNAL EMAIL ACCOUNT, A NEW EXTERNAL POSTAL CANDIDATE PROFILE,
MUST COMPLETE THE APPLICATION ON-LINE AND FOLLOW INSTRUCTIONS FOR TESTING.
Position Information
TITLE: POSTAL SERVICE EMPLOYEE (PSE) CLERK
GRADE: - 6
FLSA DESIGNATION: Non-Exempt
OCCUPATION CODE: 2395-0011
NON-SCHEDULED DAYS: Rot/Rot
HOURS: Various Starting Time
BENEFITS: Limited benefits include raises, paid vacation days and access to health insurance after the first 360-day term.
SALARY RANGE: $14.60/HR
FINANCE NUMBER: 161547
Persons Eligible to Apply
All applicants must apply through www.usps.gov/employment. Paper applications will not be accepted.
NOTE: Veterans who are entitled to veteran's preference and/or covered by the Veterans Employment Opportunity Act may
apply for any posted position.
Functional Purpose
Postal Support Employee (PSE) Clerk performs a variety of duties to support day to day operations.
Process incoming and outgoing mail using different methods of sortation and distribution. Duties are physically demanding
and include moderate to heavy lifting as much as 70 pounds. The work involves prolonged standing, walking, stretching, and
reaching.
The United States Postal Service has the following excellent and challenging employment opportunity for highly motivated
and innovative individuals. Successful candidates must demonstrate through a combination of education, training, and
experience the following requirements:
Requirements
1. Written Exam
Applicants will need to be present for screening activities, including an interview, in the Facility Location or vicinity.
- Must be 18 or a high school graduate/high school diploma equivalent.
- Must work flexible schedule (including working weekends)
- Must successfully pass a preemployment background check
- Male born after 12/31/1959 must provide a Selective Service Registration Number.
Qualified applicants must successfully pass a pre-employment drug screening to meet the U.S. Postal Service's requirement
to be drug free. Applicants must also be a U.S. citizen or have permanent resident alien status.
IMPORTANT INFORMATION:
Applications must be submitted by 11:59 p.m., Central Time, of the posting's closing date. Applicants claiming veterans'
preference must attach a copy of member copy 4 (only) of Certificate of Release or Discharge from Active Duty (DD Form
214) or other proof of eligibility if claiming 10-point veterans' preference. The United States Postal Service (USPS) is an
equal opportunity employer. The USPS provides reasonable accommodation for any part of the application, interview,
and/or selection process, please make your request to the examiner, selecting official or local manager of Human
Resources. This request can also be made by someone on your behalf. Explain the nature of your limitations and the
accommodation needed. The decision on granting reasonable accommodation will be on a case-by-case basis.
SPECIAL NOTE: Current career Postal Service employees are ineligible to apply to this posting.