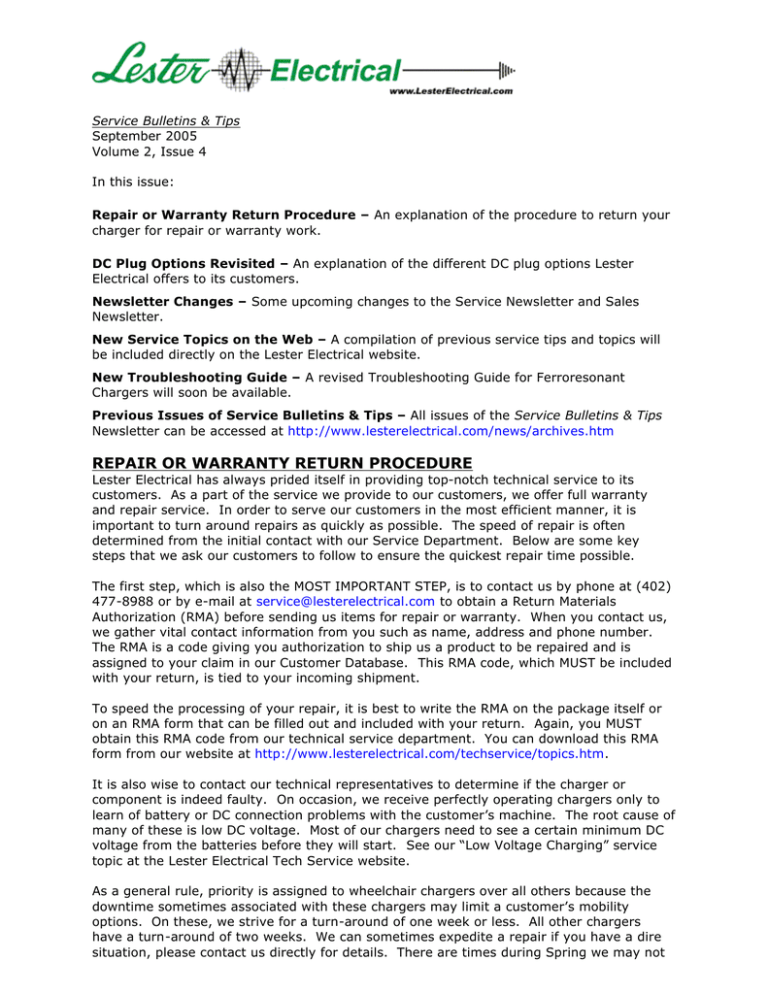 Service Bulletins & Tips
September 2005
Volume 2, Issue 4
In this issue:
Repair or Warranty Return Procedure – An explanation of the procedure to return your
charger for repair or warranty work.
DC Plug Options Revisited – An explanation of the different DC plug options Lester
Electrical offers to its customers.
Newsletter Changes – Some upcoming changes to the Service Newsletter and Sales
Newsletter.
New Service Topics on the Web – A compilation of previous service tips and topics will
be included directly on the Lester Electrical website.
New Troubleshooting Guide – A revised Troubleshooting Guide for Ferroresonant
Chargers will soon be available.
Previous Issues of Service Bulletins & Tips – All issues of the Service Bulletins & Tips
Newsletter can be accessed at http://www.lesterelectrical.com/news/archives.htm
REPAIR OR WARRANTY RETURN PROCEDURE
Lester Electrical has always prided itself in providing top-notch technical service to its
customers. As a part of the service we provide to our customers, we offer full warranty
and repair service. In order to serve our customers in the most efficient manner, it is
important to turn around repairs as quickly as possible. The speed of repair is often
determined from the initial contact with our Service Department. Below are some key
steps that we ask our customers to follow to ensure the quickest repair time possible.
The first step, which is also the MOST IMPORTANT STEP, is to contact us by phone at (402)
477-8988 or by e-mail at service@lesterelectrical.com to obtain a Return Materials
Authorization (RMA) before sending us items for repair or warranty. When you contact us,
we gather vital contact information from you such as name, address and phone number.
The RMA is a code giving you authorization to ship us a product to be repaired and is
assigned to your claim in our Customer Database. This RMA code, which MUST be included
with your return, is tied to your incoming shipment.
To speed the processing of your repair, it is best to write the RMA on the package itself or
on an RMA form that can be filled out and included with your return. Again, you MUST
obtain this RMA code from our technical service department. You can download this RMA
form from our website at http://www.lesterelectrical.com/techservice/topics.htm.
It is also wise to contact our technical representatives to determine if the charger or
component is indeed faulty. On occasion, we receive perfectly operating chargers only to
learn of battery or DC connection problems with the customer's machine. The root cause of
many of these is low DC voltage. Most of our chargers need to see a certain minimum DC
voltage from the batteries before they will start. See our "Low Voltage Charging" service
topic at the Lester Electrical Tech Service website.
As a general rule, priority is assigned to wheelchair chargers over all others because the
downtime sometimes associated with these chargers may limit a customer's mobility
options. On these, we strive for a turn-around of one week or less. All other chargers
have a turn-around of two weeks. We can sometimes expedite a repair if you have a dire
situation, please contact us directly for details. There are times during Spring we may not
be able to accommodate your request due to the high volume of chargers and components
that we see during that peak season.
On repairs of chargers under warranty, these are repaired and returned without notification
unless requested. Customers with non-warranty chargers are contacted after diagnosis and
are given an exact quote for the cost of the repairs. If the quote is fair we accept Visa,
Mastercard, or COD as payment. If the quote is unacceptable we will not charge for the
evaluation and will return the charger for shipping charges only.
Although we can typically diagnose and evaluate chargers when they arrive, any additional
information that can be provided is often very useful and may reduce our time (and your
quote) involved. What the charger does, or doesn't do, or any specific details about its
performance may pinpoint and speed us to a solution.
DC CORD OPTIONS
Most end users are able to identify the charger model they own or use. What is more
difficult, however, is identifying what "Option" number the charger is. Historically, Lester
Electrical has used a two digit "dash number" to designate what option number a charger
has. Typically the dash number refers to cord or plug options. In some cases, the dash
number refers to a charger that has been slightly modified for a specific OEM customer.
These modifications may include a specific plug, a specific case color, or a non-standard DC
cord length. Unfortunately, not all options are available across all product lines. One of the
most frequently asked question of the Service Department is, "What DC plug do I have on
my charger?" This question is usually followed up with, "What dash number does this
correspond to?" Hopefully, this section will help clear up some of those questions.
We offer a variety of plug designs that have evolved and been accepted by customers and
manufacturers of power equipment. If you have specific questions regarding what type of
connector you need for your application, please contact our Service Department at (402)
477-8988 or by email at service@lesterelectrical.com.
The Anderson SB© series of connectors vary in size to meet current flow expectations.
Although the gray, yellow, and red SB-175 plugs are identical in size, they will only mate
with a connector of the same color. Each color connector has a unique shape to the face of
the housing. Make certain the connector you choose is of the same size and color as on the
machine. Three common sizes of Anderson SB© connectors are shown below in Figures 1,
2, and 3.
Figure 1 - Anderson SB©50
Gray - Lester P/N 08313S
Red – Lester P/N 09437S
Figure 2 - Anderson SB©175
Gray - Lester P/N 02957S
Yellow – Lester P/N 22218S
Red – Lester P/N 12283S
Figure 3 - Anderson SB©350
Gray - Lester P/N 09433S
To order a matched set of Anderson connectors, simply order two of the same part
number. Although they appear to be identical, they are designed to mate when one
connector is oriented 180° to the other. The connectors come with a variety of bushings to
accommodate various wire sizes and will require soldering. Our complete cord sets that
include these connectors are crimped and soldered.
The yellow Lester plug (Figure 4, below) has a retractable shielded tip that prevents the
possibility of the DC output blades shorting against an object. The gray rubber Lester plug
(Figure 5, below) is of traditional design. Both have the "crowfoot" blade pattern, and both
are offered only as an assembled, ready-to-install cord set. These plugs and cord sets are
made and assembled in our plant. There are specific UL requirements regarding the proper
use of these two types of plugs. Consult the factory for details with any questions on
applications using this type of plug.
Figure 4 - Yellow Lester Plug
Lester P/N 08020S (cord set)
Figure 5 - Gray Lester Plug (Option –01)
Lester P/N 14973S (cord set)
Finally, the plugs illustrated in Figure 6 for E-Z-Go and in Figure 7 for Club Car are unique
and proprietary to those manufacturers and replacements must be obtained from them.
For details on pricing and availability for the E-Z-Go and/or Club Car plugs, please contact
your local dealer.
Figure 6 - Proprietary E-Z-Go plug.
Figure 7 - Proprietary Club Car plug.
NEWSLETTER CHANGES
As many of you no doubt noticed, we have not sent out a newsletter the past couple of
months. We are considering some changes to the format of the newsletter and have been
evaluating some new ideas for content. We have decided, for now, to keep the Sales and
Service newsletters separate and the format the same, but are considering combining the
two and publishing a combined newsletter once per quarter starting next year. If you have
feedback on the Newsletters, whether it is positive or negative, we would appreciate
hearing from you. Or, if you have suggestions on what you would like to see in either of
our Newsletters, please contact us at marketing@lesterelectrical.com or
service@lesterelectrical.com.
SERVICE TIPS AND TOPICS ON WEB
The Service Topics website will also be going through some changes in the next month. All
of the service-related topics that have been discussed in previous issues of the Service
Bulletins & Tips Newsletter will be compiled and listed in one place rather than only being
located in the archived editions. This should make it easier for you to find the topic you
need. This page will eventually evolve into an FAQ format where the questions most
frequently asked will be added to the page, making it quicker yet.
If you have any topics you would like to see added to this list, please contact our Service
Department at service@lesterelectrical.com.
NEW TROUBLESHOOTING GUIDE
There will be a new Troubleshooting, Repair, and Replacement Guide for ferroresonant
chargers published on our website within the next month. The document is going through
the final edits and should be a vast improvement over our current publication. Included in
this document are three main sections:
Troubleshooting Guide
Topics include how to diagnose the charger and a listing of issues that may occur with the
charger. Symptoms covered are:
§
Charger Does Not Turn On
§
Charger Fuse Blows
Ammeter reads 25 Amps for More than 30 minutes
§
Charger Output is Low
§
§
Charger Turn-off Malfunctions
AC Line Fuse or Circuit Breaker Blows
§
Component Test Procedures
Once the symptom is identified, this section details specific test procedures that can be
used to check components. Included are step-by-step instructions and color pictures
showing meter settings and component locations. Test procedures covered include:
Electronic Charge Controller Testing
§
Transformer Testing
§
§
Diode Assembly Testing
Capacitor Testing
§
AC Input Circuit Testing
§
§
DC Output Circuit Testing
Replacement Procedures
This section covers the steps necessary to replace components in the charger. This section,
like the Component Test Procedures section, contains detailed step-by-step instructions and
color pictures showing how to replace components. Replaceable components discussed in
this section include:
Electronic Charge Controller
§
§
Diode Assembly
§
Capacitor
AC Input and DC Output Cord
§
Fuse Assembly
§
Again, this troubleshooting guide should be released by the end of September and will be
available in PDF format on the Lester Electrical Service Topics page.