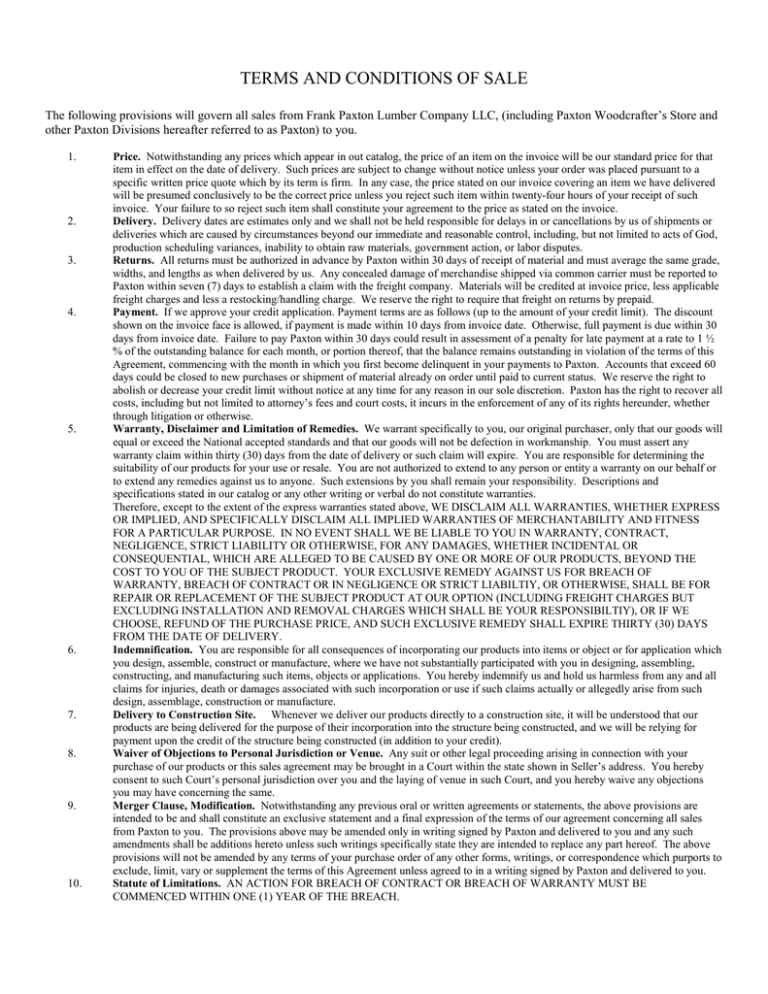 TERMS AND CONDITIONS OF SALE
The following provisions will govern all sales from Frank Paxton Lumber Company LLC, (including Paxton Woodcrafter's Store and
other Paxton Divisions hereafter referred to as Paxton) to you.
1.
2.
3.
4.
5.
6.
7.
8.
9.
10.
Price. Notwithstanding any prices which appear in out catalog, the price of an item on the invoice will be our standard price for that
item in effect on the date of delivery. Such prices are subject to change without notice unless your order was placed pursuant to a
specific written price quote which by its term is firm. In any case, the price stated on our invoice covering an item we have delivered
will be presumed conclusively to be the correct price unless you reject such item within twenty-four hours of your receipt of such
invoice. Your failure to so reject such item shall constitute your agreement to the price as stated on the invoice.
Delivery. Delivery dates are estimates only and we shall not be held responsible for delays in or cancellations by us of shipments or
deliveries which are caused by circumstances beyond our immediate and reasonable control, including, but not limited to acts of God,
production scheduling variances, inability to obtain raw materials, government action, or labor disputes.
Returns. All returns must be authorized in advance by Paxton within 30 days of receipt of material and must average the same grade,
widths, and lengths as when delivered by us. Any concealed damage of merchandise shipped via common carrier must be reported to
Paxton within seven (7) days to establish a claim with the freight company. Materials will be credited at invoice price, less applicable
freight charges and less a restocking/handling charge. We reserve the right to require that freight on returns by prepaid.
Payment. If we approve your credit application. Payment terms are as follows (up to the amount of your credit limit). The discount
shown on the invoice face is allowed, if payment is made within 10 days from invoice date. Otherwise, full payment is due within 30
days from invoice date. Failure to pay Paxton within 30 days could result in assessment of a penalty for late payment at a rate to 1 ½
% of the outstanding balance for each month, or portion thereof, that the balance remains outstanding in violation of the terms of this
Agreement, commencing with the month in which you first become delinquent in your payments to Paxton. Accounts that exceed 60
days could be closed to new purchases or shipment of material already on order until paid to current status. We reserve the right to
abolish or decrease your credit limit without notice at any time for any reason in our sole discretion. Paxton has the right to recover all
costs, including but not limited to attorney's fees and court costs, it incurs in the enforcement of any of its rights hereunder, whether
through litigation or otherwise.
Warranty, Disclaimer and Limitation of Remedies. We warrant specifically to you, our original purchaser, only that our goods will
equal or exceed the National accepted standards and that our goods will not be defection in workmanship. You must assert any
warranty claim within thirty (30) days from the date of delivery or such claim will expire. You are responsible for determining the
suitability of our products for your use or resale. You are not authorized to extend to any person or entity a warranty on our behalf or
to extend any remedies against us to anyone. Such extensions by you shall remain your responsibility. Descriptions and
specifications stated in our catalog or any other writing or verbal do not constitute warranties.
Therefore, except to the extent of the express warranties stated above, WE DISCLAIM ALL WARRANTIES, WHETHER EXPRESS
OR IMPLIED, AND SPECIFICALLY DISCLAIM ALL IMPLIED WARRANTIES OF MERCHANTABILITY AND FITNESS
FOR A PARTICULAR PURPOSE. IN NO EVENT SHALL WE BE LIABLE TO YOU IN WARRANTY, CONTRACT,
NEGLIGENCE, STRICT LIABILITY OR OTHERWISE, FOR ANY DAMAGES, WHETHER INCIDENTAL OR
CONSEQUENTIAL, WHICH ARE ALLEGED TO BE CAUSED BY ONE OR MORE OF OUR PRODUCTS, BEYOND THE
COST TO YOU OF THE SUBJECT PRODUCT. YOUR EXCLUSIVE REMEDY AGAINST US FOR BREACH OF
WARRANTY, BREACH OF CONTRACT OR IN NEGLIGENCE OR STRICT LIABILTIY, OR OTHERWISE, SHALL BE FOR
REPAIR OR REPLACEMENT OF THE SUBJECT PRODUCT AT OUR OPTION (INCLUDING FREIGHT CHARGES BUT
EXCLUDING INSTALLATION AND REMOVAL CHARGES WHICH SHALL BE YOUR RESPONSIBILTIY), OR IF WE
CHOOSE, REFUND OF THE PURCHASE PRICE, AND SUCH EXCLUSIVE REMEDY SHALL EXPIRE THIRTY (30) DAYS
FROM THE DATE OF DELIVERY.
Indemnification. You are responsible for all consequences of incorporating our products into items or object or for application which
you design, assemble, construct or manufacture, where we have not substantially participated with you in designing, assembling,
constructing, and manufacturing such items, objects or applications. You hereby indemnify us and hold us harmless from any and all
claims for injuries, death or damages associated with such incorporation or use if such claims actually or allegedly arise from such
design, assemblage, construction or manufacture.
Delivery to Construction Site. Whenever we deliver our products directly to a construction site, it will be understood that our
products are being delivered for the purpose of their incorporation into the structure being constructed, and we will be relying for
payment upon the credit of the structure being constructed (in addition to your credit).
Waiver of Objections to Personal Jurisdiction or Venue. Any suit or other legal proceeding arising in connection with your
purchase of our products or this sales agreement may be brought in a Court within the state shown in Seller's address. You hereby
consent to such Court's personal jurisdiction over you and the laying of venue in such Court, and you hereby waive any objections
you may have concerning the same.
Merger Clause, Modification. Notwithstanding any previous oral or written agreements or statements, the above provisions are
intended to be and shall constitute an exclusive statement and a final expression of the terms of our agreement concerning all sales
from Paxton to you. The provisions above may be amended only in writing signed by Paxton and delivered to you and any such
amendments shall be additions hereto unless such writings specifically state they are intended to replace any part hereof. The above
provisions will not be amended by any terms of your purchase order of any other forms, writings, or correspondence which purports to
exclude, limit, vary or supplement the terms of this Agreement unless agreed to in a writing signed by Paxton and delivered to you.
Statute of Limitations. AN ACTION FOR BREACH OF CONTRACT OR BREACH OF WARRANTY MUST BE
COMMENCED WITHIN ONE (1) YEAR OF THE BREACH.