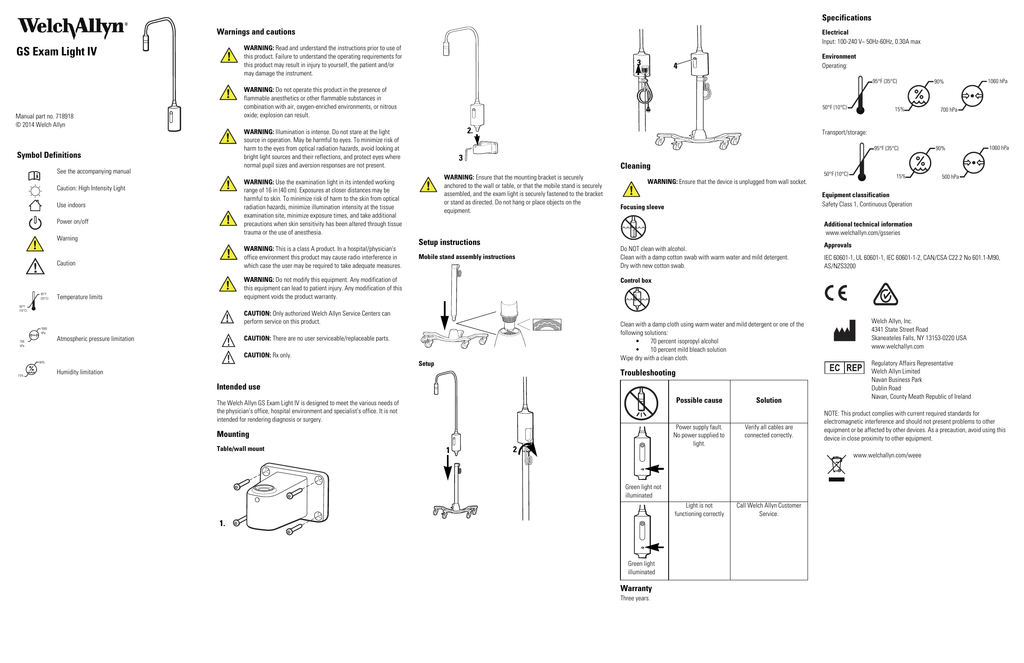 Specifications
Warnings and cautions
Electrical
Input: 100-240 V~ 50Hz-60Hz, 0.30A max
WARNING: Read and understand the instructions prior to use of
this product. Failure to understand the operating requirements for
this product may result in injury to yourself, the patient and/or
may damage the instrument.
GS Exam Light IV
3
Environment
Operating:
4
95°F (35°C)
WARNING: Do not operate this product in the presence of
flammable anesthetics or other flammable substances in
combination with air, oxygen-enriched environments, or nitrous
oxide; explosion can result.
Manual part no. 718918
© 2014 Welch Allyn
2.
WARNING: Illumination is intense. Do not stare at the light
source in operation. May be harmful to eyes. To minimize risk of
harm to the eyes from optical radiation hazards, avoid looking at
bright light sources and their reflections, and protect eyes where
normal pupil sizes and aversion responses are not present.
Symbol Definitions
See the accompanying manual
Use indoors
Power on/off
Warning
Caution
WARNING: This is a class A product. In a hospital/physician's
office environment this product may cause radio interference in
which case the user may be required to take adequate measures.
Temperature limits
WARNING: Do not modify this equipment. Any modification of
this equipment can lead to patient injury. Any modification of this
equipment voids the product warranty.
50°F
(10°C)
3
Setup instructions
Mobile stand assembly instructions
50°F (10°C)
WARNING: Ensure that the device is unplugged from wall socket.
15%
500 hPa
Equipment classification
Safety Class 1, Continuous Operation
Focusing sleeve
Do NOT clean with alcohol.
Clean with a damp cotton swab with warm water and mild detergent.
Dry with new cotton swab.
Clean with a damp cloth using warm water and mild detergent or one of the
following solutions:
•
70 percent isopropyl alcohol
•
10 percent mild bleach solution
Wipe dry with a clean cloth.
Setup
Troubleshooting
Humidity limitation
Intended use
Possible cause
The Welch Allyn GS Exam Light IV is designed to meet the various needs of
the physician's office, hospital environment and specialist's office. It is not
intended for rendering diagnosis or surgery.
Power supply fault.
No power supplied to
light.
Mounting
Table/wall mount
1060 hPa
Approvals
IEC 60601-1, UL 60601-1, IEC 60601-1-2, CAN/CSA C22.2 No 601.1-M90,
AS/NZS3200
Control box
CAUTION: Rx only.
15%
90%
Additional technical information
www.welchallyn.com/gsseries
CAUTION: There are no user serviceable/replaceable parts.
90%
700 hPa
Cleaning
WARNING: Ensure that the mounting bracket is securely
anchored to the wall or table, or that the mobile stand is securely
assembled, and the exam light is securely fastened to the bracket
or stand as directed. Do not hang or place objects on the
equipment.
1060
hPa
Atmospheric pressure limitation
1060 hPa
Transport/storage:
CAUTION: Only authorized Welch Allyn Service Centers can
perform service on this product.
700
hPa
15%
95°F (35°C)
WARNING: Use the examination light in its intended working
range of 16 in (40 cm). Exposures at closer distances may be
harmful to skin. To minimize risk of harm to the skin from optical
radiation hazards, minimize illumination intensity at the tissue
examination site, minimize exposure times, and take additional
precautions when skin sensitivity has been altered through tissue
trauma or the use of anesthesia.
Caution: High Intensity Light
95°F
(35°C)
50°F (10°C)
90%
1
2
Solution
Verify all cables are
connected correctly.
Welch Allyn, Inc.
4341 State Street Road
Skaneateles Falls, NY 13153-0220 USA
www.welchallyn.com
Regulatory Affairs Representative
Welch Allyn Limited
Navan Business Park
Dublin Road
Navan, County Meath Republic of Ireland
NOTE: This product complies with current required standards for
electromagnetic interference and should not present problems to other
equipment or be affected by other devices. As a precaution, avoid using this
device in close proximity to other equipment.
www.welchallyn.com/weee
Green light not
illuminated
Light is not
functioning correctly
1.
Green light
illuminated
Warranty
Three years.
Call Welch Allyn Customer
Service.