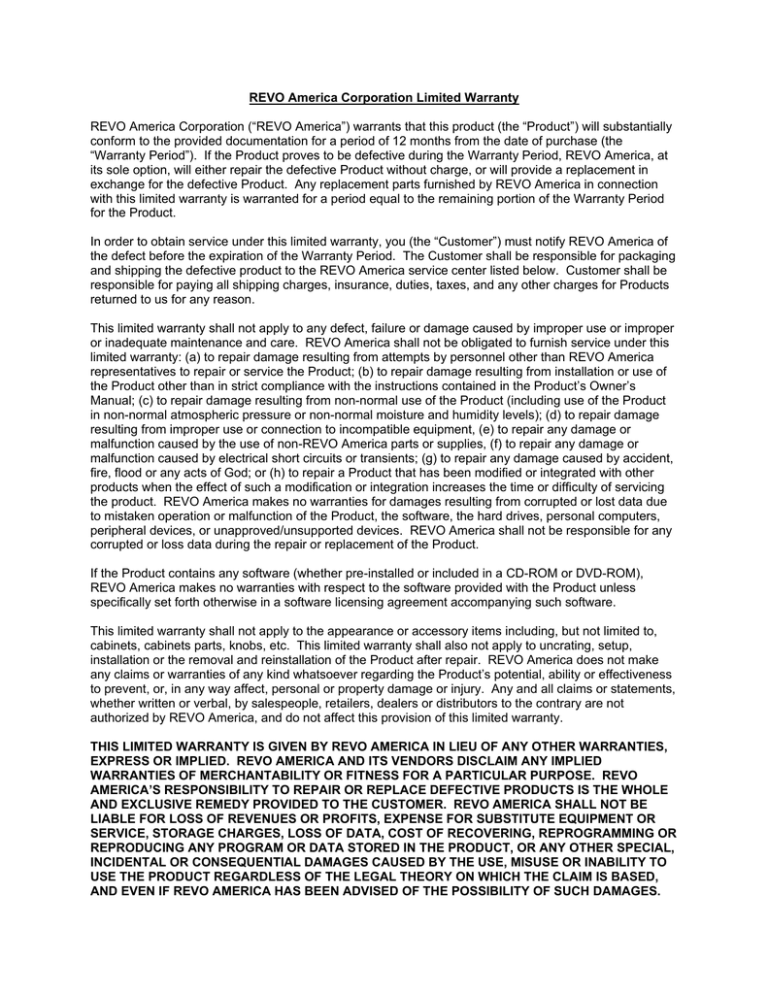 REVO America Corporation Limited Warranty
REVO America Corporation ("REVO America") warrants that this product (the "Product") will substantially
conform to the provided documentation for a period of 12 months from the date of purchase (the
"Warranty Period"). If the Product proves to be defective during the Warranty Period, REVO America, at
its sole option, will either repair the defective Product without charge, or will provide a replacement in
exchange for the defective Product. Any replacement parts furnished by REVO America in connection
with this limited warranty is warranted for a period equal to the remaining portion of the Warranty Period
for the Product.
In order to obtain service under this limited warranty, you (the "Customer") must notify REVO America of
the defect before the expiration of the Warranty Period. The Customer shall be responsible for packaging
and shipping the defective product to the REVO America service center listed below. Customer shall be
responsible for paying all shipping charges, insurance, duties, taxes, and any other charges for Products
returned to us for any reason.
This limited warranty shall not apply to any defect, failure or damage caused by improper use or improper
or inadequate maintenance and care. REVO America shall not be obligated to furnish service under this
limited warranty: (a) to repair damage resulting from attempts by personnel other than REVO America
representatives to repair or service the Product; (b) to repair damage resulting from installation or use of
the Product other than in strict compliance with the instructions contained in the Product's Owner's
Manual; (c) to repair damage resulting from non-normal use of the Product (including use of the Product
in non-normal atmospheric pressure or non-normal moisture and humidity levels); (d) to repair damage
resulting from improper use or connection to incompatible equipment, (e) to repair any damage or
malfunction caused by the use of non-REVO America parts or supplies, (f) to repair any damage or
malfunction caused by electrical short circuits or transients; (g) to repair any damage caused by accident,
fire, flood or any acts of God; or (h) to repair a Product that has been modified or integrated with other
products when the effect of such a modification or integration increases the time or difficulty of servicing
the product. REVO America makes no warranties for damages resulting from corrupted or lost data due
to mistaken operation or malfunction of the Product, the software, the hard drives, personal computers,
peripheral devices, or unapproved/unsupported devices. REVO America shall not be responsible for any
corrupted or loss data during the repair or replacement of the Product.
If the Product contains any software (whether pre-installed or included in a CD-ROM or DVD-ROM),
REVO America makes no warranties with respect to the software provided with the Product unless
specifically set forth otherwise in a software licensing agreement accompanying such software.
This limited warranty shall not apply to the appearance or accessory items including, but not limited to,
cabinets, cabinets parts, knobs, etc. This limited warranty shall also not apply to uncrating, setup,
installation or the removal and reinstallation of the Product after repair. REVO America does not make
any claims or warranties of any kind whatsoever regarding the Product's potential, ability or effectiveness
to prevent, or, in any way affect, personal or property damage or injury. Any and all claims or statements,
whether written or verbal, by salespeople, retailers, dealers or distributors to the contrary are not
authorized by REVO America, and do not affect this provision of this limited warranty.
THIS LIMITED WARRANTY IS GIVEN BY REVO AMERICA IN LIEU OF ANY OTHER WARRANTIES,
EXPRESS OR IMPLIED. REVO AMERICA AND ITS VENDORS DISCLAIM ANY IMPLIED
WARRANTIES OF MERCHANTABILITY OR FITNESS FOR A PARTICULAR PURPOSE. REVO
AMERICA'S RESPONSIBILITY TO REPAIR OR REPLACE DEFECTIVE PRODUCTS IS THE WHOLE
AND EXCLUSIVE REMEDY PROVIDED TO THE CUSTOMER. REVO AMERICA SHALL NOT BE
LIABLE FOR LOSS OF REVENUES OR PROFITS, EXPENSE FOR SUBSTITUTE EQUIPMENT OR
SERVICE, STORAGE CHARGES, LOSS OF DATA, COST OF RECOVERING, REPROGRAMMING OR
REPRODUCING ANY PROGRAM OR DATA STORED IN THE PRODUCT, OR ANY OTHER SPECIAL,
INCIDENTAL OR CONSEQUENTIAL DAMAGES CAUSED BY THE USE, MISUSE OR INABILITY TO
USE THE PRODUCT REGARDLESS OF THE LEGAL THEORY ON WHICH THE CLAIM IS BASED,
AND EVEN IF REVO AMERICA HAS BEEN ADVISED OF THE POSSIBILITY OF SUCH DAMAGES.
THE RECOVERY OF ANY KIND AGAINST REVO AMERICA SHALL NOT BE GREATER IN AMOUNT
THAN THE PURCHASE PRICE OF THE PRODUCT. THIS LIMITED WARRANTY SHALL NOT
EXTEND TO ANYONE OTHER THAN THE ORIGINAL PURCHASER OF THE PRODUCT AT RETAIL
AND IN UNUSED CONDITION. THIS LIMITED WARRANTY SHALL BE GOVERNED BY THE LAWS
OF THE UNITED STATES OF AMERICA, WITHOUT REGARDS TO ITS CONFLICTS OF LAWS
RULES. THIS LIMITED WARRANTY GIVES THE CUSTOMER SPECIFIC LEGAL RIGHTS.
CUSTOMER MAY HAVE OTHER RIGHTS THAT VARY FROM STATE TO STATE.
Obtaining Service
In order to obtain service, please make sure that the Product has been registered online at
www.revoamerica.com. Should the Product require service under this limited warranty, Customer must
provide REVO America with a copy of the original, dated bill of sale, receipt or invoice. If Customer fails to
provide this information, REVO America will not perform any of its obligations under this limited warranty.
If Customer returns the Product and/or CD-ROM/DVD-ROM to REVO America, Customer assumes the
risk of damage and/or loss during shipment of the Product and/or CD-ROM/DVD-ROM to REVO America.
To make a claim on this limited warranty, proceed with the following steps:
1.
Contract REVO America's customer service department and to gain a return
authorization number;
2.
Carefully and securely pack the defective Product and include the Return Authorization
Number in the box; and.
3.
Ship the defective Product postage prepaid to:
REVO America Service
700 Freeport Parkway. Suite 100
Coppell, Texas 75019
www. revoamerica.com
Free Lifetime Technical Support North America: 1-866-625-REVO (1-866-625-7386)
Always use discretion when installing video and/ or audio surveillance equipment especially when there is
perceived privacy. Please review applicable federal, state and/ or local laws and regulations regarding
the lawful installation of video and or audio recording or surveillance. Party consent may be required.
This Product is only intended to be used in the United States, Canada and Mexico.