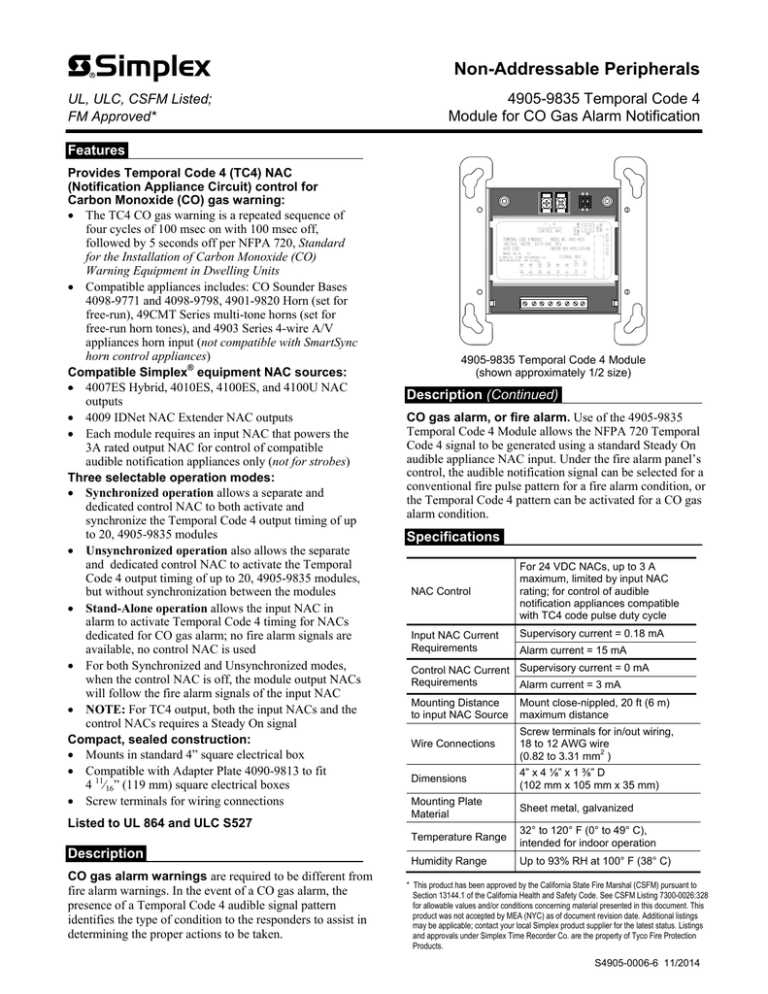 Non-Addressable Peripherals
UL, ULC, CSFM Listed;
FM Approved*
4905-9835 Temporal Code 4
Module for CO Gas Alarm Notification
Features
Provides Temporal Code 4 (TC4) NAC
(Notification Appliance Circuit) control for
Carbon Monoxide (CO) gas warning:
 The TC4 CO gas warning is a repeated sequence of
four cycles of 100 msec on with 100 msec off,
followed by 5 seconds off per NFPA 720, Standard
for the Installation of Carbon Monoxide (CO)
Warning Equipment in Dwelling Units
 Compatible appliances includes: CO Sounder Bases
4098-9771 and 4098-9798, 4901-9820 Horn (set for
free-run), 49CMT Series multi-tone horns (set for
free-run horn tones), and 4903 Series 4-wire A/V
appliances horn input (not compatible with SmartSync
horn control appliances)
Compatible Simplex® equipment NAC sources:
 4007ES Hybrid, 4010ES, 4100ES, and 4100U NAC
outputs
 4009 IDNet NAC Extender NAC outputs
 Each module requires an input NAC that powers the
3A rated output NAC for control of compatible
audible notification appliances only (not for strobes)
Three selectable operation modes:
 Synchronized operation allows a separate and
dedicated control NAC to both activate and
synchronize the Temporal Code 4 output timing of up
to 20, 4905-9835 modules
 Unsynchronized operation also allows the separate
and dedicated control NAC to activate the Temporal
Code 4 output timing of up to 20, 4905-9835 modules,
but without synchronization between the modules
 Stand-Alone operation allows the input NAC in
alarm to activate Temporal Code 4 timing for NACs
dedicated for CO gas alarm; no fire alarm signals are
available, no control NAC is used
 For both Synchronized and Unsynchronized modes,
when the control NAC is off, the module output NACs
will follow the fire alarm signals of the input NAC
 NOTE: For TC4 output, both the input NACs and the
control NACs requires a Steady On signal
Compact, sealed construction:
 Mounts in standard 4" square electrical box
 Compatible with Adapter Plate 4090-9813 to fit
4 11⁄16" (119 mm) square electrical boxes
 Screw terminals for wiring connections
Listed to UL 864 and ULC S527
Description
CO gas alarm warnings are required to be different from
fire alarm warnings. In the event of a CO gas alarm, the
presence of a Temporal Code 4 audible signal pattern
identifies the type of condition to the responders to assist in
determining the proper actions to be taken.
4905-9835 Temporal Code 4 Module
(shown approximately 1/2 size)
Description (Continued)
CO gas alarm, or fire alarm. Use of the 4905-9835
Temporal Code 4 Module allows the NFPA 720 Temporal
Code 4 signal to be generated using a standard Steady On
audible appliance NAC input. Under the fire alarm panel's
control, the audible notification signal can be selected for a
conventional fire pulse pattern for a fire alarm condition, or
the Temporal Code 4 pattern can be activated for a CO gas
alarm condition.
Specifications
NAC Control
Input NAC Current
Requirements
For 24 VDC NACs, up to 3 A
maximum, limited by input NAC
rating; for control of audible
notification appliances compatible
with TC4 code pulse duty cycle
Supervisory current = 0.18 mA
Alarm current = 15 mA
Control NAC Current Supervisory current = 0 mA
Requirements
Alarm current = 3 mA
Mounting Distance
to input NAC Source
Mount close-nippled, 20 ft (6 m)
maximum distance
Wire Connections
Screw terminals for in/out wiring,
18 to 12 AWG wire
(0.82 to 3.31 mm2 )
Dimensions
4" x 4 ⅛" x 1 ⅜" D
(102 mm x 105 mm x 35 mm)
Mounting Plate
Material
Sheet metal, galvanized
Temperature Range
32° to 120° F (0° to 49° C),
intended for indoor operation
Humidity Range
Up to 93% RH at 100° F (38° C)
* This product has been approved by the California State Fire Marshal (CSFM) pursuant to
Section 13144.1 of the California Health and Safety Code. See CSFM Listing 7300-0026:328
for allowable values and/or conditions concerning material presented in this document. This
product was not accepted by MEA (NYC) as of document revision date. Additional listings
may be applicable; contact your local Simplex product supplier for the latest status. Listings
and approvals under Simplex Time Recorder Co. are the property of Tyco Fire Protection
Products.
S4905-0006-6 11/2014
System Connection Reference
4905-9835 Temporal Code 4 (TC4) Module
Dedicated control NAC
1
2
ON
CO Sensor
Sounder Base*
4901-9820 Horn, 4903 Series 4-wire A/V horn,
or other compatible (not SmartSync control)
24 VDC audible notification appliances
NAC input to TC4
Module, 3 A maximum
TC4 NAC output, 3 A maximum
Fire Alarm Control Panel
(4100ES shown for reference)
1
Dedicated control NAC to the next Temporal
Code 4 Module, up to 20 total maximum; requires
end-of-line resistor per source NAC requirements
2
ON
IDNet or RUI Communications
per system requirements
Appliance NACs require
end-of-line resistor per
source NAC requirements
CAUTIO N
DI SCO NNECT
PO W ER
BEFO RE
SERVI CI NG
4009 IDNet NAC EXTENDER
TM
4009 IDNet NAC Extender (shown, uses IDNet
communications) or Remote 4100ES MINIPLEX
transponder with NACs (uses RUI communications)
* Note: IDNet communications wiring
(not shown) is required to connect
to each CO Sensor Sounder Base
Mounting Reference
Mounting Box (supplied separately), 4" square
(102 mm), minimum depth = 2-1/8" (54 mm),
RACO 232 or equal
4" square cover plate, RACO 752
or equal (supplied separately)
Additional Reference
Document
Description
Document
Description
579-840
S4098-0052
S4100-0031
S4007-0001
Installation Instructions
CO Sensor Base data sheet
4100ES Basic Reference
4007ES Hybrid data sheet
S4010-0004
S4901-0010
S4903-0011
S49CMT-0001
4010ES Control Panel
4901-9820 Horns
4903 Series 4-wire A/Vs
49CMT Series Multi-Tone Horns
TYCO, SIMPLEX, and the product names listed in this material are marks and/or registered marks. Unauthorized use is strictly prohibited. NFPA is a trademark of the National Fire
Protection Association.
Tyco Fire Protection Products • Westminster, MA • 01441-0001 • USA
www.simplex-fire.com
S4905-0006-6 11/2014
© 2014 Tyco Fire Protection Products. All rights reserved. All specifications and other information shown were current as of document revision date and are subject to change without notice.