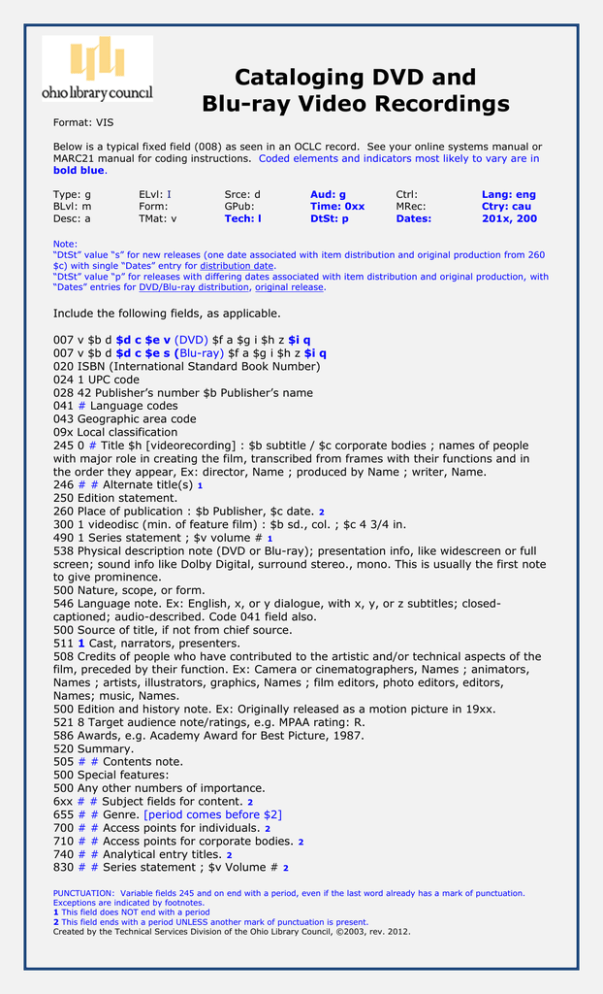 Cataloging DVD and
Blu-ray Video Recordings
Format: VIS
Below is a typical fixed field (008) as seen in an OCLC record. See your online systems manual or
MARC21 manual for coding instructions. Coded elements and indicators most likely to vary are in
bold blue.
Type: g
BLvl: m
Desc: a
ELvl: I
Form:
TMat: v
Srce: d
GPub:
Tech: l
Aud: g
Time: 0xx
DtSt: p
Ctrl:
MRec:
Dates:
Lang: eng
Ctry: cau
201x, 200
Note:
"DtSt" value "s" for new releases (one date associated with item distribution and original production from 260
$c) with single "Dates" entry for distribution date.
"DtSt" value "p" for releases with differing dates associated with item distribution and original production, with
"Dates" entries for DVD/Blu-ray distribution, original release.
Include the following fields, as applicable.
007 v $b d $d c $e v (DVD) $f a $g i $h z $i q
007 v $b d $d c $e s (Blu-ray) $f a $g i $h z $i q
020 ISBN (International Standard Book Number)
024 1 UPC code
028 42 Publisher's number $b Publisher's name
041 # Language codes
043 Geographic area code
09x Local classification
245 0 # Title $h [videorecording] : $b subtitle / $c corporate bodies ; names of people
with major role in creating the film, transcribed from frames with their functions and in
the order they appear, Ex: director, Name ; produced by Name ; writer, Name.
246 # # Alternate title(s) 1
250 Edition statement.
260 Place of publication : $b Publisher, $c date. 2
300 1 videodisc (min. of feature film) : $b sd., col. ; $c 4 3/4 in.
490 1 Series statement ; $v volume # 1
538 Physical description note (DVD or Blu-ray); presentation info, like widescreen or full
screen; sound info like Dolby Digital, surround stereo., mono. This is usually the first note
to give prominence.
500 Nature, scope, or form.
546 Language note. Ex: English, x, or y dialogue, with x, y, or z subtitles; closedcaptioned; audio-described. Code 041 field also.
500 Source of title, if not from chief source.
511 1 Cast, narrators, presenters.
508 Credits of people who have contributed to the artistic and/or technical aspects of the
film, preceded by their function. Ex: Camera or cinematographers, Names ; animators,
Names ; artists, illustrators, graphics, Names ; film editors, photo editors, editors,
Names; music, Names.
500 Edition and history note. Ex: Originally released as a motion picture in 19xx.
521 8 Target audience note/ratings, e.g. MPAA rating: R.
586 Awards, e.g. Academy Award for Best Picture, 1987.
520 Summary.
505 # # Contents note.
500 Special features:
500 Any other numbers of importance.
6xx # # Subject fields for content. 2
655 # # Genre. [period comes before $2]
700 # # Access points for individuals. 2
710 # # Access points for corporate bodies. 2
740 # # Analytical entry titles. 2
830 # # Series statement ; $v Volume # 2
PUNCTUATION: Variable fields 245 and on end with a period, even if the last word already has a mark of punctuation.
Exceptions are indicated by footnotes.
1 This field does NOT end with a period
2 This field ends with a period UNLESS another mark of punctuation is present.
Created by the Technical Services Division of the Ohio Library Council, ©2003, rev. 2012.