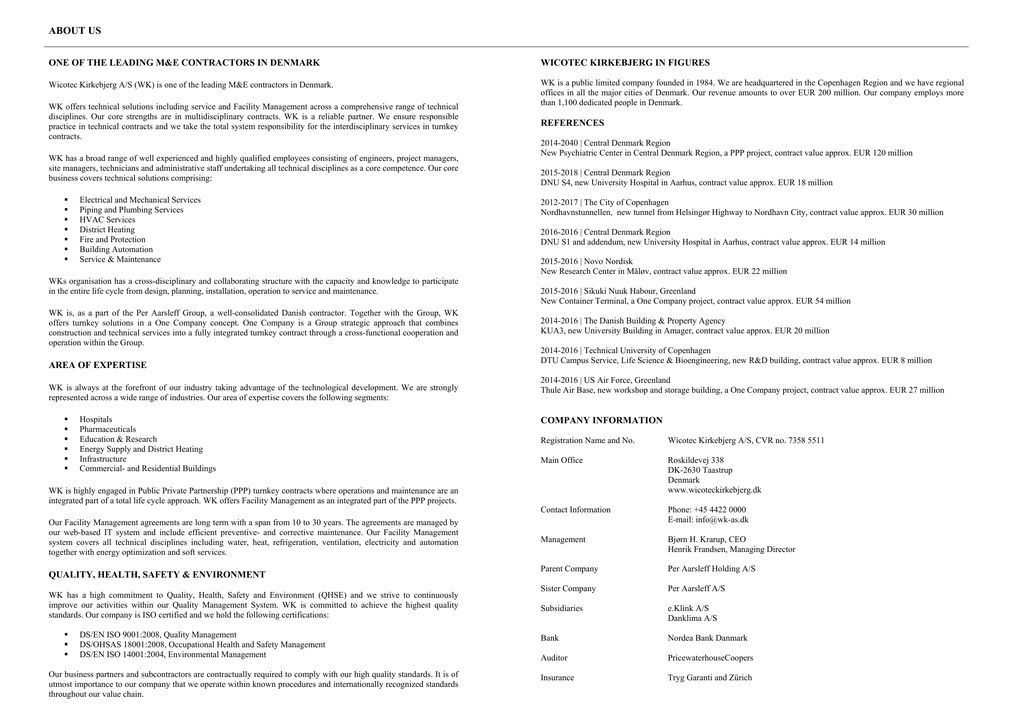 ABOUT US
ONE OF THE LEADING M&E CONTRACTORS IN DENMARK
WICOTEC KIRKEBJERG IN FIGURES
Wicotec Kirkebjerg A/S (WK) is one of the leading M&E contractors in Denmark.
WK is a public limited company founded in 1984. We are headquartered in the Copenhagen Region and we have regional
offices in all the major cities of Denmark. Our revenue amounts to over EUR 200 million. Our company employs more
than 1,100 dedicated people in Denmark.
WK offers technical solutions including service and Facility Management across a comprehensive range of technical
disciplines. Our core strengths are in multidisciplinary contracts. WK is a reliable partner. We ensure responsible
practice in technical contracts and we take the total system responsibility for the interdisciplinary services in turnkey
contracts.
WK has a broad range of well experienced and highly qualified employees consisting of engineers, project managers,
site managers, technicians and administrative staff undertaking all technical disciplines as a core competence. Our core
business covers technical solutions comprising:







Electrical and Mechanical Services
Piping and Plumbing Services
HVAC Services
District Heating
Fire and Protection
Building Automation
Service & Maintenance
WKs organisation has a cross-disciplinary and collaborating structure with the capacity and knowledge to participate
in the entire life cycle from design, planning, installation, operation to service and maintenance.
WK is, as a part of the Per Aarsleff Group, a well-consolidated Danish contractor. Together with the Group, WK
offers turnkey solutions in a One Company concept. One Company is a Group strategic approach that combines
construction and technical services into a fully integrated turnkey contract through a cross-functional cooperation and
operation within the Group.
AREA OF EXPERTISE
WK is always at the forefront of our industry taking advantage of the technological development. We are strongly
represented across a wide range of industries. Our area of expertise covers the following segments:






Hospitals
Pharmaceuticals
Education & Research
Energy Supply and District Heating
Infrastructure
Commercial- and Residential Buildings
REFERENCES
2014-2040 | Central Denmark Region
New Psychiatric Center in Central Denmark Region, a PPP project, contract value approx. EUR 120 million
2015-2018 | Central Denmark Region
DNU S4, new University Hospital in Aarhus, contract value approx. EUR 18 million
2012-2017 | The City of Copenhagen
Nordhavnstunnellen, new tunnel from Helsingør Highway to Nordhavn City, contract value approx. EUR 30 million
2016-2016 | Central Denmark Region
DNU S1 and addendum, new University Hospital in Aarhus, contract value approx. EUR 14 million
2015-2016 | Novo Nordisk
New Research Center in Måløv, contract value approx. EUR 22 million
2015-2016 | Sikuki Nuuk Habour, Greenland
New Container Terminal, a One Company project, contract value approx. EUR 54 million
2014-2016 | The Danish Building & Property Agency
KUA3, new University Building in Amager, contract value approx. EUR 20 million
2014-2016 | Technical University of Copenhagen
DTU Campus Service, Life Science & Bioengineering, new R&D building, contract value approx. EUR 8 million
2014-2016 | US Air Force, Greenland
Thule Air Base, new workshop and storage building, a One Company project, contract value approx. EUR 27 million
COMPANY INFORMATION
Registration Name and No.
Wicotec Kirkebjerg A/S, CVR no. 7358 5511
Main Office
Roskildevej 338
DK-2630 Taastrup
Denmark
www.wicoteckirkebjerg.dk
Contact Information
Phone: +45 4422 0000
E-mail: [email protected]
Management
Bjørn H. Krarup, CEO
Henrik Frandsen, Managing Director
Parent Company
Per Aarsleff Holding A/S
Sister Company
Per Aarsleff A/S
Subsidiaries
e.Klink A/S
Danklima A/S
Bank
Nordea Bank Danmark
Auditor
PricewaterhouseCoopers
Insurance
Tryg Garanti and Zürich
WK is highly engaged in Public Private Partnership (PPP) turnkey contracts where operations and maintenance are an
integrated part of a total life cycle approach. WK offers Facility Management as an integrated part of the PPP projects.
Our Facility Management agreements are long term with a span from 10 to 30 years. The agreements are managed by
our web-based IT system and include efficient preventive- and corrective maintenance. Our Facility Management
system covers all technical disciplines including water, heat, refrigeration, ventilation, electricity and automation
together with energy optimization and soft services.
QUALITY, HEALTH, SAFETY & ENVIRONMENT
WK has a high commitment to Quality, Health, Safety and Environment (QHSE) and we strive to continuously
improve our activities within our Quality Management System. WK is committed to achieve the highest quality
standards. Our company is ISO certified and we hold the following certifications:



DS/EN ISO 9001:2008, Quality Management
DS/OHSAS 18001:2008, Occupational Health and Safety Management
DS/EN ISO 14001:2004, Environmental Management
Our business partners and subcontractors are contractually required to comply with our high quality standards. It is of
utmost importance to our company that we operate within known procedures and internationally recognized standards
throughout our value chain.