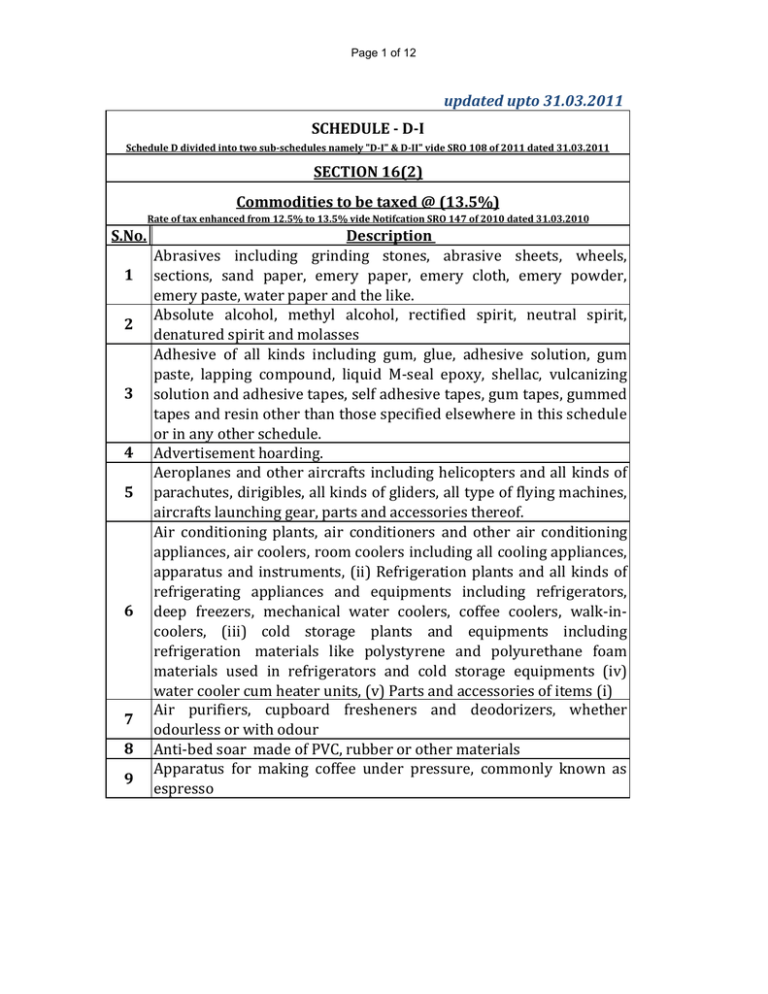 Page 1 of 12
updated upto 31.03.2011
SCHEDULE - D-I
Schedule D divided into two sub-schedules namely "D-I" & D-II" vide SRO 108 of 2011 dated 31.03.2011
SECTION 16(2)
Commodities to be taxed @ (13.5%)
Rate of tax enhanced from 12.5% to 13.5% vide Notifcation SRO 147 of 2010 dated 31.03.2010
S.No.
1
2
3
4
5
6
7
8
9
Description
Abrasives including grinding stones, abrasive sheets, wheels,
sections, sand paper, emery paper, emery cloth, emery powder,
emery paste, water paper and the like.
Absolute alcohol, methyl alcohol, rectified spirit, neutral spirit,
denatured spirit and molasses
Adhesive of all kinds including gum, glue, adhesive solution, gum
paste, lapping compound, liquid M-seal epoxy, shellac, vulcanizing
solution and adhesive tapes, self adhesive tapes, gum tapes, gummed
tapes and resin other than those specified elsewhere in this schedule
or in any other schedule.
Advertisement hoarding.
Aeroplanes and other aircrafts including helicopters and all kinds of
parachutes, dirigibles, all kinds of gliders, all type of flying machines,
aircrafts launching gear, parts and accessories thereof.
Air conditioning plants, air conditioners and other air conditioning
appliances, air coolers, room coolers including all cooling appliances,
apparatus and instruments, (ii) Refrigeration plants and all kinds of
refrigerating appliances and equipments including refrigerators,
deep freezers, mechanical water coolers, coffee coolers, walk-incoolers, (iii) cold storage plants and equipments including
refrigeration materials like polystyrene and polyurethane foam
materials used in refrigerators and cold storage equipments (iv)
water cooler cum heater units, (v) Parts and accessories of items (i)
Air purifiers, cupboard fresheners and deodorizers, whether
odourless or with odour
Anti-bed soar made of PVC, rubber or other materials
Apparatus for making coffee under pressure, commonly known as
espresso
Page 2 of 12
10
11
12
13
14
15
16
17
18
19
20
21
22
23
24
25
26
27
Arms, ammunitions and explosives of all kinds including (i) rifles,
revolvers, pistols and bayonets, truncheons of all kinds and
ammunition used therewith (ii) Hand grenades (iii) Air guns, air
rifles and pellets used therewith, (iv) gelatin sticks, RDX, gun powder,
detonators caps, igniters, electric detonators, fuses and other blasting
Articles and other goods of aluminium, brass, bronze, copper,
cadmium, lead and zinc other than specified in any other schedule
Articles, equipments for gymnastics and health fitness equipments
Articles made from all kinds and all forms of plastic including articles
made of polythene, polyvinyal chloride, poly propelene, polystyrene
and the like materials but excluding those specified in any other
Articles made of Ivory, horn, coconut shell, straw, bamboo, cane,
rosewood, sandalwood and other woods other than those specifically
included in any other entry in this schedule
Asbestos sheets and products, cement products including products in
combination with other materials not elsewhere mentioned in this
schedule.
Asphaltic roofing
Bakery products including biscuits of all varieties, cakes, pastries
other than those specified in any other schedule
Baking powder, bread improver, cake gel, vinegar, wheat gluten and
edible gelatin used for confectionary.
Batteries and parts thereof, dry cells, button cells, solar cells of all
kinds, parts and accessories thereof including zinc calots and carbon
Beds, mattresses, cushion/cushion mattresses, pillows , quilts made
of cotton or silk, seat cover and other artciles made wholly or partly
of artificial or synthetic resin or plastic foam or rubber foam.
Binoculars, monocular, opera glasses, optical telescope, astronomical
instruments, microscopes and optical lenses other than lenses for
spectacles.
Blasting gun powder and other mechanical explosive
Bleaching powder of all varieties and descriptions
Boards such as planner boards, writing boards, graph boards, writing
cum projecting boards, white mark ceramic steel dry wipe boards
Bulldozers, excavators, earthmovers, dumpers, dippers, pipe-layers,
scrappers and the like, and parts and accessories thereof.
Cables of all types, other than those specifically included in this
schedule or in any other schedule.
Casurina, Eucalyptus timber
Page 3 of 12
Cement including white cement and their substitutes and cement
concrete mixture
29 Chinaware, porcelain ware and stoneware articles
[Cigar cases and cigarette cases], pipe holders, tobacco pipes,
30
cigarette filters and hookah
28
(Cigar cases and cigarette cases omitted & transposed to Schedule D-II vide SRO 108 of 2011 dated
31
32
33
34
35
36
37
38
Cinematographic equipment, including video cameras, projectors,
over-head projectors, enlargers, plates and cloth required for use
therewith, sound-recording and reproducing equipments, parts and
accessories thereof and lenses, exposed films, film-strips, arc or
cinema carbons, cinema slides, paper, paper boards required for use
Citronella oil
Clip boards, clutch pencil, black lead, date stamps, dusters, index file
clips, poker, office files of all kinds, paper cutter, black board, black
board
dusters
Coconut
products ( other than sweets and confectionery and those
specifically included under any other item in this Schedule)
Coffee powder including French coffee and coffee drink
Collapsible gates, rolling shutters whether operated manually,
mechanically or electrically and their parts and grills made of iron
Computer cleaning kit
[Conduit pipes & its fittings]
Conduit pipes & its fittings - omitted vide SRO 335 dt. 17.9.2007 w.e.f. 1.4.2005
39
40
41
42
43
44
Confectionery including toffee, chocolate and sweets of all kinds, icecandy,ice cream, ice-cake, ice-jelly, kulfi and frozen confectionery,
frozen desert, chewing gum, bubble gum and the like.
Cooked food and food preperations including beverages other than
liquor, served in, or supplied from, any- (a) hotel, (b) restaurant, (c)
refreshment room, (d) club or (e) eating house.
Cooking gas other than those specified elsewhere
Cosmetics and toilet articles that is to say, - Talcum powder, prickly
heat powder, similar medicated body powder, shampoo of all
varieties and forms, hair and body cleaning powder of all kinds,
sandal wood oil, ramachom oil, cinnamon oil, perfumes, scents, snow
and cream, eau de cologne, solid colognes, beauty boxes, face packs,
cleansing liquids, moisturizers, make-up articles (not including
talcum powder),complexion rouge, bleaching agents, hair oil, hair
dyes, hair sprayers, hair removers, hair creams, lipsticks, nail
polishes and varnishes, polish removers, eye liners, eye lashes and
CP accessories
Deccan hemp products other than deccan hemp fibre
Page 4 of 12
45
46
47
48
49
50
51
52
Detergents whether cake, liquid or powder, toilet soap, washing soap
(excluding handmade washing soap) laundry brighteners, abir, blue,
stain busters, stain removers and all kinds of cleaning powder and
liquids.locomotive and parts and accessories thereof
Diesel
Doors, windows, ventilators, partitions, stands, ladders, etc, made of
any materials
Dry fruits, nuts, and kernel such as , pista, dry grapes, figs, apricots,
cashew kernel other than those specified elsewhere in this Schedule
Duplicating machines, photo copying machines, reprographic copiers
including roneomachies/duplicators, and any other apparatus for
obtaining duplicate copies, parts and accessories thereof, ribbons,
plates used therewith
Electric motor, spare parts and accessories thereof
Electrical domestic and commercial appliances including- food
processors like mixer, grinder, ovens, frying pans, roti-maker, rice
cooker, deep fat frier, curd maker, hot food cabinet, water heater
including immersion heater, electric kettle, electric knife, cooking
ranges, washing machine, dish washer, electric iron, electric hair
drier, electric hair remover, shavers, electric time switches,
mechanical timers, vacuum cleaner, water purifier, drier, coffee
roasting appliances, floor polishers, massage apparatus, sharpeners,
vending machines other than those specifically included under any
other
entrygoods
in thisofSchedule
or used
in anyinother
Electrical
all kinds
the schedule.
generation, transmission,
distribution or in connection with the consumption of electricity,
inverters, voltage stablizers, wires and cables, holders, plugs, sockets,
switches, capings, reapers, bends, junction boxes, coupling boxes,
meter boxes, switch boxes, fuse switch boxes, distribution boxes,
power meters, meter boards, switch boards, panel boards,
distribution boards, electrical relays, single phasing preventors,
wooden plugs, lightning arrestors, electrical earthenware and
porcelainware, circuit breakers, starters, chokes, power supply
indicators, winding wires and strips, jointing materials, heating
elements, general lighting system ( GLS) lamps, bulbs, tubes, light
fittings, chandeliers and their shades, fans, air fans,air circulators,
protectors, stands, fixtures, fittings, battens, brackets, sound or visual
signalling apparatus such as bells, sirens, indicator panels, burglar or
fire alarms other than those specifically included under any other
Page 5 of 12
53
54
55
56
57
58
59
60
61
62
63
Electronic goods (i) electronic systems, instruments, apparatus and
appliances including television, audio & video cassette tape recorder,
compact disc writer, audio & video cassettes, audio & video magnetic
tapes video cassette players, automatic teller machines, music
systems, amplifier, graphic equalizer, synthesizer, tuner, tape deck,
record player, record changer, compact disc player, speaker, sales
register, (ii) components, spare parts and accessories thereof
including cathode ray tube, electronic wires, sleeves, casings,
cappings, cables, switches, plugs, holders, jacks, connectors, chokes,
starters, relays fuses, head cleaners and lubricants of all kinds other
than those specifically included in any other entry in this schedule or
Electronic toys
Electroplated nickel, chromium silver or german silver goods
Empty gas cylinders
Fax machines and their parts and accessories
Fiberglass sheets and articles made of fibre other than those
specifically included in this schedule or in any other schedule
Fire fighting equipments and devices
Fire works including coloured matches
Floor and wall tiles of all varieties (i) ceramic tiles, glazed floor,
roofing and wall tiles, (ii) cuddappah stone slabs and shahabad stone
slabs, (iii) (a) Granite blocks ( rough or raw), (b) polished granite
slabs, including tomb stones, monument slab and head stone, (iv)
Black stone, kota stone or any other natural stone, (v) Marbles, that is
to say, (a) Marble boulders or lumps, (b) Marble slabs (c) Marble
chips (d) Marble dusts (e) Marble floor tiles and wall tiles (f) other
articles made of marbles (vi) Mosaic tiles, chips and powder
Floor covering, that is to say, (i) Carpet(excluding locally
handmade/handloom made), durries, druggets, Kalins, galichas,
carpetry and rugs whether tufted, piled or otherwise whether made
from cotton, silk, synthetic or other fibres, whether machine made,
handmade or made on handlooms, jute carpets, coir carpets or
mattings, handmade or handloom made woven durries and
jamakkalams, (ii) Laminated, impregnated or coated matting
materials such as linoleum including PVC ( vinyl) materials
Foam rubber products, plastic foam products, or other synthetic
foam products of every description including: (i) sheets, (ii) cushions
(iii) Pillows and (iv) mattresses
Page 6 of 12
64
65
66
67
68
69
70
71
72
73
74
75
76
77
78
79
80
81
82
Food- (i) Ready to serve foods and food preparations including
instant foods, chatnis, sauces, sweets and sweet meats,
confectionery, chocolates, toffees and savories like chips and
popcorn, (ii) sweets made of groundnuts, gingelly, (iii) fried, roasted
or salted grams & kernels, (iv) semi-cooked or semi processed food
stuffs like coconut milk, coconut milk powder, food mixes, noodle,
vermicelli and macaroni including spaghetti and cornflakes (v) food
colours, essences of all kinds and powders or tablets used for making
Footwear excluding plastic footwear
Fruit oils like- (i) grape oil, orange oil, lemon oil, lime oil, carrot oil
(ii) Leaves oil such as mint oil, curry leaf oil etc.
Fur, skins with fur, and articles made of fur, skin and leather
Furnaces and boilers of all types including fluidized bed boilers and
ignifluid boilers and boilers using agricultural waste as fuel but not
including boilers using municipal waste only as fuel
Furniture made from any material whether sold in assembled or
unassembled form and ready to assemble and parts thereof.
Explanation:- Slotted angles, gussets, plates, panels, and strips which
when assembled form furniture or equipments, shall be deemed to
be furniture or office equipment as the case may be, for the purpose
of this item.
Garden
and beach umbrellas and parts thereof
Garnet sand
Gas Cylinders, gas stove, burners and other accessories thereof
Gases, liquefied or not, other than those specifically mentioned in this
schedule or in any other schedule
Glass and glassware other than those specified elsewhere in this
schedule or in any other schedule
Glycerin
Hair- (i) Human hair, (ii) Wigs
Handicrafts made out of any material including jute table mats, jute
door mats, jute handicrafts, jute wall hangings, bidariware,
handmade pottery items, hand made lamps, art works, dokra items,
coconut shell articles, conch and shell articles, palm leave articles, ,
screwpine articles, straw articles, wood figure, wooden inlaid articles
Handlooms Machinery and parts and accessories thereof
Helmets
Hollow polyester fibre
Instant tea and instant coffee
Insulated flexible air ducts made of PVC or other materials
Page 7 of 12
83
84
85
86
87
88
89
90
91
92
93
94
95
96
97
98
99
100
Internal combustion engine, marine engine, diesel engine, oil engine,
generators, their spare parts, other than those specifically mentioned
in this schedule.
Jute-cum-polypropylene coverings
Key chains and key holders
Kitchenware including crockery, cutlery, non stick wares, heat
resistant cookware, casseroles, pressure stoves.
Laboratory reagents, disinfectants
Laminated board of sheet of all varieties and description including
expanded polystyrene of all kinds of mica, sunmica, formica, decolam
Lifts, elevators, hoists, whether operated by electricity, hydraulic
power, mechanical power or steam
Light roofing sheets ( obtained by immersing paper mat in bitumen)
Lighters of all kinds including spark lighters
Liquefied petroleum gas(LPG)
Locks, padlocks and keys ( all kinds)
Low Sulphur heavy stock ( LSHS)
Lubricants
Machinery of all kinds ( other than those specifically mentioned in
this schedule) worked by ( i) Electricity (ii) Nuclear power (iii) Hydrodynamic and steam power (iv) Diesel or petrol (v) Furnace oil (vi)
Kerosene (vii) Coal including coke and charcoal (viii) Any other form
of fuel or power (excluding human or animal labour) (ix) Parts and
accessories of machineries and tools used with the machineries
mentioned in sub items (i) and (iii) above
Measuring devices such as (i) vernier calliper, screw gauge, depth
gauge, coating thickness guage, dial indicator, outside micro meter,
mitutoya cylinder gauge, precision thread rink gauge, precision ply
gauge, colour comparator, water meters, gas meters, industrial
thermometers, parts and accessories thereof, (ii) weighing machines
of all kinds including platform scales, weight bridges, (iii) counter
scales, spring balances, weighing scales and balances, parts and
accessories of such machines and wrights used therewith (iv) dipping
measures, metric pouring measures, conical measures, cylindrical
measures (v) meter scales, measuring tapes, steel yards and survey
Menthol
Mercury
Metalic products other than those specified elsewhere in this
schedule or in any other schedule.
Page 8 of 12
101
102
103
104
105
106
107
108
109
110
111
112
113
Metal, alloys, metal powders including metal pastes of all types and
grades and metals scraps other than those falling under 'declared
goods'cellular rubber
Micro
Milk products including condensed milk, skimmed milk powder,
ghee, cheese, butter, butter oil, ice creams, margarine, whether or not
bottled, canned or packed
Mosquito repellents including electric or electronic mosquito
repellents, gadgets and insect repellents, devices and parts and
Motor coolant, solvent oil and transformer oil
Motor, operated electrically or otherwise, and pump operated with or
without motor including spare parts, components and accessories of
such motor and pump
Motor vehicles, chassis of motor vehicles, motor cycles, motor
combinations, motor scooter, mopeds, motorettes, three wheelers,
motor vessels, motor engine, trailers, motor bodies built on chassis
on motor vehicles and bodies built on motor vessels, components,
spare parts and accessories thereof
Musical instruments, electrical and electronic
Naphtha
Natural & synthetic essential oils not elsewhere specified in this
schedule or in any other schedule
Non-alcoholic beverages and their powders, concentrates and tablets
including (i) aerated water, soda water, mineral water, water sold in
sealed containers or pouches, (ii) soft drinks, (iii) health drinks of all
varieties (iv) other non-alcoholic beverages, not falling under any
other entry in this schedule or in any other schedule
Office machines, equipments and apparatuses including franking,
address-printing, tabulating, calculating, cash registering, cheque
writing, accounting, statistical, indexing, punching machines, stapler
machines, card punching and paper shredding machines and
apparatuses, parts and accessories thereof, paper pins, pen stands,
pencil lead, permanent markers, refill leads, stamp racks, stapler
pins, rulers of all kinds, gulli pins and pin studs.
Entry Deleted]
Entry deleted vide Notification SRO 79 of 2008 dated 24.3.2008
Page 9 of 12
114
115
116
117
118
119
120
121
122
Paints, lacquers, polishes and enamels not otherwise specified in this
schedule , including powder paints, stiff paste paints and liquid
paints (ii) colours (iii) pigments, including water pigments and
leather finishes (iv) Dry distempers including cement based waterpaints, oil-bound distempers, plastic emulsion paints (v) varnishes,
French polish, bituminous and coal-tar blacks, (vI Cellulose lacquers,
nitro-cellulose lacquers, clear and pigments and nitro-cellulose
ancillaries in liquid, semi-solid or pasty forms (vii) Turpentine oil,
bale-oil, white oil, (viii) Diluents and thinners including natural and
synthetic drying and semi drying oils such as double boiled linseed
oil, blown linseed oil, stand oil, sulphurised linseed oil, parilla oil,
whale oil and tung oil, (ix) Glaziers putty, grafting putty, resin
cements, chalking compounds and other mastics, painters fillings,
non-refractory surfacing preparations for facades, indoor walls, false
ceiling or the like, (x) Primers of all kinds (xi) All other materials
Pan masala, pan chutney, scented supari and the like
Paper envelopes whether printed or not, paper cups, pulp moulded
products such as eggs tray and other paper products
Perambulator including push chair for babies, and spare parts,
accessories and components thereof
Petrochemicals other than industrial inputs
Photographic cameras and enlargers, flash light apparatus, photo
blocks, lenses, films including x-ray films and film packs and plates, xray machine, scanners, medical imaging equipments, chemicals used
in the photographic development and printing process, paper and
cloth, photo albums, stamp album, photo frames, photo mounts and
other parts and accessories required for use therewith.
Plaster of paris
Playing cards of every description
Plywood laminated and decorative sheets, veneer plywood, hard
board, particle board, block board, insulation board, laminated board,
batten board, hard or soft wall ceiling, floor boards, and similar
boards of wood, of all kinds, whether or not containing any material
other than wood (ii) All other non-soft boards or insulating material
made of any other material other than wood
Page 10 of 12
123
124
125
126
127
128
129
130
131
132
133
134
135
136
Pollution control equipment, namely:- (i) Water pollution control
equipments__ Coarse screen/micro screen (stainless steel/mild steel)
, Rotary screen/comminutor (stainless steel/detritor), Racker arms,
weirs, paddles, motor with reduction gear arrangements intended for
clarifiers for liquid waste treatment, surface aerators/ floating
aerators and accessories, diffuses of all types for supply of air, in
liquid waste treatment, radial arms and accessories for trickling
filters, demineraliser for effluent treatment , synthetic packing media
for trickling filters, packed bed columns/towers for effluent
treatment, headers and laterals with accessories for trickling filters,
digestors, gas meters and electrical heaters for digestors, gas holding
tanks for digestors, pollution control equipment_ (ii)
instrumentation__ B Oc incubator, C Oc apparatus, ion analyser, (iii)
Air pollution control equipment__ filters ( fabric filters, bag filters,
vacuum filters), electrostatic precipitators, cyclones, wet scrubbers)
Power driven pump for liquids and liquid elevators, whether or not
fitted with a measuring device excluding centrifugal pumps
monoblock pump sets, submersible pumps and parts and acessories
which are actually adapted for use with pumps and valves
Power factors and shunt capacitors of all kinds
Rain coat, tarpaulin and products of waterproof cloth, rexine and PVC
cloth
Rough Synthetic gem boules
RTS grills
Rubber products, synthetic rubber products and products of mixture
of rubber and synthetic rubber including tread rubber not elsewhere
mentioned in this schedule or in any other schedule
Saccharine
Saffron
Sanitary towels, sanitary napkins, beltless napkins and tampons
baby/adult diapers, baby nappies, disposable diapers
Scientific instruments and lab equipments like optical instruments,
electrical instruments, scientific balance, acoustic instruments, and
mechanical instruments
Shaving set, safety razor, razor blades, razor cartridge, shaving brush,
shaving cream, shaving soap, after shave lotion
Shoe polish including shoe wax, cream and whitener
Silverware
Page 11 of 12
137
138
139
140
141
142
143
144
145
146
147
148
149
150
151
152
153
154
Sound
transmitting
equipments
including
loudspeakers,
Dictaphones, amplifiers and similar apparatus for recording and
reproducing sound and spare parts and accessories thereof
Soya milk
Spriulina products and other supplemental diet products in the form
of pills, powders, capsules.
Stainless steel products
Strong room or vault doors and ventilators, armoured or reinforced
safes, strong boxes and doors, cash chests, cash or deed boxes, wall
coffers, safe deposit lockers ad locker cabinets
Studio backgrounds including lighting control reflectors, tri-reflector,
modifiers, backgrounds, curtains backgrounds.
Suit cases, brief cases, attaché cases, dispatch cases, trunks, purses,
hand bags, vanity bags, vanity cases and vanity boxes
Synthetic gems
Tailoring materials, namely needles, scissors, hooks buttons, zips,
buckles, measuring tape and stick, collars and collar bones, horn
buttons, indent hooks and eyes, jean buttons, knitting pins, long
stitch kits, MS coated button/stars, zip fasteners, zippers, cuff links,
Tanning barks
Telecommunication apparatus and ribbons used therewith not falling
under any other entry in this schedule or in any other schedule.
Television sets and component parts and accessories thereof
Timber
Explanation: Timber includes all kinds of wood, standing trees, logs,
planks, rafters or any size or variety other than those coming under
any
specific
this schedule
or inmedicated
any other or
schedule
Tooth
paste,entry
toothinpowder
(whether
not) tooth brush
and other dentifrices, mouth washes
Torch light and bulbs thereof
Transport equipments other than those specifically mentioned in this
schedule
Typewriters, typewriter ribbon used therewith, whether or not in
spools, correction fluids and spare parts
Tyres and tubes other than those for bicycles, tri-cycles, cycle
rickshaws and wheel-chairs, flaps
Page 12 of 12
Vacuum flasks of all kinds and descriptions including refills for such
flasks and thermally insulated flasks, containers and vessels
155 including thermoses, thermic jugs, ice buckets, or boxes, tin and
receptacles to keep food or beverages or other articles, hot or cold
and components and accessories thereof
156
157
158
159
160
161
162
Vegetable, mineral and other preparations, tonics, food supplements,
appetizers, dietical foods and all other preparations for human
consumption in liquid, pill, powder forms, whether prepared
according to pharmacopial standards or otherwise, other than those
specified elsewhere in this schedule
Watches, clocks, time-pieces ( whether or not in combination with
any other devices), stop watches, time switches, mechanical-timers,
time-records, auto print time punching clocks, time-registers,
instrument panel clocks of all kinds including all such electronic
devices, parts and accessories thereof, watch bands, watch bracelets,
watch
chains, watch
straps
Water-distilled
water,
medicinal water, ionic water, battery water, demineralized water
Water filter of all varieties and descriptions
Water proofing, damp proofing and weather proofing compounds
Water supply and sanitary equipments and fittings of every
description including storage tanks, sinks, wash basins, wash basin
pedestals, taps, pipe-fittings, bath showers, bidets, water closet pans,
flushing cisterns, urinals, commodes, man-hole covers used in
connection with drainage and sewerage disposals, parts and
Wireless reception instruments and apparatus, transistor radio,
radio, radiograms and transistors and components thereof including
all electrical valves, accumulators, amplifiers and loud speakers
which are used exclusively in such instruments and apparatus
Yeast-fresh, dried or compressed, yeast extract-paste or powder and
yeast cell wall
164 x x x x x x x x x x x
163
Entry 164 transposed to Schedule D-II vide SRO 108 of 2011 dated 31.03.2011
165
Items not covered in any other Schedule (excluding those covered by
the Jammu and Kashmir General Sales Tax Act, 1962) .