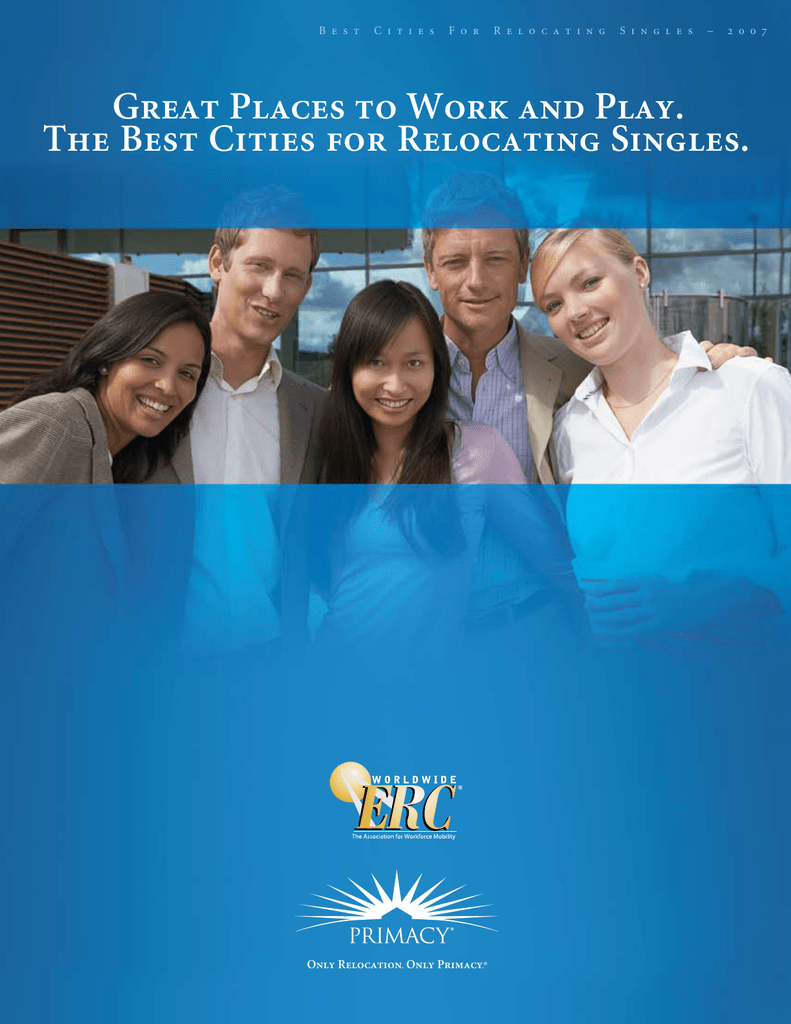 B e s t
C i t i e s
F o r
R e l o c a t i n g
S i n g l e s
–
2 0 0 7
Great Places to Work and Play.
The Best Cities for Relocating Singles.
Only Relocation. Only Primacy.
®
B e s t
C i t i e s
f o r
R e l o c a t i n g
S i n g l e s
–
2 0 0 7
Predicting Singles' Satisfaction in 100 U.S. Cities
The Latest Rankings from Worldwide ERC and Primacy Relocation
®
2007 City Ranking
Primacy Relocation, Worldwide ERC, and Sperling's BestPlaces
have collaborated for a fourth year to identify cities with the most
to offer relocating singles. The study combines statistical profiles
of the largest 100 U.S. metro areas with the quality-of-life
priorities of unmarried professionals – criteria that directly impact
the success of a professional relocation.
The 2007 report incorporates new U.S. Census Bureau data and
reflects an increased emphasis on rent costs and job growth.
New categories this year include:
• A robust cost-of-living index
• Adventure and outdoor recreation opportunities
• Violent crime and property crime rates
Traditional criteria include:
• Percentage of the population that is unmarried
(ages 25-34)
• Ratio of single men and single women
• Affordability of quality higher education, including
in-state and out-of-state tuition requirements and rates
• Number of newcomers to the area
• Commute times
• Tax rates
• Fee and occupancy rates for temporary housing
and mini-storage
• Quality and quantity of collegiate and professional
sporting events and fun, fan-friendly venues
The livability of a city is different, depending on an individual's
point of view. This comprehensive "Best Cities for Relocating
Singles" study provides employee relocation professionals with
another tool to help facilitate a happy and successful move.
1.
2.
3.
4.
5.
6.
7.
8.
9.
10.
11.
12.
13.
14.
15.
16.
17.
18.
19.
20.
21.
22.
23.
24.
25.
26.
27.
28.
29.
30.
31.
32.
33.
34.
35.
36.
37.
38.
39.
40.
41.
42.
43.
44.
45.
46.
47.
48.
49.
50.
Atlanta/Sandy Springs/Marietta, GA
New Haven, CT
Madison, WI
Nassau/Suffolk, NY
Raleigh/Cary, NC
Harrisburg/Carlisle, PA
Knoxville, TN
Austin/Round Rock, TX
Seattle/Bellevue/Everett, WA
Dayton, OH
Albany/Schenectady/Troy, NY
Boise, ID
Philadelphia, PA
Louisville/Jefferson County, KY-IN
San Francisco/San Mateo/Redwood City, CA
Camden, NJ
Edison, NJ
Charleston/North Charleston, SC
Syracuse, NY
Cincinnati/Middletown, OH-KY-IN
Boston/Quincy, MA
Providence/New Bedford/Fall River, RI-MA
Rochester, NY
Little Rock/North Little Rock, AR
Pittsburgh, PA
Richmond, VA
Ann Arbor, MI
Orlando/Kissimmee, FL
San Jose/Sunnyvale-Santa Clara, CA
Greenville, SC
Portland/Vancouver/Beaverton, OR-WA
Greensboro/High Point, NC
Columbus, OH
Santa Ana/Anaheim/Irvine, CA
Columbia, SC
Mobile, AL
Scranton/Wilkes-Barre, PA
Charlotte/Gastonia/Concord, NC-SC
New York/White Plains/Wayne, NY-NJ
Virginia Beach/Norfolk/Newport News, VA-NC
Buffalo/Niagara Falls, NY
Hartford/West Hartford/East Hartford, CT
Nashville/Davidson/Murfreesboro, TN
Oklahoma City, OK
El Paso, TX
St. Louis, MO/IL
San Antonio, TX
Wichita, KS
Fort Worth/Arlington, TX
Indianapolis/Carmel, IN
51. Youngstown/Warren/Boardman, OH/PA
52. Dallas/Plano/Irving, TX
53. Houston/Sugar Land/Baytown, TX
54. Tampa/St. Petersburg/Clearwater, FL
55. Jacksonville, FL
56. Oxnard/Ventura, CA
57. Milwaukee/Waukesha/West Allis, WI
58. Akron, OH
59. Phoenix/Mesa/Scottsdale, AZ
60. Allentown/Bethlehem/Easton, PA-NJ
61. Los Angeles/Long Beach/Glendale, CA
62. Birmingham/Hoover, AL
63. Denver/Aurora, CO
64. Baton Rouge, LA
65. Salt Lake City, UT
66. Tacoma, WA
67. Toledo, OH
68. Omaha/Council Bluffs, NE-IA
69. Memphis, TN-MS-AR
70. Cleveland/Elyria/Mentor, OH
71. San Diego/Carlsbad/San Marcos, CA
72. Washington/Arlington/Alexandria, DC-VA-MD-WV
73. Tucson, AZ
74. New Orleans/Metairie/Kenner, LA
75. Chicago/Naperville/Joliet, IL
76. Albuquerque, NM
77. Baltimore/Towson, MD
78. Wilmington, DE/MD/NJ
79. Colorado Springs, CO
80. Sacramento/Arden-Arcade/Roseville, CA
81. Newark/Union, NJ-PA
82. Gary, IN
83. McAllen/Edinburg/Mission, TX
84. Oakland/Fremont/Hayward, CA
85. Riverside/San Bernardino/Ontario, CA
86. Fresno, CA
87. Kansas City, MO-KS
88. Tulsa, OK
89. Fort Lauderdale/Pompano Beach/Deerfield, FL
90. Sarasota/Bradenton/Venice, FL
91. Bakersfield, CA
92. Honolulu, HI
93.Miami/Miami Beach/Kendall, FL
94.Springfield, MA
95.Minneapolis/St. Paul/Bloomington, MN-WI
96.Detroit/Livonia/Dearborn, MI
97.Las Vegas/Paradise, NV
98.Grand Rapids/Wyoming, MI
99.West Palm Beach/Boca Raton/Boynton Beach, FL
100.Stockton, CA
Rankings based on 2006-2007 statistical records.
www.erc.org
www.primacy.com
www.bestplaces.net
8 7 7. 3 4 3 . 5 8 9 7
© 2007, Primacy Relocation, LLC. All rights reserved.