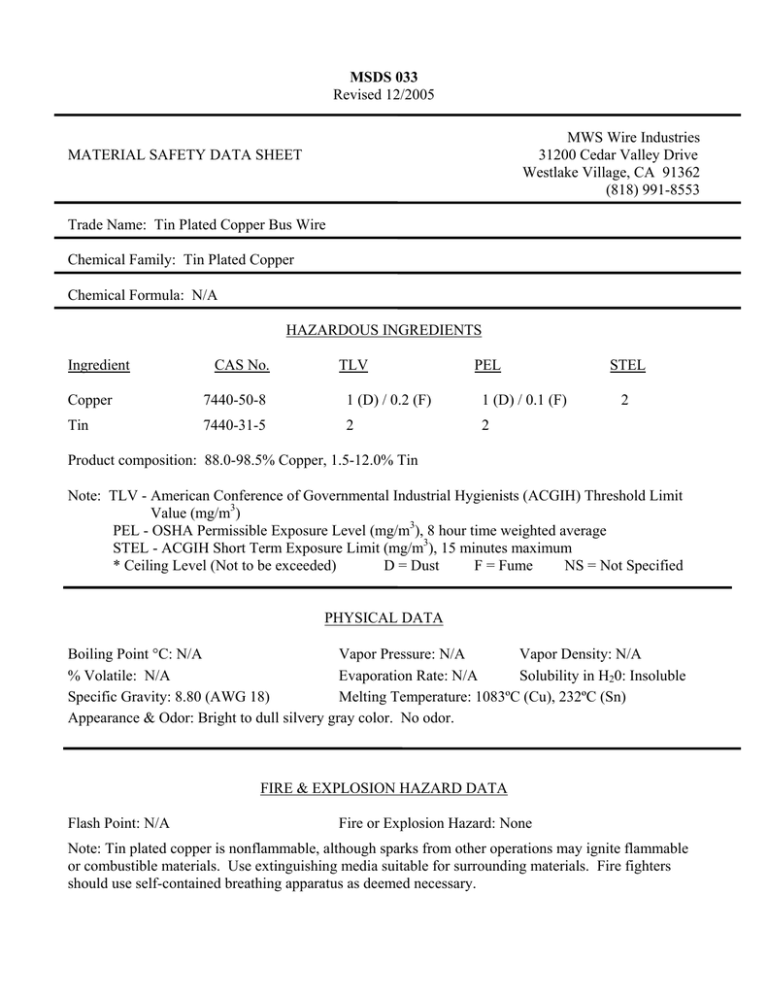 MSDS 033
Revised 12/2005
MWS Wire Industries
31200 Cedar Valley Drive
Westlake Village, CA 91362
(818) 991-8553
MATERIAL SAFETY DATA SHEET
Trade Name: Tin Plated Copper Bus Wire
Chemical Family: Tin Plated Copper
Chemical Formula: N/A
HAZARDOUS INGREDIENTS
Ingredient
CAS No.
TLV
PEL
Copper
7440-50-8
1 (D) / 0.2 (F)
1 (D) / 0.1 (F)
Tin
7440-31-5
2
2
STEL
2
Product composition: 88.0-98.5% Copper, 1.5-12.0% Tin
Note: TLV - American Conference of Governmental Industrial Hygienists (ACGIH) Threshold Limit
Value (mg/m3)
PEL - OSHA Permissible Exposure Level (mg/m3), 8 hour time weighted average
STEL - ACGIH Short Term Exposure Limit (mg/m3), 15 minutes maximum
* Ceiling Level (Not to be exceeded)
D = Dust
F = Fume
NS = Not Specified
PHYSICAL DATA
Boiling Point °C: N/A
Vapor Pressure: N/A
Vapor Density: N/A
% Volatile: N/A
Evaporation Rate: N/A
Solubility in H20: Insoluble
Specific Gravity: 8.80 (AWG 18)
Melting Temperature: 1083ºC (Cu), 232ºC (Sn)
Appearance & Odor: Bright to dull silvery gray color. No odor.
FIRE & EXPLOSION HAZARD DATA
Flash Point: N/A
Fire or Explosion Hazard: None
Note: Tin plated copper is nonflammable, although sparks from other operations may ignite flammable
or combustible materials. Use extinguishing media suitable for surrounding materials. Fire fighters
should use self-contained breathing apparatus as deemed necessary.
Page 2
HEALTH HAZARD DATA
Fine powders, granules and fumes from welding or abrasive operations may pose a health hazard. When
burned, soldered or brazed tin plated copper wire and solder or brazing material may give off fumes that
cause eye and/or respiratory irritation. Use adequate local exhaust to prevent irritation and maintain
fume levels below OSHA ceiling limits.
Short Term Exposure: Dust and fumes irritate the eyes, nose and throat. Symptoms may include cough,
metallic taste in mouth, fever, fatigue and nausea.
Long Term Exposure: Watering of the eyes, headaches, difficulty in breathing, coughing, severe chest
pains and in acute cases, lung disease, lung fibrosis, pneumoconiosis or neurological damage.
Emergency First Aid Procedure:
• In case of fume inhalation, remove from exposure and consult a physician.
• In case of eye contact, flush with large amounts of water for at least fifteen minutes. Seek medical
attention.
• In case of ingestion, seek immediate medical attention.
Carcinogenic assessment: None of the components of this material have been identified as known or
suspected carcinogens by NTP, IARC or OSHA.
REACTIVITY DATA
Stability: Stable. Hazardous polymerization will not occur.
SPILL, LEAK, DISPOSAL PROCEDURES
Scrap metal may have reclamation value. Where this is not practical, it may be disposed in accordance
with state and federal regulations. In solid form, tin plated copper poses no special clean up problems.
If material is in powder or dust form, clean up should be conducted to minimize generation of airborne
powder and dust and to avoid contamination of water. Depending on the quantity, spills or releases to
the environment may require a report to the National Response Center at (800) 424-8802.
SARA TITLE II SECTION 313
Copper compounds are subject to the reporting requirements of Section 313 of Title III of the Superfund
Amendment and Reauthorization Act of 1986 and 40 CFR Part 372 of the Federal Register. Additional
information can be obtained from the Emergency Planning and Community Right-To-Know Information
Hot Line, US EPA, at (800) 535-0202.
Page 3
EC RoHS DIRECTIVE COMPLIANCE
Tin plated copper wire complies with Directive 2002/95/EC of the European Parliament and of the
Council of 27 January 2003 on the restriction of the use of certain hazardous substances in electrical and
electronic equipment.
SPECIAL PROTECTION
Wear safety glasses when risk of eye injury is present, particularly during machining, grinding, welding,
powder handling, etc. Gloves and other protective equipment may be required during handling
operations as appropriate to the circumstances of exposure.
SPECIAL PRECAUTIONS
When welding, melting, casting, grinding, sanding, polishing or otherwise abrading the surface of tin
plated copper wire in a manner which generates finely divided particles, an exposure to copper and tin in
excess of the occupational standard can occur. Use with adequate ventilation to meet listed exposure
limits. Processes generating airborne particles must be air sampled to determine exposure levels.
Where exposure data indicate, medical surveillance should be conducted.
PACKAGING & LABELING REQUIREMENTS
D.O.T. Shipping Name: Not regulated
Hazard Class: NA
MWS has attempted to provide current and accurate information in this data sheet, however MWS
makes no representations regarding the accuracy or completeness of the information and assumes no
liability for any loss, damage or injury of any kind which may arise out of the use or reliance on the
information by any person. Contact person: Ken Goss at (818) 991-8553.