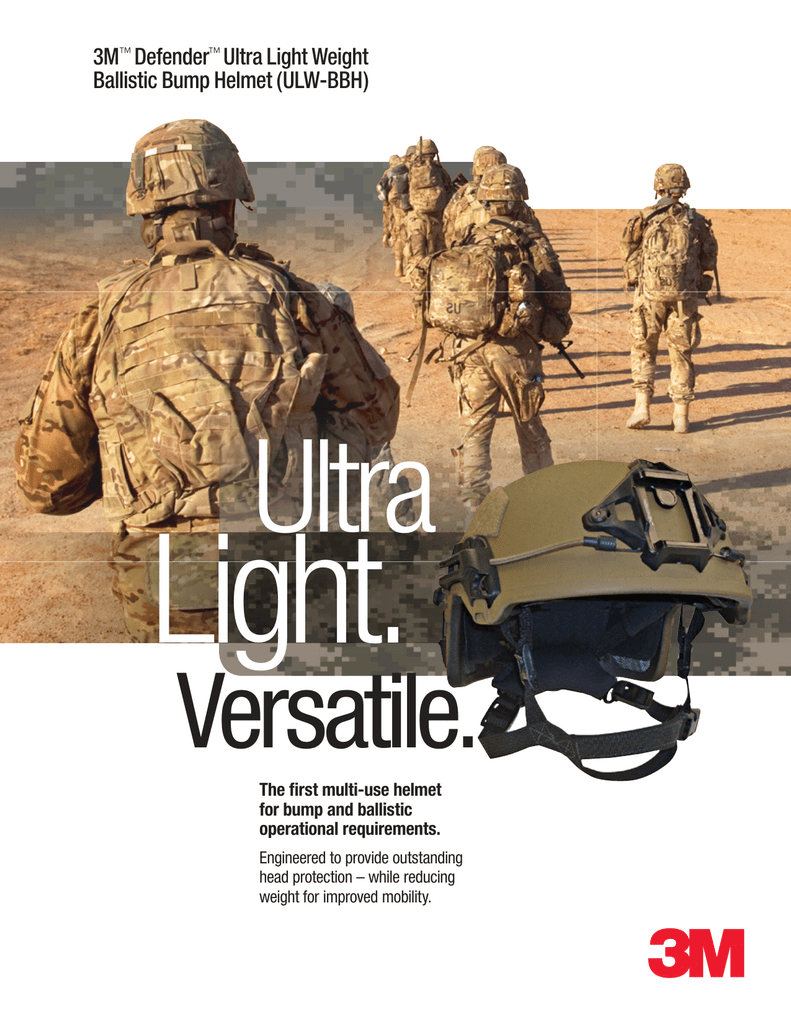 3M™ Defender™ Ultra Light Weight
Ballistic Bump Helmet (ULW-BBH)
Ultra
Light.
Versatile.
The first multi-use helmet
for bump and ballistic
operational requirements.
Engineered to provide outstanding
head protection – while reducing
weight for improved mobility.
3
3M™ Defender™ Ultra Light Weight Ballistic Bump Helmet (ULW-BBH)
Lightweight, multi-use head protection
The new 3M™ Defender™ Ultra Light Weight
Ballistic Bump Helmet (ULW-BBH) is
manufactured by Ceradyne Inc., a 3M company,
using advanced materials and providing multi-use
ballistic protection at 30% less weight than the
closest alternative.
• Flexible rail system that offers compatibility with
all standard accessories. Rail is mounted on
shell without use of through bolts.
• Areal weight of 1 lb per square foot (5 kg/m2)
• B lunt Trauma Impact performance meets ACH
specification requirements
• C ompatible with most industry standard 1 and
3 hole NVG mounts
•D
efeats multiple 9mm FMJ (full metal jacket)
at 1400fps
• P rovides fragmentation protection with V-50
for 17 grain FSP at 650m/s.
• E xcellent stability
• B oltless retention system
•N
o components susceptible to corrosion
Standards
•M
eets a minimum of 650 m/s V-50 for 22 cal,
17 grain (1.1 gram) FSP when tested according
to STANAG 2920
•D
efeats 9mm FMJ when tested according to
industry standards
Construction
The helmet shell is manufactured in the United
States using ultra-high molecular weight
polyethylene (UHMWPE) composites with
Ceradyne's proprietary Seamless Ballistic
molding technology. While built with similar
sizing dimensions to the U.S. Military ACH
helmet, the ULW-BBH has a higher cut, allowing
for desired benefits and accessories as used
by U.S. and Alliance Special Forces. Modular
mounting platforms can be attached without
requiring holes in the shell, enabling the use
of standard picatinny shelf rails that accept
most operational accessories. The helmet is
compatible with Communications systems
such as the 3M™ Peltor™ COMTAC™ III, via rail
adaptors that allow it to mount directly to the rails.
The entire retention system is attached to
the ballistic shell using a boltless design –
minimizing overall system weight and eliminating
the possibility of bolts becoming secondary
projectiles. Two retention system options are
available, both of which offer tremendous stability
to the helmet:
• T eam Wendy Cam-Fit™
• Team Wendy H-Nape
The ULW-BBH is compatible with most
commercial suspension systems, including the
Team Wendy Zorbium® Action Pad (ZAP™),
which is authorized for all U.S. Ground Force
combat helmets.
Field Applications
Jump – head protection when parachuting
for military paratroopers
Bump – head protection from bumping
objects for military ground forces
Ballistic – head protection against handgun
rounds and ballistic fragments
Physical Properties
(Not for specification purposes)
Size
Finished Shell
Weight, Size L
Colors
Additional
Options
M – XL
<600g (with edge trim and paint)
Black, OD Green, Coyote Tan
(custom camo finishes
can also be available)
Hook and loop applique,
Picatinny rail adaptors
Manufactured by Ceradyne Inc., a 3M company.
Warranty, Limited Remedy, and Disclaimer: Many factors beyond Seller's control and uniquely within user's knowledge and control can affect the use and performance of a Seller
product in a particular application. User is solely responsible for evaluating the Seller product and determining whether it is fit for a particular purpose and suitable for user's method of
application. User is solely responsible for evaluating third party intellectual property rights and for ensuring that user's use of Seller product does not violate any third party intellectual
property rights. Unless a different warranty is specifically stated in the applicable product literature or packaging insert, Seller warrants that each Seller product meets the applicable
Seller product specification at the time Seller ships the product. SELLER MAKES NO OTHER WARRANTIES OR CONDITIONS, EXPRESS OR IMPLIED, INCLUDING, BUT NOT LIMITED TO,
ANY IMPLIED WARRANTY OR CONDITION OF MERCHANTABILITY OR FITNESS FOR A PARTICULAR PURPOSE OR ANY IMPLIED WARRANTY OF NON-INFRINGEMENT OR ANY IMPLIED
WARRANTY OR CONDITION ARISING OUT OF A COURSE OF DEALING, CUSTOM OR USAGE OF TRADE. If the Seller product does not conform to this warranty, then the sole and exclusive
remedy is, at Seller's option, replacement of the Seller product or refund of the purchase price.
Limitation of Liability: Except where prohibited by law, Seller will not be liable for any loss or damages arising from the Seller product, whether direct, indirect, special, incidental or
consequential, regardless of the legal theory asserted, including warranty, contract, negligence or strict liability.
Technical Information: Technical information, recommendations, and other statements contained in this document or provided by Seller personnel are based on tests or experience
that Seller believes are reliable, but the accuracy or completeness of such information is not guaranteed. Such information is intended for persons with knowledge and technical skills
sufficient to assess and apply their own informed judgment to the information. No license under any Seller or third party intellectual property rights is granted or implied with this
information.
Export Control: The Seller product(s) listed here may be controlled commodities under applicable U.S. export control laws and regulations, including, but not limited to, the U.S.
International Traffic in Arms Regulations (ITAR) and the Export Administration Regulations (EAR). These laws and regulations may, among other things, prohibit the export and/or
reexport of controlled product(s) to any or all locations outside of the United States without prior U.S. Government export authorization, the sharing of export controlled technical data
and services with those anywhere who are not U.S. citizens or U.S. permanent residents, dealings with U.S. Government, United Nations and other "Restricted Parties," and proliferation
activities including those that further nuclear, chemical, or biological warfare, missile stockpiling/use, or the use of rockets or unmanned aerial vehicle systems. Seller and purchasers
or prospective purchasers of the Seller product(s) shall comply with all applicable export control laws and regulations, which may require obtaining and maintaining applicable export
control authorization or licenses, and understand that the ability of a party to obtain or maintain such authorization or license is not guaranteed. The exporter of record has the sole
responsibility to determine whether the export or subsequent reexport of the Seller product(s) requires export authorization. An explicit condition to Seller selling or making available the
Seller product(s) is the customer's agreement to comply with all applicable trade compliance laws and regulations.
3
Ceradyne, Inc., a 3M company
3169 Red Hill Avenue
Costa Mesa CA 92626
(714) 384-9483
Please recycle. Printed in USA.
© 3M 2013. All rights reserved.
Issued: 10/13 9505HB
98-0050-0303-7
3M, Peltor and COMTAC are trademarks of 3M. Defender and
Seamless Ballistic are registered trademarks of Ceradyne, Inc.
Cam-Fit, Zorbium and ZAP are trademarks of Team Wendy.