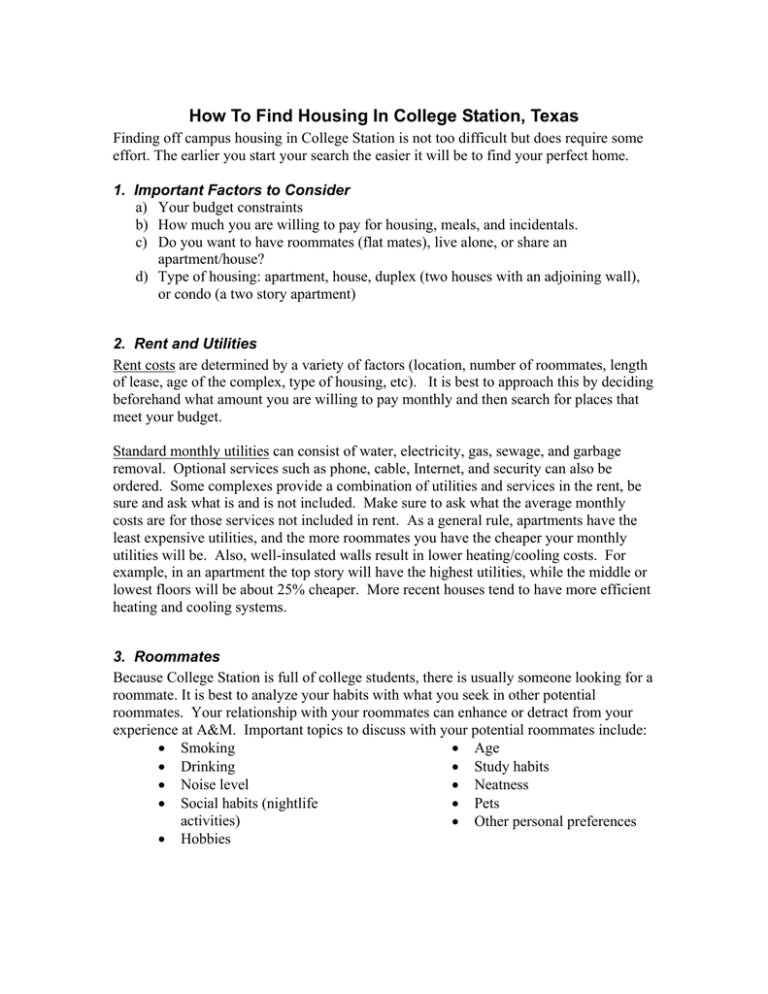 How To Find Housing In College Station, Texas
Finding off campus housing in College Station is not too difficult but does require some
effort. The earlier you start your search the easier it will be to find your perfect home.
1. Important Factors to Consider
a) Your budget constraints
b) How much you are willing to pay for housing, meals, and incidentals.
c) Do you want to have roommates (flat mates), live alone, or share an
apartment/house?
d) Type of housing: apartment, house, duplex (two houses with an adjoining wall),
or condo (a two story apartment)
2. Rent and Utilities
Rent costs are determined by a variety of factors (location, number of roommates, length
of lease, age of the complex, type of housing, etc). It is best to approach this by deciding
beforehand what amount you are willing to pay monthly and then search for places that
meet your budget.
Standard monthly utilities can consist of water, electricity, gas, sewage, and garbage
removal. Optional services such as phone, cable, Internet, and security can also be
ordered. Some complexes provide a combination of utilities and services in the rent, be
sure and ask what is and is not included. Make sure to ask what the average monthly
costs are for those services not included in rent. As a general rule, apartments have the
least expensive utilities, and the more roommates you have the cheaper your monthly
utilities will be. Also, well-insulated walls result in lower heating/cooling costs. For
example, in an apartment the top story will have the highest utilities, while the middle or
lowest floors will be about 25% cheaper. More recent houses tend to have more efficient
heating and cooling systems.
3. Roommates
Because College Station is full of college students, there is usually someone looking for a
roommate. It is best to analyze your habits with what you seek in other potential
roommates. Your relationship with your roommates can enhance or detract from your
experience at A&M. Important topics to discuss with your potential roommates include:
• Smoking
• Age
• Drinking
• Study habits
• Noise level
• Neatness
• Social habits (nightlife
• Pets
activities)
• Other personal preferences
• Hobbies
4. Types of Housing
Several housing options are open to you in College Station. Apartments (flats) are the
most common and easiest type to find because there are so many complexes in the area.
Houses, duplexes, condos, and trailers all have benefits associated with them. There
won't be noisy neighbors above you, you will have more privacy, and more space.
However, you will likely not have access to a swimming pool and other apartment
amenities, or have a wide variety of interesting neighbors to meet and socialize with.
The length of time you plan to stay in College Station will have a strong influence on the
type and cost of housing available to you. If you plan on staying for at least one
academic year (August to May) or longer you will be able to fulfill a lease obligation and
thus have more options. A nine-month lease is slightly more expensive than a twelvemonth lease (August-August), usually by $25 a month. If you plan on staying for a
shorter period (one semester) then it will be easier if you "sublease" or rent the place of a
person who will no longer be living in the apartment/house/etc. Some apartment
complexes will allow you to rent on a semester basis at an increased price. Contact
information for some of those complexes is listed below.
5. Apartment Links and Information
Listed below are websites and other contact information for various apartment complexes
in the area. Each living complex is on the Texas A&M University Shuttle Bus route or
within walking distance to campus. Some apartment complexes offer semester leases.
Each complex offers various services and amenities as well as price ranges. Please visit
each site and contact those you would like to know more about.
Eastmark Apartments
7600 Central Park Lane
College Station, TX 77840
Phone: (979) 693-8066
Website:
http://www.eptmgt.com/custom/ept/broc
hure/brochure.jhtml
*Semester leases available
$360-490/ month
Treehouse Apartments
200 Marion Pugh,
College Station, Texas 77840
Local 979-696-5707
Fax 979-693-0902
Website: www.treehouseapartments.com
*Semester leases based on availability
University Commons
950 Colgate Drive
College Station, TX 77840
979.764.8999 phone
979.764.1077 fax
Website:
http://www.capstonecompanies.com/loca
tions/collegestation/
*Semester leases available
*Fully furnished units
*Roommate matching service available
$325-$375/ month
The Colony Apartments
1101 Southwest Parkway
College Station, TX 77840
Phone (979) 693-0804
Fax (979) 764-7760
*Furnished or unfurnished
Website: www.ssrs.com
College Park – The Treehouse
800 Marion Pugh Dr
College Station, TX 77840
Toll free 888-999-1578
Local 979-764-8892
*Furnished or unfurnished
Website: www.collegepark.org
University Tower
410 S. Texas Ave.
College Station, TX 77840
(979) 846-4242
(800) UV-TOWER
*Furnished or unfurnished
*Housekeeping Service
*Meal Plan included
Website: www.ssrs.com
Short Term Housing
Betty Sueh
4401 Carter Creek
Bryan, TX 77807
979-846-2084
1 bedroom apartments- $675 for 1st month, $625 each additional month. Ideal for sharing
with a roommate, visiting professors often stay here while at Texas A&M University.
6. Other Links
Here are some great links for locating subleases, or apartment locator services. Often you
will find less expensive housing options and meet some great people through these links.
There are many other locator services in the area, you might want to use online search
engines or yellow pages to find more listings. MSN or Yahoo! Yellow pages directories
are good sites to visit.
The Battalion Online: http://battalion.tamu.edu
The Battalion is the Texas A&M Newspaper, students will often post "roommate
wanted" or "sublease" classified ads towards the end of each semester.
Off Campus Student Housing: http://studentlife.tamu.edu/ocss/
This site allows you to search current listings for roommates wanted or post your
own notice. The univeristy Off Campus Student Services office maintains this
site. This is a very useful site.
Bryan- College Station Eagle: http://classifieds.theeagle.com/
The Eagle is the local newspaper, again students often post ads in the classified
section for roommates or subleases.
Finders Keepers Apartment Locators: www.finderskeepers-aggieland.com
313 Church Ave
College Station, TX 77840
979-846-1887
This free locator service will help you find housing that is right for you. However,
they will not be able to find you roommates.
Rentnet.com: www.rentnet.com
This website allows you to search local apartment, house, duplex, condo, and
trailer listings based on your criteria. It also provides you with contact
information for the properties.
MSN Yellow Pages: http://search.yellowpages.msn.com
YellowPages.com: www.yellowpages.com
These two search engines will allow you to search for apartment complexes in the
area and provide the necessary contact information.
7. Furniture Rental Agencies
Since not all apartments come furnished you might opt to rent furnishings while you stay.
As with apartments, the cost of furniture depends on your tastes, preferences, and budget.
Most companies/stores offer same or next day delivery. Cost for basic bedroom
furnishings are also listed. Ask about special student or package rates when you call.
You can also search the classified ads for inexpensive used furniture. If you sublease,
furniture might be included with the room.
Aaron's Rental:
www.aaronrents.com
3516 Texas Ave,
Bryan, TX
979-846-2424
Cort Funiture Rental:
www.cort1.com
1-800-446-7826
Rentway:
www.rentway.com
1111 S Texas Ave
Bryan, TX 77870
979-822-5778
8. Final Note
Again, the best piece of advice is to start your search early!! The Internet will be the
most efficient way to gather more information, and contact people who can help you in
your search. All of the websites listed are current and provide contact links for you to
request further information. Many apartment complexes in Bryan and College Station
are on the Texas A&M Shuttle Bus route (very important if you will not have a car).
Houses and other accommodations may be within walking distance to a shuttle bus stop
or to campus. Be sure to find out before you sign the lease. This document is meant to
give you some good leads and basic knowledge on finding housing in the Bryan, College
Station area. The yellow pages and other online search engines can give you a complete
listing of local apartment complexes and their websites. If you start early, take initiative,
and remain persistent, your search will pay off!