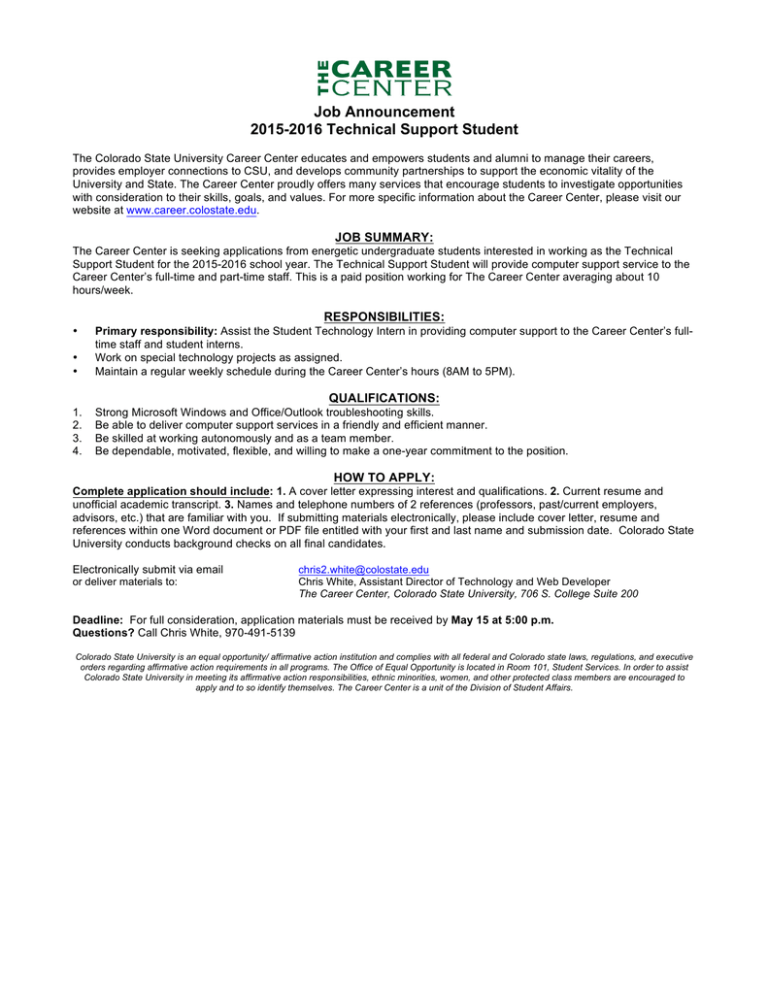 Job Announcement
2015-2016 Technical Support Student
The Colorado State University Career Center educates and empowers students and alumni to manage their careers,
provides employer connections to CSU, and develops community partnerships to support the economic vitality of the
University and State. The Career Center proudly offers many services that encourage students to investigate opportunities
with consideration to their skills, goals, and values. For more specific information about the Career Center, please visit our
website at www.career.colostate.edu.
JOB SUMMARY:
The Career Center is seeking applications from energetic undergraduate students interested in working as the Technical
Support Student for the 2015-2016 school year. The Technical Support Student will provide computer support service to the
Career Center's full-time and part-time staff. This is a paid position working for The Career Center averaging about 10
hours/week.
RESPONSIBILITIES:
•
•
Primary responsibility: Assist the Student Technology Intern in providing computer support to the Career Center's fulltime staff and student interns.
Work on special technology projects as assigned.
Maintain a regular weekly schedule during the Career Center's hours (8AM to 5PM).
1.
2.
3.
4.
Strong Microsoft Windows and Office/Outlook troubleshooting skills.
Be able to deliver computer support services in a friendly and efficient manner.
Be skilled at working autonomously and as a team member.
Be dependable, motivated, flexible, and willing to make a one-year commitment to the position.
•
QUALIFICATIONS:
HOW TO APPLY:
Complete application should include: 1. A cover letter expressing interest and qualifications. 2. Current resume and
unofficial academic transcript. 3. Names and telephone numbers of 2 references (professors, past/current employers,
advisors, etc.) that are familiar with you. If submitting materials electronically, please include cover letter, resume and
references within one Word document or PDF file entitled with your first and last name and submission date. Colorado State
University conducts background checks on all final candidates.
Electronically submit via email
or deliver materials to:
chris2.white@colostate.edu
Chris White, Assistant Director of Technology and Web Developer
The Career Center, Colorado State University, 706 S. College Suite 200
Deadline: For full consideration, application materials must be received by May 15 at 5:00 p.m.
Questions? Call Chris White, 970-491-5139
Colorado State University is an equal opportunity/ affirmative action institution and complies with all federal and Colorado state laws, regulations, and executive
orders regarding affirmative action requirements in all programs. The Office of Equal Opportunity is located in Room 101, Student Services. In order to assist
Colorado State University in meeting its affirmative action responsibilities, ethnic minorities, women, and other protected class members are encouraged to
apply and to so identify themselves. The Career Center is a unit of the Division of Student Affairs.