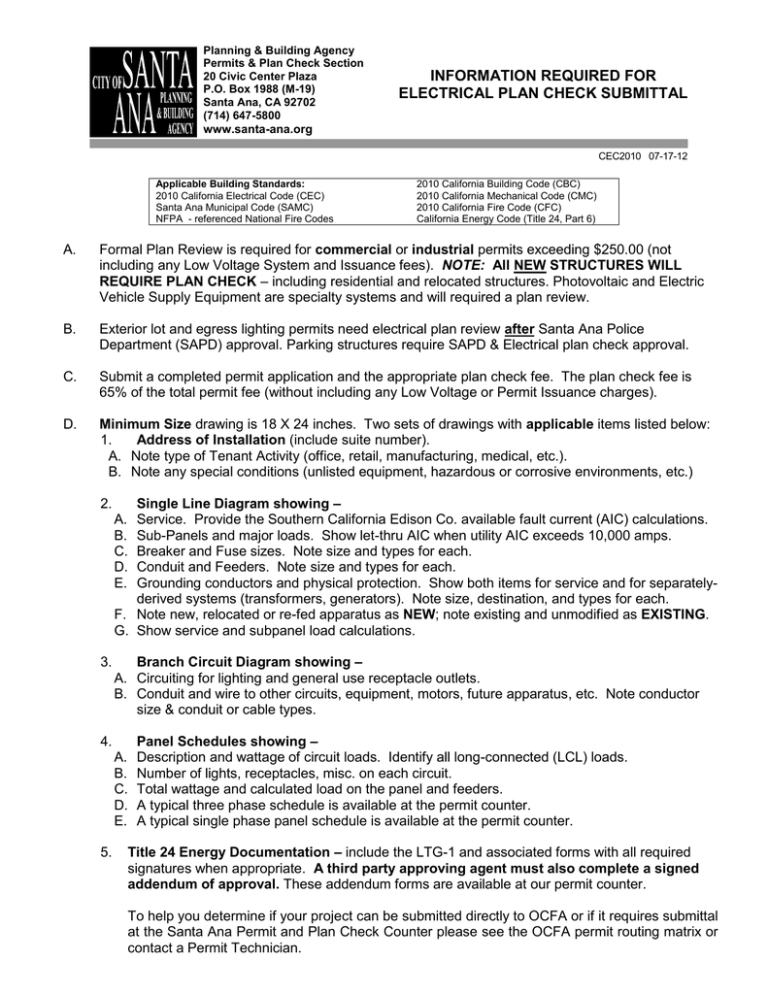 Planning & Building Agency
Permits & Plan Check Section
20 Civic Center Plaza
P.O. Box 1988 (M-19)
Santa Ana, CA 92702
(714) 647-5800
INFORMATION REQUIRED FOR
ELECTRICAL PLAN CHECK SUBMITTAL
www.santa-ana.org
CEC2010 07-17-12
Applicable Building Standards:
2010 California Electrical Code (CEC)
Santa Ana Municipal Code (SAMC)
NFPA - referenced National Fire Codes
2010 California Building Code (CBC)
2010 California Mechanical Code (CMC)
2010 California Fire Code (CFC)
California Energy Code (Title 24, Part 6)
A.
Formal Plan Review is required for commercial or industrial permits exceeding $250.00 (not
including any Low Voltage System and Issuance fees). NOTE: All NEW STRUCTURES WILL
REQUIRE PLAN CHECK – including residential and relocated structures. Photovoltaic and Electric
Vehicle Supply Equipment are specialty systems and will required a plan review.
B.
Exterior lot and egress lighting permits need electrical plan review after Santa Ana Police
Department (SAPD) approval. Parking structures require SAPD & Electrical plan check approval.
C.
Submit a completed permit application and the appropriate plan check fee. The plan check fee is
65% of the total permit fee (without including any Low Voltage or Permit Issuance charges).
D.
Minimum Size drawing is 18 X 24 inches. Two sets of drawings with applicable items listed below:
1.
Address of Installation (include suite number).
A. Note type of Tenant Activity (office, retail, manufacturing, medical, etc.).
B. Note any special conditions (unlisted equipment, hazardous or corrosive environments, etc.)
2.
Single Line Diagram showing –
Service. Provide the Southern California Edison Co. available fault current (AIC) calculations.
Sub-Panels and major loads. Show let-thru AIC when utility AIC exceeds 10,000 amps.
Breaker and Fuse sizes. Note size and types for each.
Conduit and Feeders. Note size and types for each.
Grounding conductors and physical protection. Show both items for service and for separatelyderived systems (transformers, generators). Note size, destination, and types for each.
F. Note new, relocated or re-fed apparatus as NEW; note existing and unmodified as EXISTING.
G. Show service and subpanel load calculations.
A.
B.
C.
D.
E.
3.
Branch Circuit Diagram showing –
A. Circuiting for lighting and general use receptacle outlets.
B. Conduit and wire to other circuits, equipment, motors, future apparatus, etc. Note conductor
size & conduit or cable types.
4.
A.
B.
C.
D.
E.
5.
Panel Schedules showing –
Description and wattage of circuit loads. Identify all long-connected (LCL) loads.
Number of lights, receptacles, misc. on each circuit.
Total wattage and calculated load on the panel and feeders.
A typical three phase schedule is available at the permit counter.
A typical single phase panel schedule is available at the permit counter.
Title 24 Energy Documentation – include the LTG-1 and associated forms with all required
signatures when appropriate. A third party approving agent must also complete a signed
addendum of approval. These addendum forms are available at our permit counter.
To help you determine if your project can be submitted directly to OCFA or if it requires submittal
at the Santa Ana Permit and Plan Check Counter please see the OCFA permit routing matrix or
contact a Permit Technician.