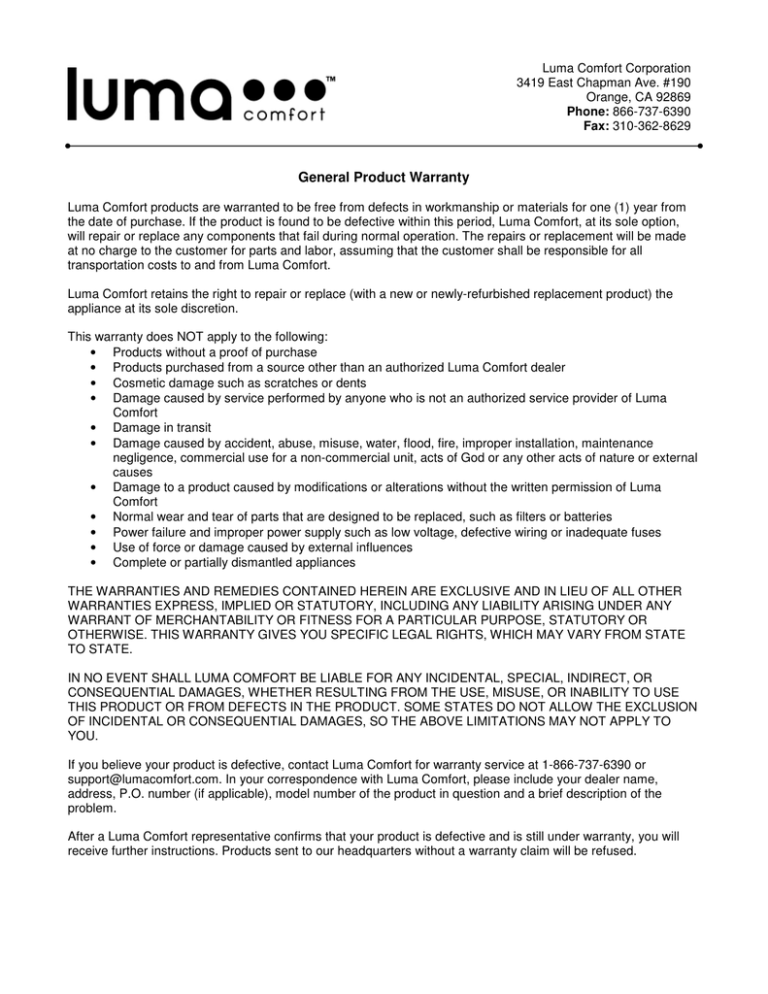 Luma Comfort Corporation
3419 East Chapman Ave. #190
Orange, CA 92869
Phone: 866-737-6390
Fax: 310-362-8629
General Product Warranty
Luma Comfort products are warranted to be free from defects in workmanship or materials for one (1) year from
the date of purchase. If the product is found to be defective within this period, Luma Comfort, at its sole option,
will repair or replace any components that fail during normal operation. The repairs or replacement will be made
at no charge to the customer for parts and labor, assuming that the customer shall be responsible for all
transportation costs to and from Luma Comfort.
Luma Comfort retains the right to repair or replace (with a new or newly-refurbished replacement product) the
appliance at its sole discretion.
This warranty does NOT apply to the following:
• Products without a proof of purchase
• Products purchased from a source other than an authorized Luma Comfort dealer
• Cosmetic damage such as scratches or dents
• Damage caused by service performed by anyone who is not an authorized service provider of Luma
Comfort
• Damage in transit
• Damage caused by accident, abuse, misuse, water, flood, fire, improper installation, maintenance
negligence, commercial use for a non-commercial unit, acts of God or any other acts of nature or external
causes
• Damage to a product caused by modifications or alterations without the written permission of Luma
Comfort
• Normal wear and tear of parts that are designed to be replaced, such as filters or batteries
• Power failure and improper power supply such as low voltage, defective wiring or inadequate fuses
• Use of force or damage caused by external influences
• Complete or partially dismantled appliances
THE WARRANTIES AND REMEDIES CONTAINED HEREIN ARE EXCLUSIVE AND IN LIEU OF ALL OTHER
WARRANTIES EXPRESS, IMPLIED OR STATUTORY, INCLUDING ANY LIABILITY ARISING UNDER ANY
WARRANT OF MERCHANTABILITY OR FITNESS FOR A PARTICULAR PURPOSE, STATUTORY OR
OTHERWISE. THIS WARRANTY GIVES YOU SPECIFIC LEGAL RIGHTS, WHICH MAY VARY FROM STATE
TO STATE.
IN NO EVENT SHALL LUMA COMFORT BE LIABLE FOR ANY INCIDENTAL, SPECIAL, INDIRECT, OR
CONSEQUENTIAL DAMAGES, WHETHER RESULTING FROM THE USE, MISUSE, OR INABILITY TO USE
THIS PRODUCT OR FROM DEFECTS IN THE PRODUCT. SOME STATES DO NOT ALLOW THE EXCLUSION
OF INCIDENTAL OR CONSEQUENTIAL DAMAGES, SO THE ABOVE LIMITATIONS MAY NOT APPLY TO
YOU.
If you believe your product is defective, contact Luma Comfort for warranty service at 1-866-737-6390 or
support@lumacomfort.com. In your correspondence with Luma Comfort, please include your dealer name,
address, P.O. number (if applicable), model number of the product in question and a brief description of the
problem.
After a Luma Comfort representative confirms that your product is defective and is still under warranty, you will
receive further instructions. Products sent to our headquarters without a warranty claim will be refused.