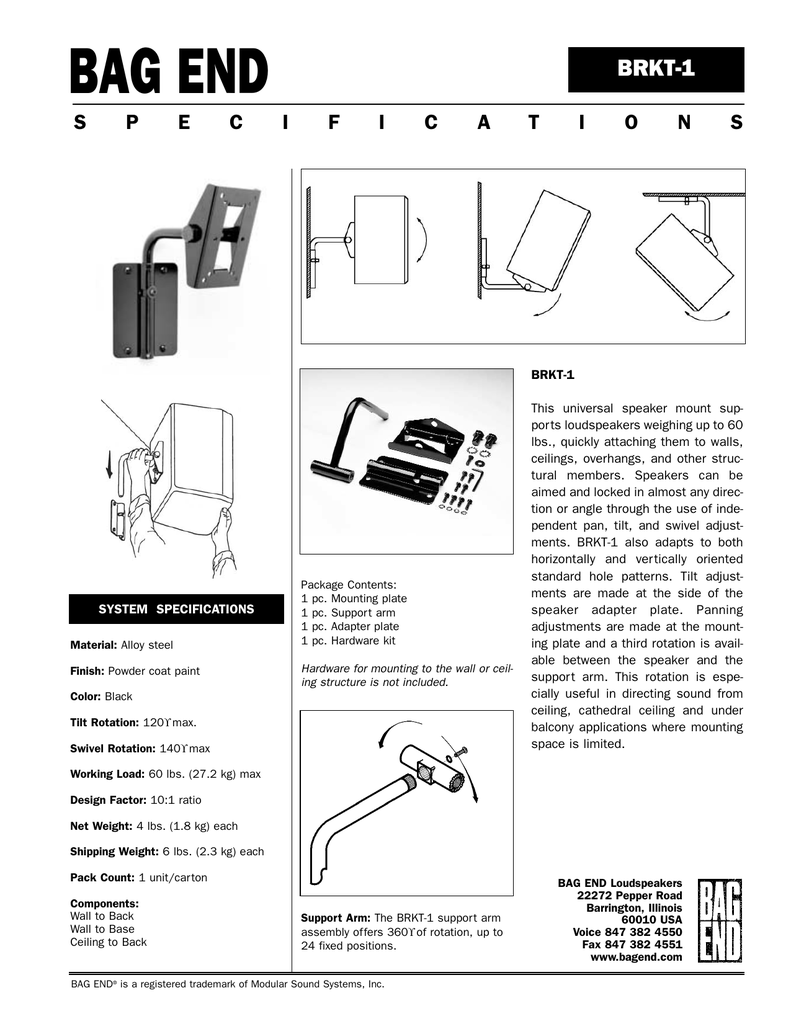 BAG END
S
P
E
C
BRKT-1
I
F
I
C
A
T
I
O
N
S
BRKT-1
SYSTEM SPECIFICATIONS
Material: Alloy steel
Finish: Powder coat paint
Package Contents:
1 pc. Mounting plate
1 pc. Support arm
1 pc. Adapter plate
1 pc. Hardware kit
Hardware for mounting to the wall or ceiling structure is not included.
Color: Black
Tilt Rotation: 120° max.
Swivel Rotation: 140° max
This universal speaker mount supports loudspeakers weighing up to 60
lbs., quickly attaching them to walls,
ceilings, overhangs, and other structural members. Speakers can be
aimed and locked in almost any direction or angle through the use of independent pan, tilt, and swivel adjustments. BRKT-1 also adapts to both
horizontally and vertically oriented
standard hole patterns. Tilt adjustments are made at the side of the
speaker adapter plate. Panning
adjustments are made at the mounting plate and a third rotation is available between the speaker and the
support arm. This rotation is especially useful in directing sound from
ceiling, cathedral ceiling and under
balcony applications where mounting
space is limited.
Working Load: 60 lbs. (27.2 kg) max
Design Factor: 10:1 ratio
Net Weight: 4 lbs. (1.8 kg) each
Shipping Weight: 6 lbs. (2.3 kg) each
Pack Count: 1 unit/carton
Components:
Wall to Back
Wall to Base
Ceiling to Back
Support Arm: The BRKT-1 support arm
assembly offers 360° of rotation, up to
24 fixed positions.
BAG END® is a registered trademark of Modular Sound Systems, Inc.
BAG END Loudspeakers
22272 Pepper Road
Barrington, Illinois
60010 USA
Voice 847 382 4550
Fax 847 382 4551
www.bagend.com
Mounting Plate
Dimensions
Mounting Plate:
Attaches to studs, beams, trusses,
or other reliable mounting surfaces.
Provides pan and lock features.
Speaker Adapter Plate
4.05"
4.5"
Speaker Adapter Plate:
Fits speaker manufacturer's mounting patterns for speakers weighing
up to 60 lbs. (27.2 kg.). Mounts to
both horizontally and vertically
placed mounting holes.
5.5"
6.5"
2.5"
Vertcal Orientation:
5.0"
.265"
4 plcs
.390"
4 plcs
2.0"
4.25"
2.38"
2.75"
6"
.33"
4 plcs
8.11"
6"
.75"
120° MAX
8.58"
4.05"
4.9"
.98"
140° MAX
Side View
Top View
Horizontal Orietation
8.11"
.750"
4.05" 120° MAX
8.58"
6"
.98"
Side View
130° MAX
Top View
Warning:
Mounting and/or rigging loudspeakers requires experienced professionals.
Improperly installed loudspeakers can result in property damage, personal
injury, death and/or liability to the installing contractor.