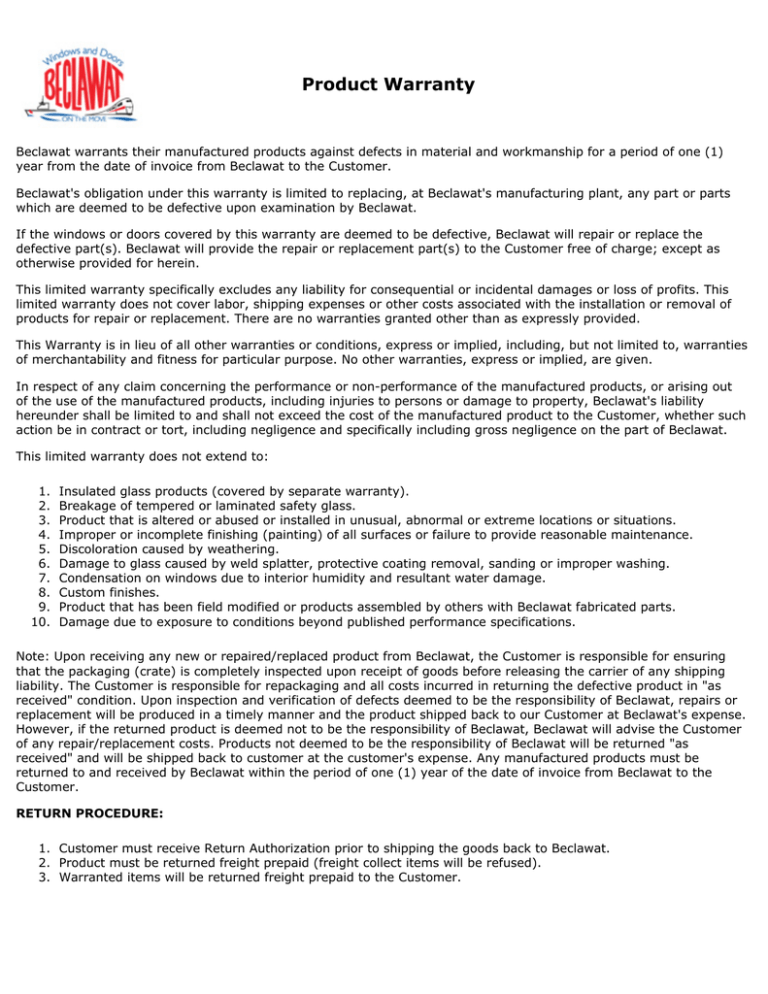 Product Warranty
Beclawat warrants their manufactured products against defects in material and workmanship for a period of one (1)
year from the date of invoice from Beclawat to the Customer.
Beclawat's obligation under this warranty is limited to replacing, at Beclawat's manufacturing plant, any part or parts
which are deemed to be defective upon examination by Beclawat.
If the windows or doors covered by this warranty are deemed to be defective, Beclawat will repair or replace the
defective part(s). Beclawat will provide the repair or replacement part(s) to the Customer free of charge; except as
otherwise provided for herein.
This limited warranty specifically excludes any liability for consequential or incidental damages or loss of profits. This
limited warranty does not cover labor, shipping expenses or other costs associated with the installation or removal of
products for repair or replacement. There are no warranties granted other than as expressly provided.
This Warranty is in lieu of all other warranties or conditions, express or implied, including, but not limited to, warranties
of merchantability and fitness for particular purpose. No other warranties, express or implied, are given.
In respect of any claim concerning the performance or non-performance of the manufactured products, or arising out
of the use of the manufactured products, including injuries to persons or damage to property, Beclawat's liability
hereunder shall be limited to and shall not exceed the cost of the manufactured product to the Customer, whether such
action be in contract or tort, including negligence and specifically including gross negligence on the part of Beclawat.
This limited warranty does not extend to:
1.
2.
3.
4.
5.
6.
7.
8.
9.
10.
Insulated glass products (covered by separate warranty).
Breakage of tempered or laminated safety glass.
Product that is altered or abused or installed in unusual, abnormal or extreme locations or situations.
Improper or incomplete finishing (painting) of all surfaces or failure to provide reasonable maintenance.
Discoloration caused by weathering.
Damage to glass caused by weld splatter, protective coating removal, sanding or improper washing.
Condensation on windows due to interior humidity and resultant water damage.
Custom finishes.
Product that has been field modified or products assembled by others with Beclawat fabricated parts.
Damage due to exposure to conditions beyond published performance specifications.
Note: Upon receiving any new or repaired/replaced product from Beclawat, the Customer is responsible for ensuring
that the packaging (crate) is completely inspected upon receipt of goods before releasing the carrier of any shipping
liability. The Customer is responsible for repackaging and all costs incurred in returning the defective product in "as
received" condition. Upon inspection and verification of defects deemed to be the responsibility of Beclawat, repairs or
replacement will be produced in a timely manner and the product shipped back to our Customer at Beclawat's expense.
However, if the returned product is deemed not to be the responsibility of Beclawat, Beclawat will advise the Customer
of any repair/replacement costs. Products not deemed to be the responsibility of Beclawat will be returned "as
received" and will be shipped back to customer at the customer's expense. Any manufactured products must be
returned to and received by Beclawat within the period of one (1) year of the date of invoice from Beclawat to the
Customer.
RETURN PROCEDURE:
1. Customer must receive Return Authorization prior to shipping the goods back to Beclawat.
2. Product must be returned freight prepaid (freight collect items will be refused).
3. Warranted items will be returned freight prepaid to the Customer.