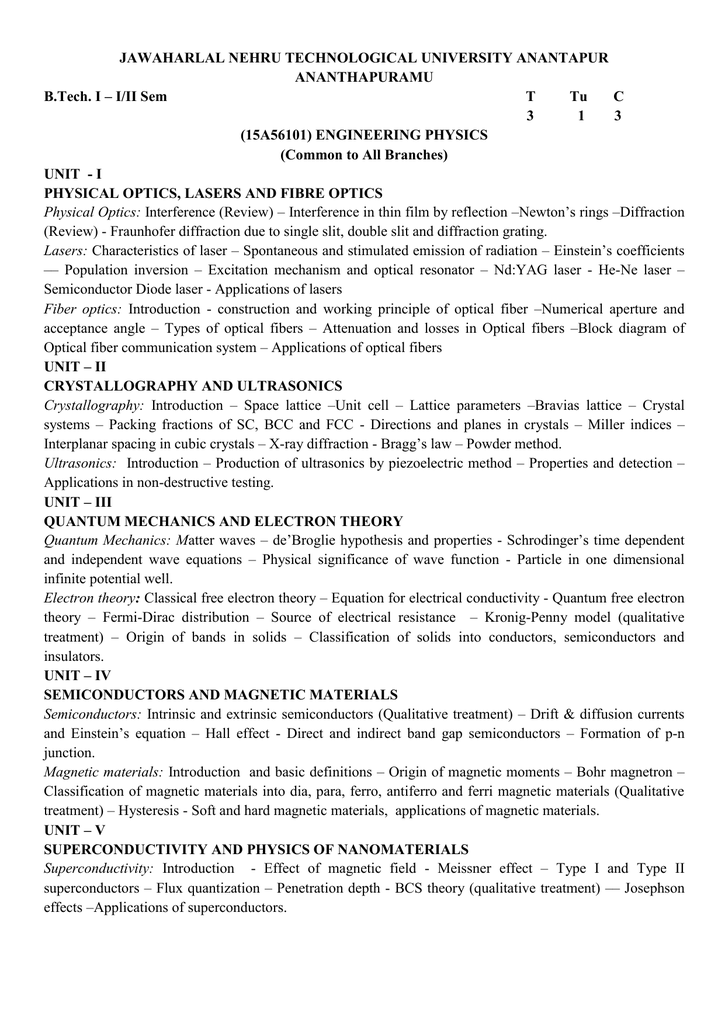 JAWAHARLAL NEHRU TECHNOLOGICAL UNIVERSITY ANANTAPUR
ANANTHAPURAMU
B.Tech. I – I/II Sem
T
Tu
C
3
1
3
(15A56101) ENGINEERING PHYSICS
(Common to All Branches)
UNIT - I
PHYSICAL OPTICS, LASERS AND FIBRE OPTICS
Physical Optics: Interference (Review) – Interference in thin film by reflection –Newton's rings –Diffraction
(Review) - Fraunhofer diffraction due to single slit, double slit and diffraction grating.
Lasers: Characteristics of laser – Spontaneous and stimulated emission of radiation – Einstein's coefficients
–– Population inversion – Excitation mechanism and optical resonator – Nd:YAG laser - He-Ne laser –
Semiconductor Diode laser - Applications of lasers
Fiber optics: Introduction - construction and working principle of optical fiber –Numerical aperture and
acceptance angle – Types of optical fibers – Attenuation and losses in Optical fibers –Block diagram of
Optical fiber communication system – Applications of optical fibers
UNIT – II
CRYSTALLOGRAPHY AND ULTRASONICS
Crystallography: Introduction – Space lattice –Unit cell – Lattice parameters –Bravias lattice – Crystal
systems – Packing fractions of SC, BCC and FCC - Directions and planes in crystals – Miller indices –
Interplanar spacing in cubic crystals – X-ray diffraction - Bragg's law – Powder method.
Ultrasonics: Introduction – Production of ultrasonics by piezoelectric method – Properties and detection –
Applications in non-destructive testing.
UNIT – III
QUANTUM MECHANICS AND ELECTRON THEORY
Quantum Mechanics: Matter waves – de'Broglie hypothesis and properties - Schrodinger's time dependent
and independent wave equations – Physical significance of wave function - Particle in one dimensional
infinite potential well.
Electron theory: Classical free electron theory – Equation for electrical conductivity - Quantum free electron
theory – Fermi-Dirac distribution – Source of electrical resistance – Kronig-Penny model (qualitative
treatment) – Origin of bands in solids – Classification of solids into conductors, semiconductors and
insulators.
UNIT – IV
SEMICONDUCTORS AND MAGNETIC MATERIALS
Semiconductors: Intrinsic and extrinsic semiconductors (Qualitative treatment) – Drift & diffusion currents
and Einstein's equation – Hall effect - Direct and indirect band gap semiconductors – Formation of p-n
junction.
Magnetic materials: Introduction and basic definitions – Origin of magnetic moments – Bohr magnetron –
Classification of magnetic materials into dia, para, ferro, antiferro and ferri magnetic materials (Qualitative
treatment) – Hysteresis - Soft and hard magnetic materials, applications of magnetic materials.
UNIT – V
SUPERCONDUCTIVITY AND PHYSICS OF NANOMATERIALS
Superconductivity: Introduction - Effect of magnetic field - Meissner effect – Type I and Type II
superconductors – Flux quantization – Penetration depth - BCS theory (qualitative treatment) –– Josephson
effects –Applications of superconductors.
Physics of Nanomaterials: Introduction - Significance of nanoscale and types of nanomaterials – Physical
properties: optical, thermal, mechanical and magnetic properties – Synthesis of nanomaterials by Top down
and bottom up approaches: ball mill, chemical vapour deposition, and sol gel –Applications of nanomaterials.
Text Books:
1. Engineering Physics – K.Thyagarajan, 5th Edition, MacGraw Hill Publishers, NewDelhi, 2014.
2. Physics for Engineers - N.K Verma, 1st Edition, PHI Learning Private Limited, New Delhi,2014.
References:
1. Engineering Physics – Dr. M.N. Avadhanulu & Dr. P.G. Kshirsagar, 10th Edition, S.Chand and
Company, New Delhi, 2014.
2. Engineering Physics – D K Pandey, S. Chaturvedi, 2nd Edition, Cengage Learning, New Delhi,
2013.
3. Engineering Physics – D.K Bhattacharya, Poonam Tandon, 1nd
Edition, Oxford University Press, New Delhi, 2015.