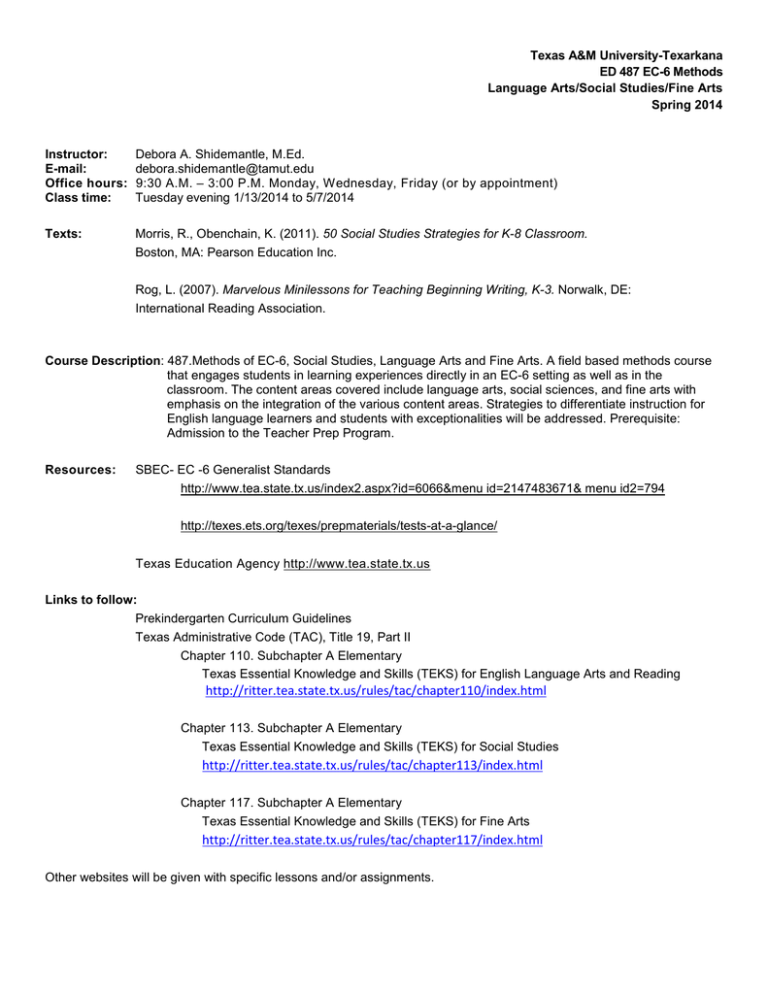 Texas A&M University-Texarkana
ED 487 EC-6 Methods
Language Arts/Social Studies/Fine Arts
Spring 2014
Instructor:
E-mail:
Office hours:
Class time:
Debora A. Shidemantle, M.Ed.
[email protected]
9:30 A.M. – 3:00 P.M. Monday, Wednesday, Friday (or by appointment)
Tuesday evening 1/13/2014 to 5/7/2014
Texts:
Morris, R., Obenchain, K. (2011). 50 Social Studies Strategies for K-8 Classroom.
Boston, MA: Pearson Education Inc.
Rog, L. (2007). Marvelous Minilessons for Teaching Beginning Writing, K-3. Norwalk, DE:
International Reading Association.
Course Description: 487.Methods of EC-6, Social Studies, Language Arts and Fine Arts. A field based methods course
that engages students in learning experiences directly in an EC-6 setting as well as in the
classroom. The content areas covered include language arts, social sciences, and fine arts with
emphasis on the integration of the various content areas. Strategies to differentiate instruction for
English language learners and students with exceptionalities will be addressed. Prerequisite:
Admission to the Teacher Prep Program.
Resources:
SBEC- EC -6 Generalist Standards
http://www.tea.state.tx.us/index2.aspx?id=6066&menu id=2147483671& menu id2=794
http://texes.ets.org/texes/prepmaterials/tests-at-a-glance/
Texas Education Agency http://www.tea.state.tx.us
Links to follow:
Prekindergarten Curriculum Guidelines
Texas Administrative Code (TAC), Title 19, Part II
Chapter 110. Subchapter A Elementary
Texas Essential Knowledge and Skills (TEKS) for English Language Arts and Reading
http://ritter.tea.state.tx.us/rules/tac/chapter110/index.html
Chapter 113. Subchapter A Elementary
Texas Essential Knowledge and Skills (TEKS) for Social Studies
http://ritter.tea.state.tx.us/rules/tac/chapter113/index.html
Chapter 117. Subchapter A Elementary
Texas Essential Knowledge and Skills (TEKS) for Fine Arts
http://ritter.tea.state.tx.us/rules/tac/chapter117/index.html
Other websites will be given with specific lessons and/or assignments.
Goals:
Universal information about children's growth and development alerts teachers to the potential and the
vulnerability of young children. This knowledge must be coupled with understanding of subject matter that educators
want children to learn. Standards set forth by the State of Texas, the Texas Essential Knowledge and Skills (TEKS),
will serve as a base to guide educators in the selection of first hand experiences that will serve as a base for a child's
learning.
It is the goal of ED487 to assist the student in designing and implementing instruction which addresses the
match of content in the areas of Language Arts, Social Studies and Fine Arts with prescribed state standards by using
best-practice instructional strategies which are developmentally appropriate for learners.
Reflection is a powerful tool for teachers, especially beginning teachers. This course will contain a strong
reflection component for the students in order to prepare them in being reflective of their classroom practice with the goal
of impacting instruction and student learning in a positive way.
Behavioral Objectives: (Roman Numerals indicate Classification of SBEC Standards as they relate of Behavioral
Objectives). The student will be able to . . .
•
•
•
•
interpret and apply the TEKS which apply to EC-6 Social Studies, Language Arts, and Music and Drama.
identify and develop practices that reflect an equitable inclusive approach to learning.
demonstrate how to integrate social studies, the language arts, music and drama across the curriculum.
•
•
apply assessment and evaluation strategies for continuous student learning.
reflect on individual teaching and learning experiences in order to foster personal and
professional growth. (I)
work and cooperate with colleagues in the learning community (I, III, IV)
demonstrate professionalism in all instances related to class and field experience. (IV)
demonstrate skills in the use of technology via (1) integrating instructional technology in planned
instructional segments, (2) utilizing e-mail, and listserv, and word processor, (3) researching via
internet and other sources, information relating to Language Arts, Social Studies, and the Arts for EC-6
grade, (4) utilizing word processor for documentation of course assignments and projects (i.e.
integrated unit).
•
•
•
•
•
•
•
•
•
•
•
•
•
•
•
critically analyze instructional resources and use appropriate resources to support instructional
activities.
describe an effective and exemplary emergent literacy program and give the rational for specific
strategies for implementation. (I)
identify specific content areas for inclusion in PreK-6 Social Studies and identify and demonstrate
effective teaching strategies for each. (III)
identify visual literacy strategies to strengthen skills in content areas such as social studies, the
language arts, music and drama for both encoding and decoding. (III)
design instruction pertaining to research-based good practices, appropriate strategies for
instruction and assessment.(I)
design various learning centers, giving rationale and management plans for each. (II)
plan and implement instruction to teach skills and performance experiences in the arts. (I)
participate and gather ideas for teaching interactive ideas. (I)
discuss appropriate audience behavior in order to prepare students for attending performances. (I)
identify songs and drama activities that can be used to teach skills.
write reflections on various content topics and field experiences.
organize materials in a binder for future reference.
demonstrate and model correct letter formation in personal penmanship.
SBEC Standards Addressed: Standards for Professional Development
Standard I
The teacher design instruction appropriate for all students that reflects an understanding of
relevant content and is based on continuous and appropriate assessment.
Standard II
Standard III
Standard IV
The teacher creates a classroom environment of respect and rapport that fosters a positive climate
for learning, equity, and excellence.
The teacher promotes student learning by providing responsive instruction that makes use of
effective communication techniques, instructional strategies that actively engage students in the
learning process, and timely, high-quality feedback.
The teacher fulfills professional roles and responsibilities and adheres to legal and ethical
requirements of the profession.
Standards for Domain I Language Arts and Reading EC-6
Standard I
Oral Language
Standard II
Phonological and Phonemic Awareness
Standard III
Standard IV
Alphabetic Principle
Literacy Development and Practice
Standard V
Standard VI
Standard VII
Standard VIII
Word Analysis and Decoding
Reading Fluency
Reading Comprehension
Development of Written Communication
Standard IX
Standard X
Writing Conventions
Assessment and Instruction of Developing Literacy
Standards for Domain III Social Studies EC-6
Standard I
Knowledge of social sciences and recognizes the value of Social Studies
Standard II
Standard III
Integrates the various social science disciplines
Uses knowledge and skills . . . as defined by TEKS
Standard IV
Standard V
Standard VI
History
Geography
Economics
Standard VII
Government
Standard VIII
Standard IX
Standard X
Citizenship
Culture
Science, Technology and Sociology
Standards for Domain V Fine Arts EC-6
Art Standard I
Understands idea development and organization
Art Standard II
Understands skill and techniques for creative expression
Art Standard V
Understands development and implements age appropriate instruction
Music Standard I
Comprehensive knowledge of musical perception and performance
Music Standard V
Comprehensive knowledge of music history, relationship to history and culture
Music Standard VII
How to plan and implement effective instruction to enhance musical skills
Music Standard IX
Student assessment and design to promote success
Theatre Standard I
Plan, implement and design effective theatre instruction
Theater Standard II
Applies kills for creating, utilizing and/or performing dramatic material
Theater Standard V
Applies theater from different cultures and historical periods
Theater Standard VI
Interrelationship between theater and other disciplines
Professional Ethics and Standards:
• All field experience reports are confidential.
• Field experiences for this course cannot be used for credit for any other course.
• Positive collaborative professional behavior is expected throughout the semester.
• The Education Department requires students to dress and act in a professional manner when
participating in activities in practicum, with children, teachers, and parents from local school districts. No
information can be shared out of the school's domain concerning children, teachers, administrators,
parents and/or other professionals who interact with the students.
Class Attendance/ Make-Up Work/ Late Work:
Attendance is considered important for this class. Class will begin on time. Promptness is strongly
encouraged as promptness is an indicator of professionalism. After 2 absences, your final grade may be
dropped one letter. After 4 absences you may be dropped from the course. Excessive tardies will result in
consequences per instructor's discretion. Make-up tests will be administered only if the student has an urgent
need to reschedule due to medical or family emergency. The instructor must be informed in advance of the
student's inability to sit for the exam. The instructor reserves the right to refuse makeup testing or to limit the
highest possible earned score. If for some reason you must miss class, it is your responsibility to inform the
instructor via e-mail or phone. It is also your responsibility to find out what you missed, catch up on class notes,
and have someone who will pick up handouts for you during the missed class. Late work will not receive full
credit. Any work turned in after the assigned class period will drop one letter grade per day (not class). Work
more than two days late may not be accepted.
Additional Information:
• All written work will be graded for format, spelling and grammar.
• Please turn off (or place on silent or vibrate) all cell phones during class time. Text-messaging in class is not
permitted. If you must take a call, please leave the class before answering.
• If for any reason you are unable to complete any of the assigned course assignments, inform the
instructor immediately.
Assignments:
Points
300
1. Exams 3 @ 100 pts. Each
2. Classroom management plan
50
3. Group Social Studies lesson with integrated workstations
100
4. Mini lesson (Writing) Presentation
50
5. Reflection papers 6 @ 10 pts. each
60
6. 3 mini-lessons in Field Base @ 50 pts. each
150
7. Picture book presentation
50
8. Fine Art integrated lesson
50
9. Handwriting Analysis
20
10. Completion of preparation courses
30
11. Reading Assessment
40
Total Possible Points
1000
Grading Scale
Points Earned
A= 90-100%
A = 900-1000
B=80-89%
B = 800-899
C=70-79%
C = 700-799
D=60 – 69%
D = 600-699
F= 0-59%
F = 0-599
Disability Accommodation:
Students with disabilities may request reasonable accommodations through the A&M-Texarkana Disability Services Office
by calling 903-223-3062.
Academic Integrity and Plagiarism:
Academic honesty is expected of students enrolled in this course. Cheating on examinations, unauthorized collaboration,
falsification of research data, plagiarism, and undocumented use of materials from any source, constitute academic
dishonesty, and may be grounds for a grade of "F" in the course and/or disciplinary actions. For additional information see
the university policy manual. The student is responsible for reading and understanding the University Policy on Academic
Integrity. For help identifying and avoiding plagiarism go to http://www.turnitin.com/research_site/e_home.html
A&M-Texarkana Email Address:
Upon application to Texas A&M University-Texarkana an individual will be assigned an A&M-Texarkana email account.
This email account will be used to deliver official university correspondence. Each individual is responsible for information
sent and received via the university email account and is expected to check the official A&M-Texarkana email account on
a frequent and consistent basis. Faculty and students are required to utilize the university email account when
communicating about coursework.
University Drop Policy:
Effective with the Fall 2013 semester, the administrative drop policy as it relates to non-developmental courses will be
discontinued. Students who no longer wish to attend their course(s) will be required to submit the necessary
paperwork to the Registrar's Office in order to be officially dropped/withdrawn from their course(s). Those
students who do not follow the correct drop/withdraw procedure will remain registered in their course(s) and receive the
grade issued by the instructor. Students may find the drop/withdraw form on the "Dropping/Withdraw a Class" page of the
Registrar website.
The policy for developmental courses will remain the same. Any student who is registered in a developmental course
and fails to attend may be administratively dropped /withdrawn from all courses.
Drop/Withdraw deadlines for the Spring 2014 semester
Session
Drop without a grade
Last day drop/withdraw
Full Term (16 week)
Wednesday, January 29
Friday, April 11
st
1 8 week
Tuesday, January 21
Thursday, February 27
nd
2 8 week
Monday, March 24
Friday, April 18
Survey Participation: During this semester you will be asked to participate in a survey on teacher perceptions on
preparedness to deal with inclusion in today's classroom.
Scope of the Study: The purpose of this study is to determine if current teacher education programs are infusing
knowledge of inclusive practices into current training.
Confidentiality: All documents and information pertaining to this research study will be kept confidential in accordance
with all applicable federal, state, and local laws and regulations. Your responses are strictly confidential. When data and
analysis are presented, you will not be linked to the data by your name, title or any other identifying item. You understand
that the results of this study may be published. If data is published, you will not be identified in any way. This survey is
anonymous.
Voluntary Participation: This survey will take approximately 5 minutes to complete. You understand that your
participation is voluntary and can be discontinued at any time by closing your web browser or selecting 'Exit' in the upper
right hand corner of your screen. You understand that your participation in this study is entirely voluntary and that refusal
to participate will involve no penalty or loss to you. You may discontinue participation at any time without penalty or loss of
benefit.
Student Technical Assistance:
•
Solutions to common problems and FAQ's for your web-enhanced and web courses are found at this link:
http://www.tamut.edu/Training/Student%20Training/index.html
•
If you cannot find your resolution there, you can send in a support request detailing your specific problem here:
http://www.tamut.edu/techde/support.htm
•
Blackboard Helpdesk contacts (office hours are: Monday - Friday, 8:00a to 5:00p)
Julia Allen (main contact) 903-223-3154 [email protected]
*****The instructor reserves the right to make changes to assignments, the class schedule or the syllabus if the need
arises.