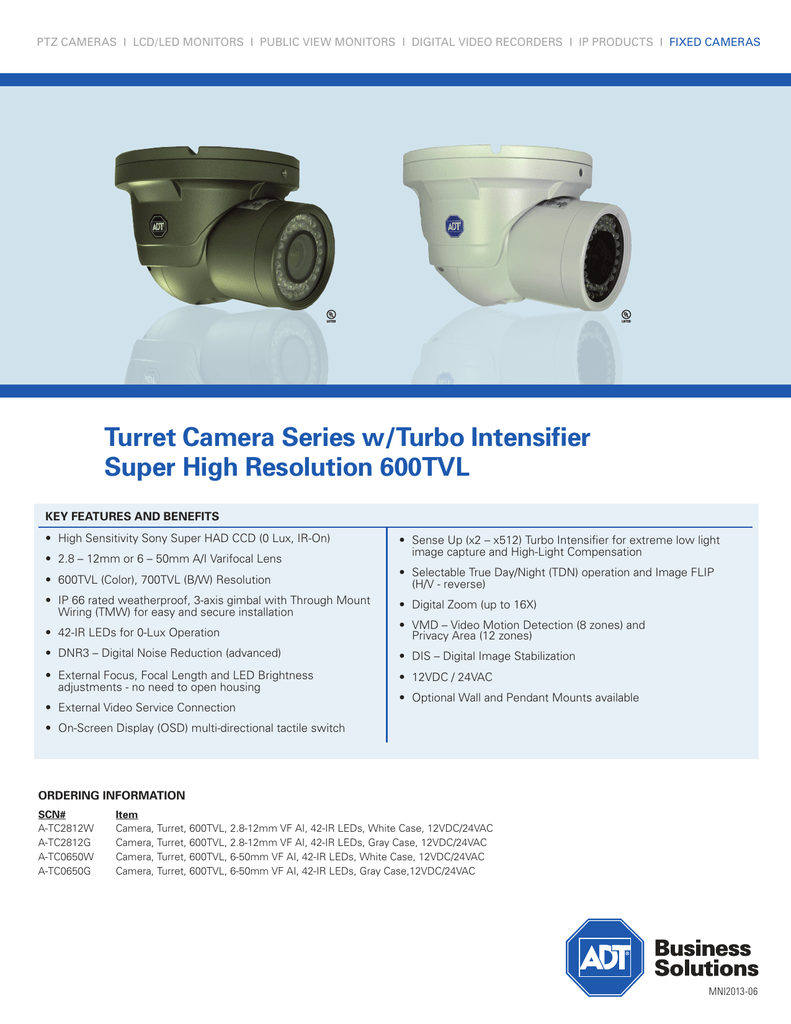 PTZ CAMERAS I LCD/LED MONITORS I PUBLIC VIEW MONITORS I DIGITAL VIDEO RECORDERS I IP PRODUCTS I FIXED CAMERAS
Turret Camera Series w/Turbo Intensifier
Super High Resolution 600TVL
KEY FEATURES AND BENEFITS
• High Sensitivity Sony Super HAD CCD (0 Lux, IR-On)
• Sense Up (x2 – x512) Turbo Intensifier for extreme low light
image capture and High-Light Compensation
• 2.8 – 12mm or 6 – 50mm A/I Varifocal Lens
• 600TVL (Color), 700TVL (B/W) Resolution
• Selectable True Day/Night (TDN) operation and Image FLIP
(H/V - reverse)
• IP 66 rated weatherproof, 3-axis gimbal with Through Mount Wiring (TMW) for easy and secure installation
• Digital Zoom (up to 16X)
• 42-IR LEDs for 0-Lux Operation
• VMD – Video Motion Detection (8 zones) and
Privacy Area (12 zones)
• DNR3 – Digital Noise Reduction (advanced)
• DIS – Digital Image Stabilization
• External Focus, Focal Length and LED Brightness adjustments - no need to open housing
• External Video Service Connection
• 12VDC / 24VAC
• Optional Wall and Pendant Mounts available
• On-Screen Display (OSD) multi-directional tactile switch
ORDERING INFORMATION
SCN#
A-TC2812W
A-TC2812G
A-TC0650W A-TC0650G
Item
Camera, Turret, 600TVL, 2.8-12mm VF AI, 42-IR LEDs, White Case, 12VDC/24VAC
Camera, Turret, 600TVL, 2.8-12mm VF AI, 42-IR LEDs, Gray Case, 12VDC/24VAC
Camera, Turret, 600TVL, 6-50mm VF AI, 42-IR LEDs, White Case, 12VDC/24VAC
Camera, Turret, 600TVL, 6-50mm VF AI, 42-IR LEDs, Gray Case,12VDC/24VAC
MNI2013-06
Turret Camera Series w/Turbo Intensifier, Super High Resolution 600TVL
Product Specifications
Video Image Sensor
TV System
Total Pixels
Effective Pixels
Scanning System
Scanning Frequency
Sync. System
Electronic Shutter
Resolution
Minimum Illumination
Video Output
S/N Ratio
Camera Control
1/3" SONY Super HAD CCD
NTSC
811 (H) x 508 (V)
768 (H) x 494 (V)
2:1
15.734KHz (H), 59.94Hz (V)
Internal / Line Lock
1/60 ~ 1/120,000
600TVL (color), 700TVL (B/W)
0.15 lux (color), 0.00002 lux (B/W, IR LED ON)
1.0Vp-p (75-ohm, composite)
> 52dB (AGC off)
Tactile Switch
Functions
SSDR (Samsung Super Dynamic Range)
Lens
Back Light Compensation (BLC) Auto Gain Control (AGC)
SENS UP (Turbo Intensifier)
White Balance (WB)
Day / Night
Video Motion Detection (VMD) Privacy Zone
DNR3
Sharpness
FLIP / Mirror
Zoom
Digital Image Stabilization (DIS) Connectors / Mechanical
Power Input
Composite Video Output
Lens Mount
Lens
Number of LEDs
IR LED Illumination
Environmental
Operating Temperature
Operating Humidity
Ingress Protection (IP rating)
Regulatory
Dimensions (WxHxD)
Weight
Voltage
Voltage, Current Required
Power
On/Off (level adjustable)
DC Auto Iris Varifocal
BLC / HLC / Off
Low / High / Off
Auto / Off (Selectable x2 – x512)
ATW / Outdoor / Indoor / Manual / AWC (1,700°K – 11,000°K)
Color / BW / Auto
On / Off (8 programmable zones)
On / Off (12 programmable zones)
Off / On (level adjustable)
On / Off (level adjustable)
On / Off
On / Off (x16)
On / Off
Dimensions
SIDE
FRONT
OSD CONTROL BOARD
Assembly
2-pin Terminal Block (Phoenix style)
BNC
Internal
2.8-12mm, Varifocal, DC Auto Iris
6-50mm, Varifocal, DC Auto Iris
42, 850nm
Outdoor: 98 feet (30 meter)
Indoor: 164 feet (50 meter)
-31°F ~ 122°F (-35°C ~ 50°C)
0~95% (non-condensing)
IP 66
UL, FCC, CE, ROHS
5.51"x 4.37" x 7.08" (140mm x 111mm x 180mm)
3.1lbs (1.4kg)
12VDC/24VAC
12VDC, 160mA (LED Off), 670mA (LED On)
24VAC, 70mA (LED Off), 240mA (LED On)
7.2W Max 12VDC, LED On
5.7W Max 24VAC, LED On
TCW2-G Wall Mount, White
Mounting hole sized for
3/4" conduit connector
Specifications subject to change without notice.
Optional Accessories
TCW2-G
TCW2-W
TCADP TCP-G
TCP-W
Wall Mount, Gray
Wall Mount, White
Mount Adapter Plate, for use with
A-CM150 Corner Mount and A-CM151 Pole Mount
Pendant Mount, Gray
Pendant Mount, White
TCADP Mount Adapter Plate
TCP-G(W)
Pendant Mount, Gray
For more information visit www.ADT-Matrix.com
© 2011 ADT—All Rights Reserved. ADT Security Services Inc. ADT, the ADT logo and ADT Always There are registered trademarks of ADT Services AG and are used under license.