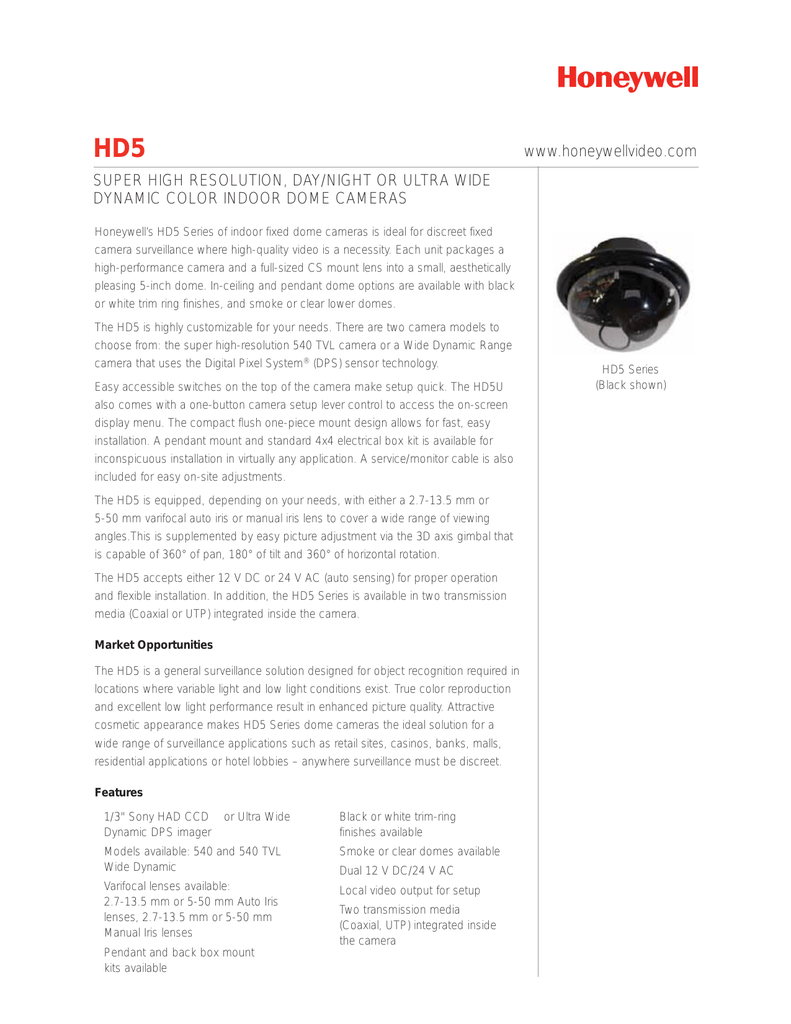 HD5
www.honeywellvideo.com
SUPER HIGH RESOLUTION, DAY/NIGHT OR ULTRA WIDE
DYNAMIC COLOR INDOOR DOME CAMERAS
Honeywell's HD5 Series of indoor fixed dome cameras is ideal for discreet fixed
camera surveillance where high-quality video is a necessity. Each unit packages a
high-performance camera and a full-sized CS mount lens into a small, aesthetically
pleasing 5-inch dome. In-ceiling and pendant dome options are available with black
or white trim ring finishes, and smoke or clear lower domes.
The HD5 is highly customizable for your needs. There are two camera models to
choose from: the super high-resolution 540 TVL camera or a Wide Dynamic Range
camera that uses the Digital Pixel System® (DPS) sensor technology.
Easy accessible switches on the top of the camera make setup quick. The HD5U
also comes with a one-button camera setup lever control to access the on-screen
display menu. The compact flush one-piece mount design allows for fast, easy
installation. A pendant mount and standard 4x4 electrical box kit is available for
inconspicuous installation in virtually any application. A service/monitor cable is also
included for easy on-site adjustments.
The HD5 is equipped, depending on your needs, with either a 2.7-13.5 mm or
5-50 mm varifocal auto iris or manual iris lens to cover a wide range of viewing
angles.This is supplemented by easy picture adjustment via the 3D axis gimbal that
is capable of 360° of pan, 180° of tilt and 360° of horizontal rotation.
The HD5 accepts either 12 V DC or 24 V AC (auto sensing) for proper operation
and flexible installation. In addition, the HD5 Series is available in two transmission
media (Coaxial or UTP) integrated inside the camera.
Market Opportunities
The HD5 is a general surveillance solution designed for object recognition required in
locations where variable light and low light conditions exist. True color reproduction
and excellent low light performance result in enhanced picture quality. Attractive
cosmetic appearance makes HD5 Series dome cameras the ideal solution for a
wide range of surveillance applications such as retail sites, casinos, banks, malls,
residential applications or hotel lobbies – anywhere surveillance must be discreet.
Features
• 1/3" Sony HAD CCD™ or Ultra Wide
Dynamic DPS imager
• Black or white trim-ring
finishes available
• Models available: 540 and 540 TVL
Wide Dynamic
• Smoke or clear domes available
• Varifocal lenses available:
2.7-13.5 mm or 5-50 mm Auto Iris
lenses, 2.7-13.5 mm or 5-50 mm
Manual Iris lenses
• Local video output for setup
• Pendant and back box mount
kits available
• Dual 12 V DC/24 V AC
• Two transmission media
(Coaxial, UTP) integrated inside
the camera
HD5 Series
(Black shown)
HD5
www.honeywellvideo.com
SPECIFICATIONS
Operational
HD5CH, HD5CHTP/HD5CHX,
HD5CHTPX
HD5U, HD5UTP/HD5UX,
HD5UTPX
Video Standard
NTSC/PAL
NTSC/PAL
Scanning System
525 lines, 2:1;
625 lines, 2:1
Interlace
525 lines, 2:1;
625 lines, 2:1
Progressive
Image Sensor
1/3" Interline Transfer CCD
1/3" WDR digital image device
Number of Pixels (H x V)
768 x 494 (NTSC);
752 x 582 (PAL)
720 x 540
Minimum Illumination
0.6 lux @ F1.3
0.4 lux @ F1.3
Horizontal Resolution
540 TVL
Video Output
1.0 Vp-p Coax @ 75 ohms
1.0 Vp-p UTP @ 100 ohms (All TP models)
Sync System
12 V DC: Internal, 24 V AC: Line lock
S/N Ratio
50 dB (AGC Off)
Auto Gain Control
On/Off, switchable
ALC
Direct Drive (DC) Auto Iris (only)
Automatic Electronic Shutter
1/60 – 1/100,000 second;
1/50 – 1/100,000 second
White Balance
Selectable ATW/AWC
Line Lock Phase Adjust
Adjustable line lock vertical phase
Lens Type
2.7-13.5 mm Auto or Manual
5-50 mm Auto or Manual
AI/AES Selection
On/Off Switchable
Gamma
0.45
Auto (0-36 dB maximum)
ATW/AWB/ATW Xtnd/ Manual
Electrical
Input Voltage
12 V DC/24 V AC
Input Range
11-16 V DC, 17-28 V AC
Surge Suppression
1.5 kW Transient
Power Consumption
3.5 W (max)
Mechanical
Dimensions (W x H)
6.4" x 5.1" (163.6 mm x 128.7 mm), camera only
Weight
0.88 lb (0.4 kg) max (camera and lower bubble only)
Housing Construction
PCABS (Polycarbonate/Acrylonitrile Butadiene Styrene blend)
Video Output
BNC connector or UTP connector (twisted pair models)
Power Input
12-inch tinned leads
HD5
www.honeywellvideo.com
SPECIFICATIONS
Environmental
Temperature
Operating: 14°F to 122°F (-10°C to 50°C)
Storage: -4°F to 140°F (-20°C to 60°C)
Relative Humidity
0% to 85% non-condensing
Mounts
HD5-MK2
Flush Mounting Kit
HD5-PK
Pendant Mount Kit
Regulatory
Emissions
FCC, CE (EN55022)
Immunity
CE (EN50130-4)
Safety
UL60065, EU LVD 2006/95/EC
HD5 with HD5-MK2 (optional)
HD5 with HD55-PK (optional)
6.5" (165.1 mm)
6.4" (163.6 mm)
1.37"
(34.8 mm)
1.13"
(28.6 mm)
4.7" (120.1 mm)
3.8" (97.0 mm)
3.3" (82.9 mm)
3.2" (81.7 mm)
Ordering
HD5
Model
HD5
Camera
540 TVL High Resolution
C
540 TVL Wide Dynamic
U
CAT5 Option
C
T
Coax
UTP
Lens
2
3
5
6
U
C
3
O
N
P
Mounting Kit
P Pendant Mount
F Flush mount
O None
Format
N NTSC
P PAL
Bubble / Trim Ring *
2.7-13.5 mm AI Varifocal
2.7-13.5 mm MI Varifocal
5-50 mm AI Varifocal
5-50 mm MI Varifocal
A
B
C
D
O
Clear Bubble/Black Trim
Clear Bubble/White Trim
Smoke Bubble/Black Trim
Smoke Bubble/White Trim
No Bubble
* Gold or Chrome bubble options also available. Contact Inside Sales at 1.800.323.4576 for ordering information.
For more information:
www.honeywell.com/security
Automation and Control Solutions
Honeywell Security Products Americas
2700 Blankenbaker Pkwy, Suite 150
Louisville, KY 40299
1.800.323.4576
www.honeywell.com
L/HD5D/D
May 2013
© 2013 Honeywell International Inc.