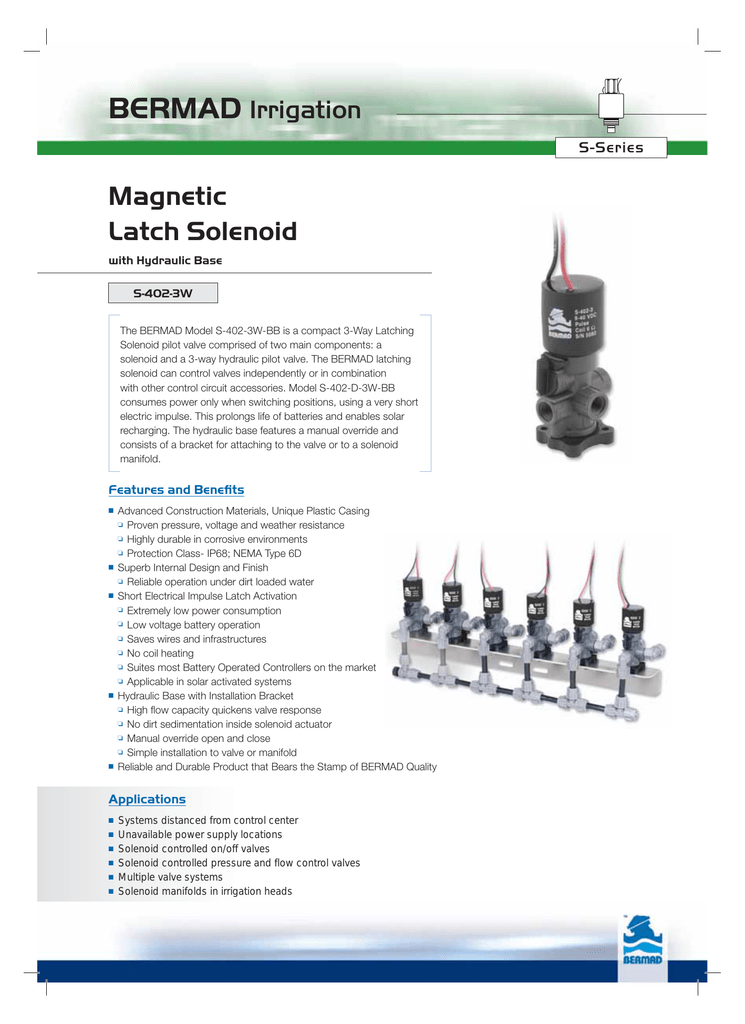 BERMAD Irrigation
S-Series
Magnetic
Latch Solenoid
with Hydraulic Base
S-402-3W
The BERMAD Model S-402-3W-BB is a compact 3-Way Latching
Solenoid pilot valve comprised of two main components: a
solenoid and a 3-way hydraulic pilot valve. The BERMAD latching
solenoid can control valves independently or in combination
with other control circuit accessories. Model S-402-D-3W-BB
consumes power only when switching positions, using a very short
electric impulse. This prolongs life of batteries and enables solar
recharging. The hydraulic base features a manual override and
consists of a bracket for attaching to the valve or to a solenoid
manifold.
Features and Benefits
■
■
■
■
■
Advanced Construction Materials, Unique Plastic Casing
❏ Proven pressure, voltage and weather resistance
❏ Highly durable in corrosive environments
❏ Protection Class- IP68; NEMA Type 6D
Superb Internal Design and Finish
❏ Reliable operation under dirt loaded water
Short Electrical Impulse Latch Activation
❏ Extremely low power consumption
❏ Low voltage battery operation
❏ Saves wires and infrastructures
❏ No coil heating
❏ Suites most Battery Operated Controllers on the market
❏ Applicable in solar activated systems
Hydraulic Base with Installation Bracket
❏ High flow capacity quickens valve response
❏ No dirt sedimentation inside solenoid actuator
❏ Manual override open and close
❏ Simple installation to valve or manifold
Reliable and Durable Product that Bears the Stamp of BERMAD Quality
Applications
■
■
■
■
■
■
Systems distanced from control center
Unavailable power supply locations
Solenoid controlled on/off valves
Solenoid controlled pressure and flow control valves
Multiple valve systems
Solenoid manifolds in irrigation heads
BERMAD Irrigation
S-Series
S-402-3W
Specifications
Actuator
86 mm; 33/8"
Base Ports: 1/8" NPT
1- Vent
2- Valve Control Chamber
3- Pressure
Valve Anchoring:
By Screws (Self Tapping #8) at the Solenoid base
Leads: 2 leads x 0.32 mm2 x 80 cm
Operation Modes (electrical connentions)
+Red & -Black: Solenoid vents
+Black & - Red: Solenoid pressurizes
Operating Pressure Range: 0-10 bar
Base Orifice Diameter: 2.2 mm
Base Flow Factor: Kv = 0.12 m3/h @ 1 bar ΔP; Cv= 0.14 GPM @1 psi ΔP
Manual
Override Handle
Materials:
Actuator Casing: Nylon
Seals: NBR
Wetted parts: Stainless Steel 400 and polyamide
Base: Nylon (Optional: Brass)
Hydraulic Base
Electrical Data:
Bracket
Voltage Range: 9-40 VDC
Coil Resistance: 6Ω
Coil Inductance: 90 mH
Pulse Width: 20-100 mSec
Required Capacitor: 4700µF
weight: 0.17 kg; 0.37 ibs.
Note: To ensure compatibility of solenoid with your system,
please contact BERMAD's local representative.
How to Order
Please Specify the requested Solenoid as follow
■
2-wires 3-Way Magnetic Latch Solenoid with Hydraulic Base, Bermad Model:
S-402-2L-3W-9V/DC-BB
To Order installed and tested Solenoid Manifold Please Specify:
■ S-402-2L-3W-9V/DC-BB Solenoid manifold, BERMAD Model:
EM-402-______*
* Specify desired quantity of Solenoids
(2-10 Solenoids can be ordered)
[email protected] • www.bermad.com
The information herein is subject to change without notice. BERMAD shall not be held liable for
PCSAE42-3W 05
any errors. All rights reserved. © Copyright by BERMAD.