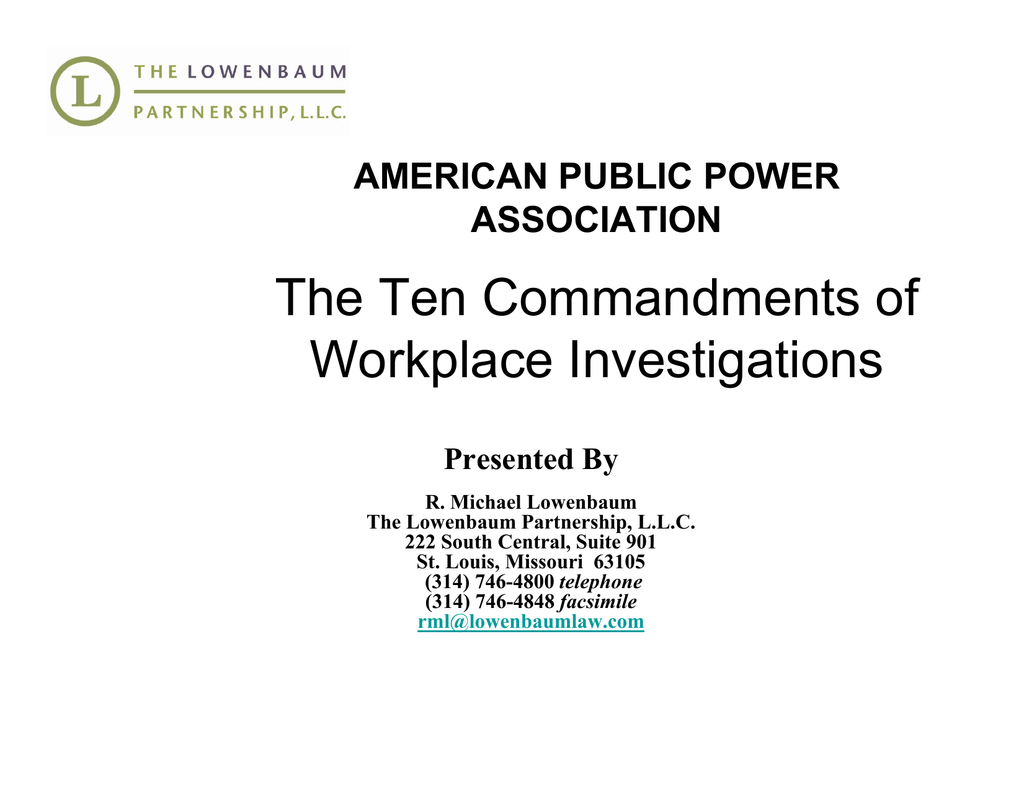 AMERICAN PUBLIC POWER
ASSOCIATION
The Ten Commandments of
W k l
Workplace
IInvestigations
ti ti
Presented By
R. Michael Lowenbaum
The Lowenbaum Partnership, L.L.C.
222 South Central,
Central Suite 901
St. Louis, Missouri 63105
(314) 746-4800 telephone
(314) 746-4848 facsimile
[email protected]
Workplace Investigations
• Conducting Legal and Effective
Investigations to Significantly Reduce Your
Liability Risks
• Whether, Who, What, When, Where and
Why and How to Investigate
• Following the Ten Commandments of
W k l
Workplace
IInvestigations
ti ti
• Tips for Documenting Investigations
Overview
• Why effective workplace investigations are
important
• How to plan and execute an investigation
to avoid common pitfalls
Vocabulary
• Workplace investigations
• Alleged harassment
• Alleged
All
d di
discrimination
i i ti
Why Investigate?
• Identifying employer mistakes and how to
correct them
• Why prompt and effective investigations
are critical
Timing
• The duty to investigate arises as soon as
the employer or its become aware of
possible discrimination
discrimination, misconduct or
harassment.
• A complaint is not necessary.
necessary
• Employer may be held liable if it should
h
have
kknown.
Immediate and Appropriate
• An employee notified her employer that a
co-worker had talked to her about sexual
activities and touched her in an offensive
manner.
Immediate and Appropriate
• Within four days
days, the employer:
– Investigated the charges.
– Reprimanded the guilty employee
employee.
– Placed him on probation.
– Warned him that further misconduct would
result in discharge.
Immediate and Appropriate
• A second coworker who had witnessed the
harassment was disciplined for not
intervening on the victim's
victim s behalf or
reporting the conduct.
• The court ruled the employer's response
was immediate
i
di t and
d appropriate
i t corrective
ti
action and found no liability.
Whether to Investigate?
• ALWAYS investigate
investigate.
Always Investigate.
Investigate
• An employer can defend itself from some claims
of harassment by showing that:
– The employer exercised reasonable care to prevent
and promptly correct any harassing or
di i i t
discriminatory
b
behavior,
h i and
d
– The employee unreasonably failed to take advantage
of any preventive measure, remedies or corrective
opportunities provided by the employer.
First Responders
• The duty
y to investigate
g
arises as soon as
the employer or its agents become aware
of discrimination, misconduct or
harassment.
harassment
– Employer must have strong policies and good
avenues for reporting.
– Employer must train managers to respond.
Initial Response
• The supervisor should respond to an
employee's concern by getting the basic
facts without suggesting that he or she
facts,
believes or disbelieves the allegations.
• The supervisor must not promise
confidentiality.
fid ti lit
Always Means Always
Always.
• Don
Don'tt "wait
wait and see
see."
• Investigate
I
ti t pastt acts.
t
• Investigate seemingly small matters.
What If . . . ?
• What if the accused admits to the behavior?
• What if the victim doesn't
doesn t complain?
• What if the victim asks the employer not to do
anything?
• What if the claim appears fabricated?
Investigate.
Investigate
• Issues involved in the investigation
investigation.
Planning The Investigation
• When should the investigation
g
begin?
g
• Who should investigate?
• What to investigate?
• Where to conduct the investigation?
• How to conduct the investigation?
When Must the Investigation
Begin?
• An employer must make every effort to
begin an investigation as soon as possibly
after becoming aware of the alleged
wrongful conduct
conduct.
• Ideally begin in a day or two.
Timing
• Do not delay because you are waiting for a
written complaint or your preferred
investigator.
investigator
• Th
The titimeframe
f
for
f completing
l ti the
th
investigation will depend on the nature of
th iinvestigation-complexity,
the
ti ti
l it llegall iissues
and people involved.
Beginning and Ending
• The investigation begins with planning and
interim actions.
• The investigator should work diligently to
complete
l t the
th iinvestigation.
ti ti
• The more quickly the investigation is
completed,
p
, the less time for talk.
How To Conduct the
Investigation: Interim Actions
• If an employee complains of harassment
or discrimination, the employer must act
immediately to ensure any type of
discrimination is stopped.
• Take interim actions to avoid reprisals or
new allegations
ll
ti
iinvolving
l i th
the same
parties.
Who Should Investigate?
• Use an unbiased investigator.
• The objectivity of the investigator is just as
important as the promptness of the
investigation.
Preparation
• Tour worksite.
worksite
• R
Review
i
d
documents-written
t
itt complaint,
l i t
personnel files of employees involved,
policies
li i or h
handbooks.
db k
• Draft outline of interview questions and
make list of initial interviewees.
How to Investigate?
Remain Neutral.
• The investigator must remain neutral at all
times and maintain the appearance of
neutrality.
• Independence must be established with
both employer and complainant.
Common Pitfalls
• Appearing to have accepted the
interviewee's version.
• Appearing to disbelieve the interviewee
f
from
the
th outset.
t t
• Making promises or appearing to make
commitments.
How to Investigate?
Cause No Harm.
• Avoid rumors about the charges or the
investigation.
• Keep statements to witnesses at a
minimum.
i i
• Avoid "polluting" employees' memories of
what they
y actuallyy know.
Cause No Harm
Harm.
• Scripted opening and closing statements
are helpful.
– Explain neutrality
neutrality.
– Explain confidentiality.
– Discuss no tolerance for retaliation
retaliation.
– Explain how to report perceived reprisal.
– Review
R i
h
harassmentt policy.
li
Cause No Harm:
Confidentiality.
• Interviewers should be specific and
forceful when instructing interviewees
about confidentiality.
confidentiality
• F
Follow
ll
up iimmediately
di t l with
ith any
interviewee you learn is feeding the rumor
mill.
ill
Cause No Harm:
Confidentiality.
• Provide direction to all managers who
have knowledge of the investigation
regarding
di iinvestigation.
ti ti
• M
Make
k sure person coordinating
di ti
appointments is neutral and discreet.
– Provide a script to use when making
appointments.
How to Conduct the Investigation:
Do Not Guarantee Anonymity or
Confidentiality.
• The company should never make
guarantees it cannot be sure to honor.
• The company cannot be sure it will not
h
have
tto tell
t ll th
the accused
d or th
the accuser
what a witness has said or what another
employee
l
h
has said
id so th
thatt a ffullll and
d
complete investigation can be done.
How to Conduct the Investigation:
Do Not Guarantee Anonymity or
C fid ti lit
Confidentiality.
• Confidentiality is important
important, but it cannot
be guaranteed.
• The investigator should tell employees
who
h are iinterviewed
t i
d th
thatt confidentiality
fid ti lit will
ill
be maintained to the greatest extent
possible
ibl without
ith t iinterfering
t f i with
ith th
the
company's investigation.
Who to Interview:
Interview All Potential
Witnesses.
• Determine who to interview and when.
– Get a complete picture.
– May need to follow-up with certain witnesses.
Where to Interview:
Interview All Potential
Witnesses.
• Select
S l t iinterview
t i
llocation.
ti
– Should be neutral, private and well-lit.
– The location should be outside the
interviewee's regular work area.
How to Investigate: Report
Back Frequently to Both Parties
• Both parties should be kept reasonably
informed of steps being taken to
investigate and resolve the dispute
dispute.
• IInvestigator
ti t remains
i in
i charge
h
off
investigation and should not reveal
specifics.
ifi
Conducting the Interviews
• Schedule much more time than you expect
it will take for each interview.
• Schedule more time than you expect it will
t k for
take
f the
th entire
ti investigation.
i
ti ti
Interviewing Techniques
• Use open
open-ended
ended questions.
• Let the employee talk
talk.
• Don
Don'tt interrupt.
interrupt
• Restate information to make sure you and the
interviewee are in agreement about what has
been discussed.
discussed
Interviewing Techniques
• Try not to talk too much.
• Use silence to your advantage.
• Try to be non-adversarial
non adversarial and not too
formal.
Interviewing Techniques
• Empathetic and interested -- but neutral.
• Review notes; Follow-up on questions.
• Listen
Listen.
Interview Questions
• The chronology can be the guide
guide.
• Begin
B i with
ith easy, b
background
k
d questions.
ti
– Establish comfort, rapport.
– Avoid witness becoming defensive.
• Wait for difficult or embarrassing questions
until the end of the interview.
Interview Questions
• You have to ask the tough questions
questions.
• Point
P i t outt inconsistencies.
i
i t
i
• Don't stop with your planned questions;
p on what yyou learn.
follow up
Always Take Action.
Action
• No matter the results of the investigation
investigation,
take some action.
• Allegations of harassment, or
di i i ti
discrimination,
whether
h th or nott th
they prove
true, should always be taken seriously.
Always Take Action.
Action
• If y
you determine no harassment or
discrimination has occurred, use the
situation to reeducate employees on how
to be sensitive to other employees
employees.
• If you determine harassment
harassment,
discrimination, or unlawful retaliation has
occurred,, take action that is appropriate
pp p
in
relation to the wrongful acts of the
accused employee.
The Ten Commandments of
Workplace Investigations.
•
•
•
•
•
Always investigate
investigate.
Separate affected employees.
U an unbiased
Use
bi
d iinvestigator.
ti t
Remain neutral.
Cause no harm.
The Ten Commandments of
Workplace Investigations.
• Don't
Don t guarantee anonymity or
confidentiality.
• Interview all potential witnesses
witnesses.
• Report back frequently to both parties.
• Always take action.
• Reeducate y
your workforce.
Remedial Action
• The employer has an obligation
– to provide a workplace free from harassment,
discrimination and unlawful retaliation
discrimination,
retaliation, and
– to take prompt and effective remedial action
to correct harassing and discriminatory
actions in the workplace.
"Reasonable"
Reasonable Standard.
Standard
• Did the employer take "reasonable"
reasonable action
after a "reasonable" investigation?
• Are the employer's actions reasonably
related
l t d tto the
th results
lt off the
th investigation
i
ti ti
and were they reasonably directed to
ensure a workplace
k l
ffree off harassment
h
t
and discrimination.
Discipline
• May range from a verbal warning to
termination of employment.
• Discipline imposed is adequate
– Calculated to
• R
Remedy
d th
the presentt situation.
it ti
• Deter future harassment and protect the
complainant
co
p a a from
o retaliation.
ea a o
Discipline: Factors to Consider
•
•
•
•
•
Severity
y of the conduct
Pervasiveness of the conduct
p y
history
y
Harasser's employment
The Complainant's employment history
policy
y or
Notice that the harasser had of p
unwelcomeness of conduct
• Prior discipline for similar cases
• Harasser's reaction to the finding
Disciplinary Remedies
• Consider, alone, or in combination:
–
–
–
–
–
–
–
–
Training
Apology
p gy
Verbal or written warning
Probation or suspension
Demotion
Transfer or reassignment
Fi
Fine
Termination
Notifying the Complainant
• If there is a finding of a violation of policy
policy,
the employer must also notify the
complainant that action has been taken
taken.
• Specific action probably should not be
shared.
Assurance of No Reprisal
Reprisal.
• If there is a finding
g that no p
policy
y violation
occurred, but the complaint was in good
faith, employer should be informed.
• Assure employer intends to protect all
employees from harassment or reprisal
reprisal.
• Follow up with additional monitoring of
parties.
Summary
• Employers have a duty to take corrective
action to prevent, stop and protect against
harassment and discrimination
discrimination.
• Prompt and effective investigations are an
important component of that duty
duty.