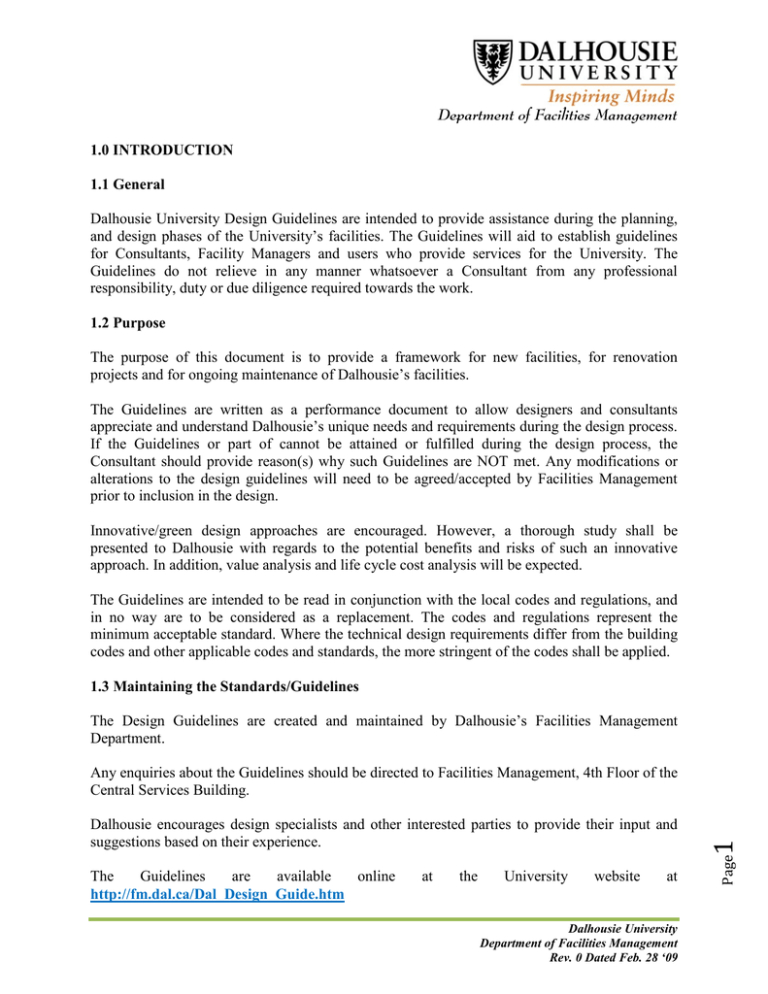 Department of Facilities Management
1.0 INTRODUCTION
1.1 General
Dalhousie University Design Guidelines are intended to provide assistance during the planning,
and design phases of the University's facilities. The Guidelines will aid to establish guidelines
for Consultants, Facility Managers and users who provide services for the University. The
Guidelines do not relieve in any manner whatsoever a Consultant from any professional
responsibility, duty or due diligence required towards the work.
1.2 Purpose
The purpose of this document is to provide a framework for new facilities, for renovation
projects and for ongoing maintenance of Dalhousie's facilities.
The Guidelines are written as a performance document to allow designers and consultants
appreciate and understand Dalhousie's unique needs and requirements during the design process.
If the Guidelines or part of cannot be attained or fulfilled during the design process, the
Consultant should provide reason(s) why such Guidelines are NOT met. Any modifications or
alterations to the design guidelines will need to be agreed/accepted by Facilities Management
prior to inclusion in the design.
Innovative/green design approaches are encouraged. However, a thorough study shall be
presented to Dalhousie with regards to the potential benefits and risks of such an innovative
approach. In addition, value analysis and life cycle cost analysis will be expected.
The Guidelines are intended to be read in conjunction with the local codes and regulations, and
in no way are to be considered as a replacement. The codes and regulations represent the
minimum acceptable standard. Where the technical design requirements differ from the building
codes and other applicable codes and standards, the more stringent of the codes shall be applied.
1.3 Maintaining the Standards/Guidelines
The Design Guidelines are created and maintained by Dalhousie's Facilities Management
Department.
The
Guidelines
are
available
online
http://fm.dal.ca/Dal_Design_Guide.htm
at
the
University
website
at
Dalhousie University
Department of Facilities Management
Rev. 0 Dated Feb. 28 '09
Page
Dalhousie encourages design specialists and other interested parties to provide their input and
suggestions based on their experience.
1
Any enquiries about the Guidelines should be directed to Facilities Management, 4th Floor of the
Central Services Building.