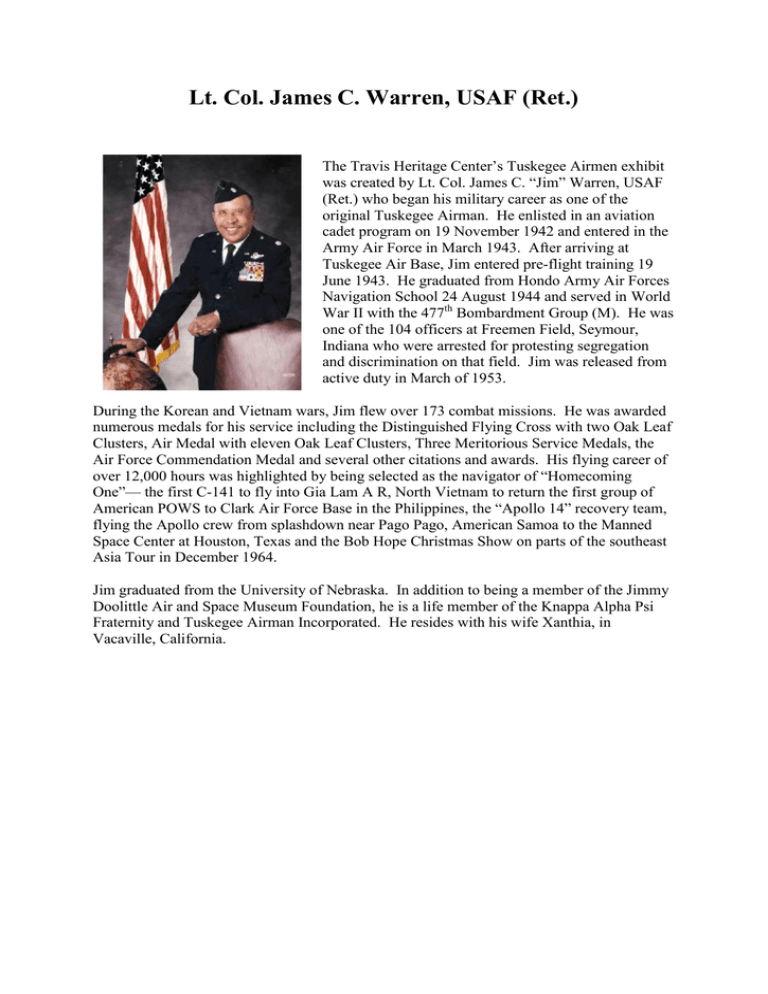 Lt. Col. James C. Warren, USAF (Ret.)
The Travis Heritage Center's Tuskegee Airmen exhibit
was created by Lt. Col. James C. "Jim" Warren, USAF
(Ret.) who began his military career as one of the
original Tuskegee Airman. He enlisted in an aviation
cadet program on 19 November 1942 and entered in the
Army Air Force in March 1943. After arriving at
Tuskegee Air Base, Jim entered pre-flight training 19
June 1943. He graduated from Hondo Army Air Forces
Navigation School 24 August 1944 and served in World
War II with the 477th Bombardment Group (M). He was
one of the 104 officers at Freemen Field, Seymour,
Indiana who were arrested for protesting segregation
and discrimination on that field. Jim was released from
active duty in March of 1953.
During the Korean and Vietnam wars, Jim flew over 173 combat missions. He was awarded
numerous medals for his service including the Distinguished Flying Cross with two Oak Leaf
Clusters, Air Medal with eleven Oak Leaf Clusters, Three Meritorious Service Medals, the
Air Force Commendation Medal and several other citations and awards. His flying career of
over 12,000 hours was highlighted by being selected as the navigator of "Homecoming
One"— the first C-141 to fly into Gia Lam A R, North Vietnam to return the first group of
American POWS to Clark Air Force Base in the Philippines, the "Apollo 14" recovery team,
flying the Apollo crew from splashdown near Pago Pago, American Samoa to the Manned
Space Center at Houston, Texas and the Bob Hope Christmas Show on parts of the southeast
Asia Tour in December 1964.
Jim graduated from the University of Nebraska. In addition to being a member of the Jimmy
Doolittle Air and Space Museum Foundation, he is a life member of the Knappa Alpha Psi
Fraternity and Tuskegee Airman Incorporated. He resides with his wife Xanthia, in
Vacaville, California.