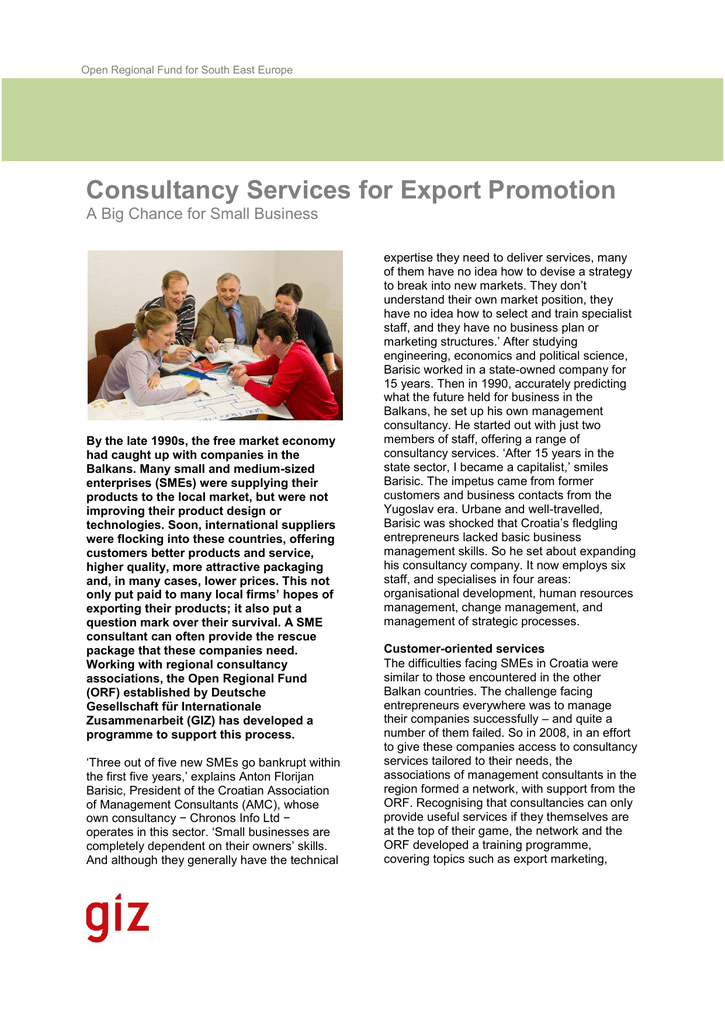 Open Regional Fund for South East Europe
Consultancy Services for Export Promotion
A Big Chance for Small Business
By the late 1990s, the free market economy
had caught up with companies in the
Balkans. Many small and medium-sized
enterprises (SMEs) were supplying their
products to the local market, but were not
improving their product design or
technologies. Soon, international suppliers
were flocking into these countries, offering
customers better products and service,
higher quality, more attractive packaging
and, in many cases, lower prices. This not
only put paid to many local firms' hopes of
exporting their products; it also put a
question mark over their survival. A SME
consultant can often provide the rescue
package that these companies need.
Working with regional consultancy
associations, the Open Regional Fund
(ORF) established by Deutsche
Gesellschaft für Internationale
Zusammenarbeit (GIZ) has developed a
programme to support this process.
'Three out of five new SMEs go bankrupt within
the first five years,' explains Anton Florijan
Barisic, President of the Croatian Association
of Management Consultants (AMC), whose
own consultancy − Chronos Info Ltd −
operates in this sector. 'Small businesses are
completely dependent on their owners' skills.
And although they generally have the technical
expertise they need to deliver services, many
of them have no idea how to devise a strategy
to break into new markets. They don't
understand their own market position, they
have no idea how to select and train specialist
staff, and they have no business plan or
marketing structures.' After studying
engineering, economics and political science,
Barisic worked in a state-owned company for
15 years. Then in 1990, accurately predicting
what the future held for business in the
Balkans, he set up his own management
consultancy. He started out with just two
members of staff, offering a range of
consultancy services. 'After 15 years in the
state sector, I became a capitalist,' smiles
Barisic. The impetus came from former
customers and business contacts from the
Yugoslav era. Urbane and well-travelled,
Barisic was shocked that Croatia's fledgling
entrepreneurs lacked basic business
management skills. So he set about expanding
his consultancy company. It now employs six
staff, and specialises in four areas:
organisational development, human resources
management, change management, and
management of strategic processes.
Customer-oriented services
The difficulties facing SMEs in Croatia were
similar to those encountered in the other
Balkan countries. The challenge facing
entrepreneurs everywhere was to manage
their companies successfully – and quite a
number of them failed. So in 2008, in an effort
to give these companies access to consultancy
services tailored to their needs, the
associations of management consultants in the
region formed a network, with support from the
ORF. Recognising that consultancies can only
provide useful services if they themselves are
at the top of their game, the network and the
ORF developed a training programme,
covering topics such as export marketing,
intellectual property, strategic development for
SMEs, financing and CEFTA compliance.
Barisic is satisfied with the outcome: 'I
developed the training programme together
with ORF and introduced it to the partner
associations. The response was extremely
positive, and to date, 150 of the region's
consultants have taken part in the programme.
We also hold regular regional conferences
where we plan further activities and have a
chance to discuss our clients' specific needs.'
Each country has a different legal framework,
and each consultant has specific skills to offer.
The network pools this know-how and has set
up a website, www.see-consultancy.net, which
consultants in the region use to advertise their
services. When searching the website, SMEs
can input search criteria in order to identify a
suitable consultant from the extensive
database. This is a major benefit, in Barisic's
view: 'If one of my customers in Croatia wants
to export to Macedonia, we help him prepare
for this step. I then identify a partner in
Macedonia who knows the market much better
than I do. He understands which marketing
strategies will work and can also advise on the
legal framework in Macedonia. Thanks to our
network, this teamwork has become much
more effective.'
By opting to focus on SMEs, Barisic and his
colleagues have certainly not chosen an easy
client group. Many small businesses do not
appreciate the value that can be added by a
consultancy. After all, consultancy services do
not offer a new product for their portfolio, so it
is difficult for many of them to see what
consultancy can bring to the table. Barisic is
very grateful to the ORF and other international
donors: 'The work carried out by ORF and the
other organisations makes it clear to the SMEs
from the outset what they need to do to survive
and be successful. They create the awareness
among our clients that we actually offer value
for money.'
Breaking into new markets
Many small businesses do not capitalise on
their potential because they fail to break into
the export markets. Their owners often lack
foreign language skills, are unfamiliar with
customs law and other legislation, and need
mediation, advice and contacts. Nonetheless,
there are some SME success stories, as the
Steiner company from Zagreb proves. Ivica
Steiner started out with five staff in 1992,
providing IT systems and networks for
companies and institutions. His company offers
complete solutions tailored to his clients'
specific needs. The company expanded and
the workforce grew to 35. Steiner was keen to
break into the international markets, but
encountered an unexpected obstacle.
'Everyone in the company was a technical
expert, but no one had any management skills.
Until 2007, I was the only one developing and
marketing new ideas and taking decisions. But
because the company had expanded, and in
view of our plans to set up a network of
representatives abroad, that just didn't work.
So I called in Mr Barisic.'
Barisic began to completely restructure the
company, setting up various departments,
each run by departmental managers, to deal
with areas such as sales, research and
development, service and support. The
departments now have much more
independence to manage their projects and
take decisions in their field of work. Barisic
sums up the outcomes of two years of
cooperation: 'We started off by analysing what
Steiner, as a company, is actually trying to
achieve. Clearly, the target was to break into
new markets. So we developed an export
strategy, identified commercial partners and
contacted chambers of commerce.' The
process of preparing for the export markets
takes about two years. Each country has its
own standards and specifications for product
compliance, requiring tests, certification,
inspections and final approval before the
required import permit is granted. Then there
are customs formalities and political issues to
be clarified. The competition in the target
market also has to be evaluated and
distribution channels established. 'Once we
had worked through all these issues for
Russia, Macedonia and Montenegro, we had
to calculate how much investment Steiner
needed to make in order to position itself
successfully in the target markets. After all, the
effort only pays off if the company gets an
adequate financial return on its exports,'
explains Barisic. For Steiner, the sums added
up, and the company set up an office in
Montenegro in 2007 and in Moscow in 2009.
The next target is Macedonia. Steiner has
three permanent staff working in sales in
Russia, with a further six fluent Russian
speakers providing technical support in the
Zagreb office. In the internet age, this is a
straightforward process.
Heading for success
For Steiner, the consultancy services provided
by Barisic have made its export vision a reality.
What's more, marketing, sales development
and a professional approach to new project
development now take place as a matter of
course. All Steiner's staff have bought into the
consultancy concept, and the company
frequently asks Barisic to advise on major
decisions. One of these arose in 2009. Steiner
and his heads of department agreed that the
company needed a call centre to respond to
customer enquiries. As he recalls, the decision
was fraught with uncertainty: 'We couldn't
decide whether we should use an external call
centre provider or set up our own centre as a
new department.' It was a difficult decision, but
finally, the company opted to open its own call
centre. Barisic sums up the reasons why: 'With
its own call centre, Steiner retains full quality
control. It can continue to build a relationship
with customers and guarantee quality of
service, and this helps to reinforce its
reputation for excellence.' The call centre is
open 24 hours a day, offering capacity to take
on other tasks as well. So Steiner developed a
new project: an emergency call system for the
elderly. Subscribers to the service can call an
emergency number – 144 – in order to ask for
help, with the message being passed on by the
call centre. Steiner explains how it works:
'Families can register their elderly relatives
with us and pay a subscription. We then keep
a list of contacts – such as neighbours or
friends – who we contact and send over to help
the caller. Often, elderly people call us
because they can't remember their doctor's
telephone number, for example. So they call us
and we connect them.' Barisic is fully involved
in this new project. He is helping to market the
Imprint
Published by:
Deutsche Gesellschaft für
Internationale Zusammenarbeit (GIZ) GmbH
Dag-Hammarskjöld-Weg 1-5
65760 Eschborn
T
+49 61 96 79-0
F
+49 61 96 79-11 15
E
[email protected]
I
www.giz.de
concept, identify funding and put suitable
management systems in place. Steiner has an
ambitious goal for the '144 project': 100,000
customers within two years.
For Steiner, the investment in consultancy has
more than paid off. Thanks to Barisic's good
contacts in the consultancy network – initiated
by the ORF – establishing the right
partnerships posed no problems. The message
is clear: with the right support, the export
sector offers exciting new prospects for small
and medium-sized companies.