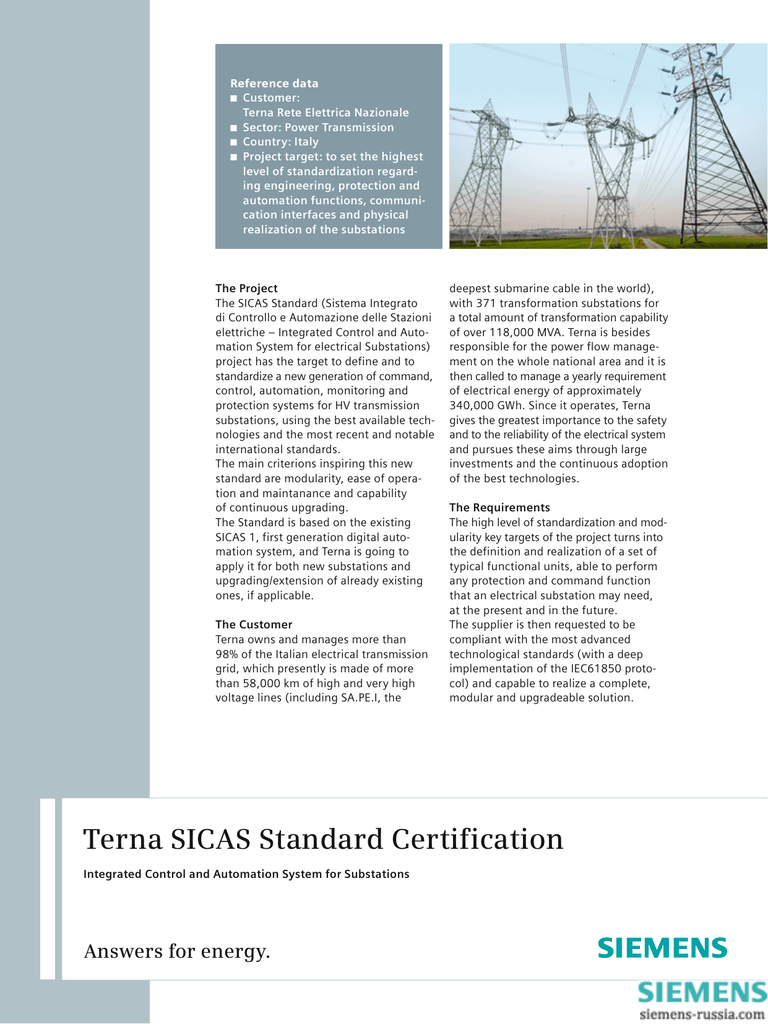 Reference data
■ Customer:
Terna Rete Elettrica Nazionale
■ Sector: Power Transmission
■ Country: Italy
■ Project target: to set the highest
level of standardization regarding engineering, protection and
automation functions, communication interfaces and physical
realization of the substations
The Project
The SICAS Standard (Sistema Integrato
di Controllo e Automazione delle Stazioni
elettriche – Integrated Control and Automation System for electrical Substations)
project has the target to define and to
standardize a new generation of command,
control, automation, monitoring and
protection systems for HV transmission
substations, using the best available technologies and the most recent and notable
international standards.
The main criterions inspiring this new
standard are modularity, ease of operation and maintanance and capability
of continuous upgrading.
The Standard is based on the existing
SICAS 1, first generation digital automation system, and Terna is going to
apply it for both new substations and
upgrading/extension of already existing
ones, if applicable.
The Customer
Terna owns and manages more than
98% of the Italian electrical transmission
grid, which presently is made of more
than 58,000 km of high and very high
voltage lines (including SA.PE.I, the
deepest submarine cable in the world),
with 371 transformation substations for
a total amount of transformation capability
of over 118,000 MVA. Terna is besides
responsible for the power flow management on the whole national area and it is
then called to manage a yearly requirement
of electrical energy of approximately
340,000 GWh. Since it operates, Terna
gives the greatest importance to the safety
and to the reliability of the electrical system
and pursues these aims through large
investments and the continuous adoption
of the best technologies.
The Requirements
The high level of standardization and modularity key targets of the project turns into
the definition and realization of a set of
typical functional units, able to perform
any protection and command function
that an electrical substation may need,
at the present and in the future.
The supplier is then requested to be
compliant with the most advanced
technological standards (with a deep
implementation of the IEC61850 protocol) and capable to realize a complete,
modular and upgradeable solution.
Terna SICAS Standard Certification
Integrated Control and Automation System for Substations
Answers for energy.
Legend
KVM
Switch
Integrated system for control
and remote operation of the
transmission grid.
Station Computer
Master
100BaseFX Ethernet
Station Computer
Redundant
100BaseT Ethernet
Station Computer
Cubicle
SCTI-Network
HMI Server
RTU
Router 1
HMI Server +
Eng. W/S
Router 2
IEC 60870-5-104
GPS Time Server
Internet TCP/IP
■ HTTP
■ VPN
■ RAS
■ etc.
Printer
Color Printer
Station LAN
Cubicle
Station Level
Bay Level
IED
BAY 1
IED
BAY 2
IED
BAY 3
IED
BAY 4
IED
IED
IED
IED
IED
IED
BAY 25
BAY 26
BAY 27
BAY 28
BAY 29
BAY 30
Configuration
The Solution
Scope of Supply
The definition of the Functional Units and
of the related requirements of protection,
monitoring, command and control is given
by Terna. Siemens offers for each of them
the best solution:
■ Protection, command and control
numerical relais (bay level): SIPROTEC 4
■ Automation and SCADA (station level):
SICAM PAS
■ Measures and fault recording: SIMEAS
Published by and copyright © 2010:
Siemens AG
Energy Sector
Freyeslebenstrasse 1
91058 Erlangen, Germany
Siemens AG
Energy Sector
Power Distribution Division
Energy Automation
Humboldtstrasse 59
90459 Nuremberg, Germany
www.siemens.com/energy-automation
www.siemens.com/energy
Architecture
The substation architecture is based upon
a redundant, multimode fiber-optics loop,
which links the Ethernet switches in each
panel. Inside each cubicle, the link between
the Ethernet switch and the installed IEDs
follows a radial scheme, with electrical
connections. The communication protocol
at this level is dictated by IEC 61850.
Substation automation is ensured by a
fully redundant SICAM PAS system, with
two independent PAS Full Server, which
For more information, please contact
our Customer Support Center.
Phone: +49 180/524 70 00
Fax:
+49 180/524 24 71
(Charges depending on provider)
E-mail: [email protected]
are configured in accordance with a hot
stand-by logic. At station level are an HMI
system (SICAM PAS CC, based on WinCC
software), a time synchronization system
(via GPS signal, with a NTP Server) and
the necessary equipmet for interfacing
with Terna's SCTI Network (the centralized, integrated telecontrol and monitoring system): at this level, communication protocol is the one described in
IEC 60870-5-104.
Power Distribution Division
Order No. E50001-E720-A247-X-4A00
Printed in Germany
Dispo 06200
TH 345-100547 481662 DB 0810
Printed on elementary chlorine-free
bleached paper.
All rights reserved.
Trademarks mentioned in this document
are the property of Siemens AG, its affiliates,
or their respective owners.
Subject to change without prior notice.
The information in this document contains general
descriptions of the technical options available,
which may not apply in all cases. The required
technical options should therefore be specified
in the contract.