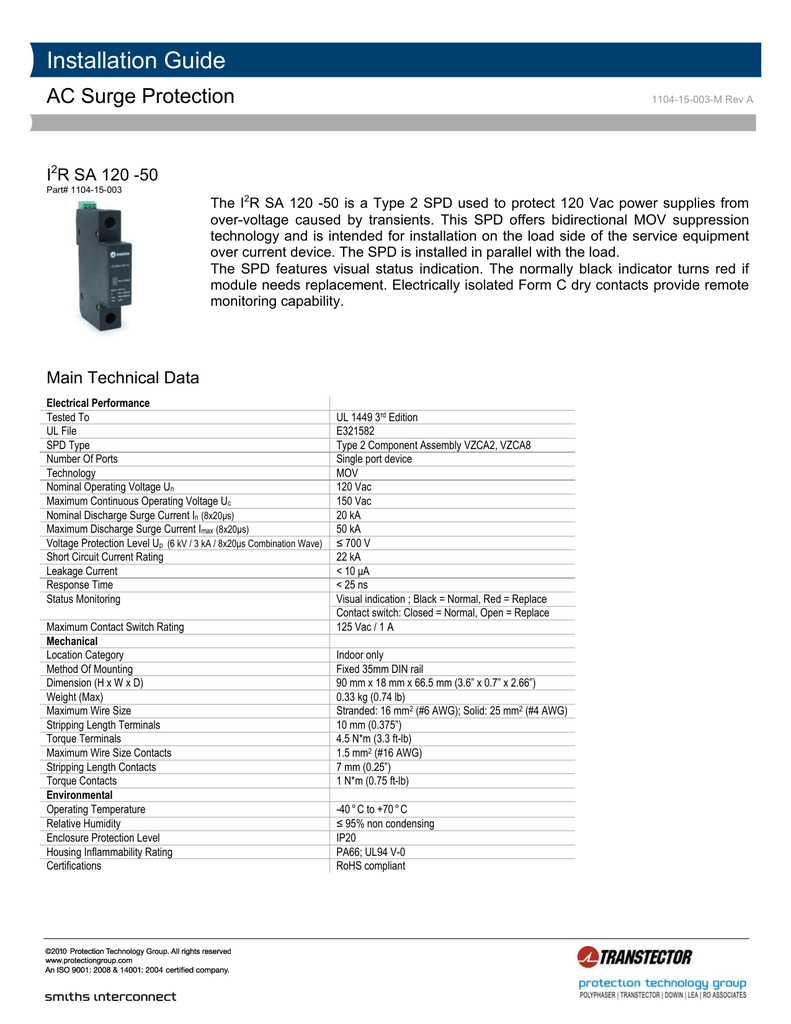 Installation Guide
AC Surge Protection
1104-15-003-M Rev A
I2R SA 120 -50
Part# 1104-15-003
The I2R SA 120 -50 is a Type 2 SPD used to protect 120 Vac power supplies from
over-voltage caused by transients. This SPD offers bidirectional MOV suppression
technology and is intended for installation on the load side of the service equipment
over current device. The SPD is installed in parallel with the load.
The SPD features visual status indication. The normally black indicator turns red if
module needs replacement. Electrically isolated Form C dry contacts provide remote
monitoring capability.
Main Technical Data
Electrical Performance
Tested To
UL File
SPD Type
Number Of Ports
Technology
Nominal Operating Voltage Un
Maximum Continuous Operating Voltage Uc
Nominal Discharge Surge Current In (8x20μs)
Maximum Discharge Surge Current Imax (8x20μs)
Voltage Protection Level Up (6 kV / 3 kA / 8x20μs Combination Wave)
Short Circuit Current Rating
Leakage Current
Response Time
Status Monitoring
Maximum Contact Switch Rating
Mechanical
Location Category
Method Of Mounting
Dimension (H x W x D)
Weight (Max)
Maximum Wire Size
Stripping Length Terminals
Torque Terminals
Maximum Wire Size Contacts
Stripping Length Contacts
Torque Contacts
Environmental
Operating Temperature
Relative Humidity
Enclosure Protection Level
Housing Inflammability Rating
Certifications
UL 1449 3rd Edition
E321582
Type 2 Component Assembly VZCA2, VZCA8
Single port device
MOV
120 Vac
150 Vac
20 kA
50 kA
≤ 700 V
22 kA
< 10 μA
< 25 ns
Visual indication ; Black = Normal, Red = Replace
Contact switch: Closed = Normal, Open = Replace
125 Vac / 1 A
Indoor only
Fixed 35mm DIN rail
90 mm x 18 mm x 66.5 mm (3.6" x 0.7" x 2.66")
0.33 kg (0.74 lb)
Stranded: 16 mm2 (#6 AWG); Solid: 25 mm2 (#4 AWG)
10 mm (0.375")
4.5 N*m (3.3 ft-lb)
1.5 mm2 (#16 AWG)
7 mm (0.25")
1 N*m (0.75 ft-lb)
-40°C to +70°C
≤ 95% non condensing
IP20
PA66; UL94 V-0
RoHS compliant
Installation Guide
DANGER
Electric Shock or Burn






Install only in a restricted access enclosure or control cabinet that requires a key or tool to open.
This SPD should only be installed and serviced by qualified electrical personnel.
All National and Local Electric Codes must be observed.
Confirm that the SPD is rated for the voltage of the application.
Before installation, turn off all power to equipment to prevent accidental electrical shock or injury.
Replace all covers and doors before restoring power to this equipment.
Structure and Dimensions
Figure 1. I2R Storm 120 -10
Attaching the SPD to the DIN Rail
Position the SPD on the top edge of the 35mm DIN rail, then press down until a 'click' is heard.
Figure 2. Locating on DIN Rail
Figure 3. Ready for Wiring
Installation Guide
General Wiring Instructions




The SPD is installed in parallel with the load.
Kelvin or 'V' connections are recommended.
Keep wires as short as possible (maximum length ≤ 0.5 m) and free of any sharp bends or loops.
All conductors should be insulated stranded copper. The ground conductor should be greater than 16
mm2 (#6 AWG) diameter. The power conductors should be greater than 6 mm2 (#10 AWG) diameter.
The load capacity of the conductor must be sized according to the load.
System Configurations
Determine the electrical voltage configuration and then install per the appropriate wiring illustrations
Figure 4. 120/240 Two Phase
Figure 5. 120/208 Three Phase WYE
Installation Guide
Remote Annunciation
Electrically isolated Form C dry contacts provide remote monitoring capability. The removable plug
accepts #16 - #30 AWG wire. The maximum continuous current rating for the remote indicator is 3A.
Strip the wire 0.25", and torque the terminal screw 0.75 ft-lb.
Figure 6. Remote Contact Connections
Usage and Maintenance
The SPD should be scheduled for periodic inspection to ensure the SPD is operational and all wire
connections are tight.
If SPD is damaged, contact Transtector for replacement at +1.208.772.8515 or 1.800.882.9110, or online at
www.protectiongroup.com.