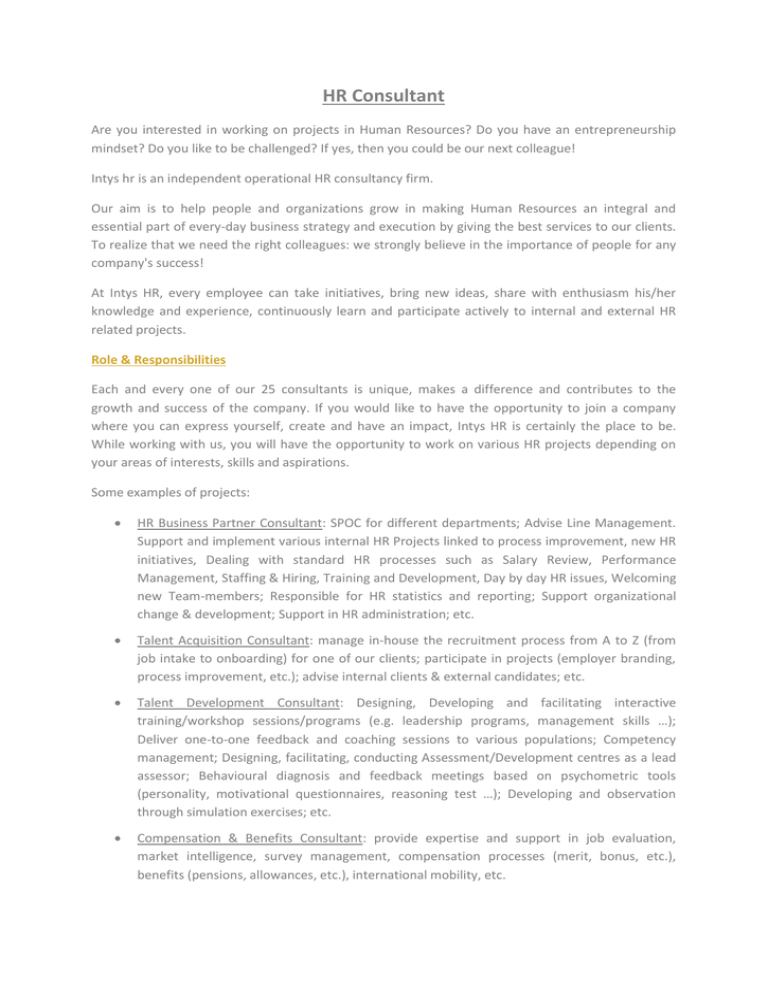 HR Consultant
Are you interested in working on projects in Human Resources? Do you have an entrepreneurship
mindset? Do you like to be challenged? If yes, then you could be our next colleague!
Intys hr is an independent operational HR consultancy firm.
Our aim is to help people and organizations grow in making Human Resources an integral and
essential part of every-day business strategy and execution by giving the best services to our clients.
To realize that we need the right colleagues: we strongly believe in the importance of people for any
company's success!
At Intys HR, every employee can take initiatives, bring new ideas, share with enthusiasm his/her
knowledge and experience, continuously learn and participate actively to internal and external HR
related projects.
Role & Responsibilities
Each and every one of our 25 consultants is unique, makes a difference and contributes to the
growth and success of the company. If you would like to have the opportunity to join a company
where you can express yourself, create and have an impact, Intys HR is certainly the place to be.
While working with us, you will have the opportunity to work on various HR projects depending on
your areas of interests, skills and aspirations.
Some examples of projects:

HR Business Partner Consultant: SPOC for different departments; Advise Line Management.
Support and implement various internal HR Projects linked to process improvement, new HR
initiatives, Dealing with standard HR processes such as Salary Review, Performance
Management, Staffing & Hiring, Training and Development, Day by day HR issues, Welcoming
new Team-members; Responsible for HR statistics and reporting; Support organizational
change & development; Support in HR administration; etc.

Talent Acquisition Consultant: manage in-house the recruitment process from A to Z (from
job intake to onboarding) for one of our clients; participate in projects (employer branding,
process improvement, etc.); advise internal clients & external candidates; etc.

Talent Development Consultant: Designing, Developing and facilitating interactive
training/workshop sessions/programs (e.g. leadership programs, management skills …);
Deliver one-to-one feedback and coaching sessions to various populations; Competency
management; Designing, facilitating, conducting Assessment/Development centres as a lead
assessor; Behavioural diagnosis and feedback meetings based on psychometric tools
(personality, motivational questionnaires, reasoning test …); Developing and observation
through simulation exercises; etc.

Compensation & Benefits Consultant: provide expertise and support in job evaluation,
market intelligence, survey management, compensation processes (merit, bonus, etc.),
benefits (pensions, allowances, etc.), international mobility, etc.

Organizational development (organizational analysis and design, job analysis, definition of
key performance indicators).

HR Transformation: HR audit, HR Process.

HR Consultancy: Advising clients on organizational change management projects; Taking the
lead in identifying client issues and proposing the most appropriate approach for the
analysis.

Etc.
Job Profile





Master degree in psychology, HR, communication or Business Administration.
2+ years of experience in Human Resources:
o Selection and Talent Management
o Performance Management
o Payroll
o Organisation Management
o Learning/Training and Development
o HR Business Partner
o Compensation & Benefits
o Labour Relations
o Function Classification
o Competency Management
o Assessment & Development centres
You are fluent in French, Dutch & English.
You share our values: Inspire Passion, Keep Growing, Build Together, Challenge Today and
Make a Difference.
You are passionate about people and driven by learning. You want to have a positive impact
on people, teams, organizations and society.
Job Offer
Intys hr offers you:





A human, dynamic and growing company where you will be able to develop yourself.
A young professional and dynamic working atmosphere where you can express your talents
and know-how. Feel part of a team where each individual is Unique and Makes a Difference.
A career with multiple challenging assignments.
A permanent contract with an attractive salary package, company car and fringe benefits.
Flexibility and work-life balance.